This edition is sponsored by Purple, a DAO whose goal is to proliferate and expand the Farcaster protocol and ecosystem. Interested in sponsoring a future edition? Send us a reply to this email!
Farcaster News and Links
App updates
Farcaster Alpaca is officially here – the first upgrade to the Farcaster protocol since the v2 release. This upgrade "lets casts and reactions point to to URLs, NFTs and onchain objects," explained @v, a.k.a. Farcaster cofounder Varun Srinivasan. (This feature was previewed in previous editions of TWIF.) A commemorative free mint is available through Tuesday. According to @dwr, a.k.a. Farcaster cofounder Dan Romero, the name + mint combo is "a new thing we're doing for new protocol releases." In a separate cast, @pfh, a.k.a. Paul Fletcher-Hill, shared the specific versions of the hubble (1.2.0), hub-web (0.3.0), and hub-nodejs (0.7.0) that implement Alpaca. All releases can be seen here on the hub-monorepo.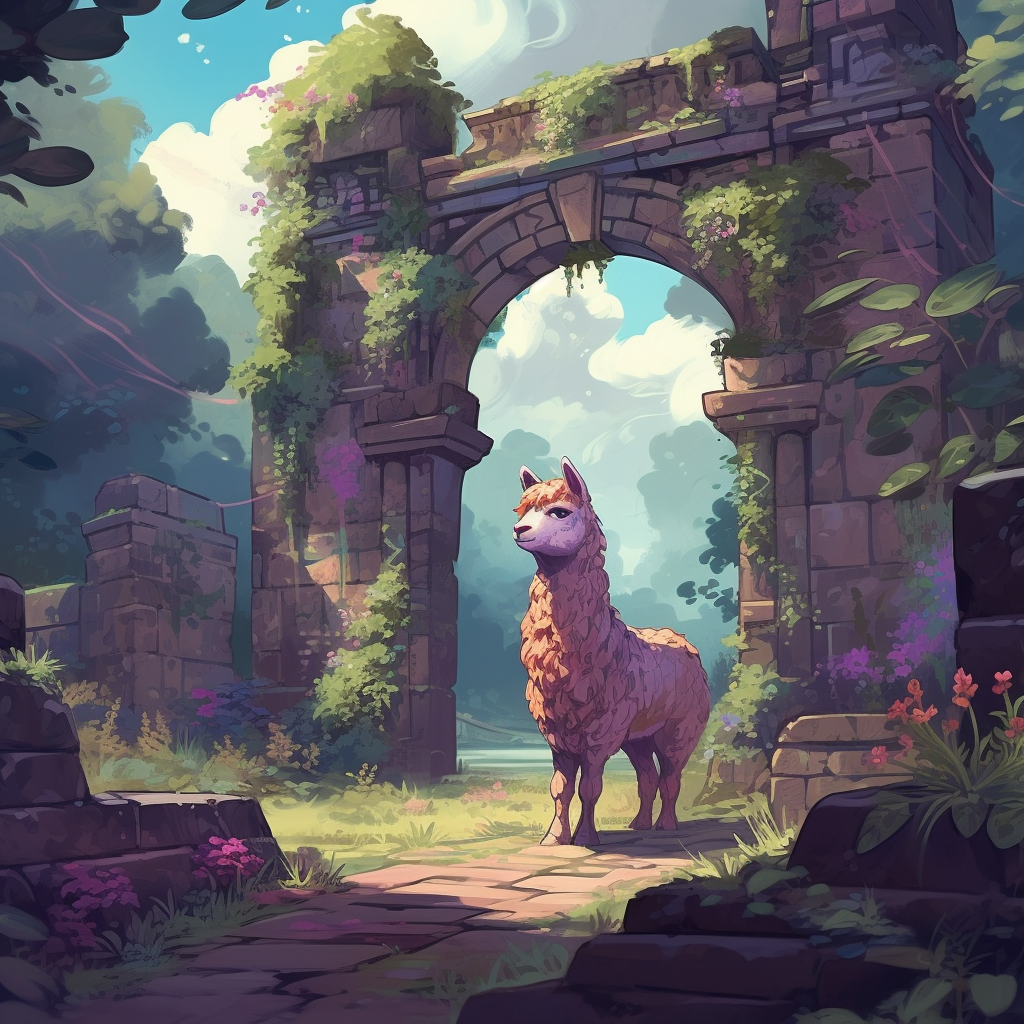 Unlonely.app added multiple channel support to its mobile client this week. "Just pushed out a new @unlonely mobile build that supports multiple channels," noted @pugson in the launchcast. "You're no longer stuck with @briang's face." You can download the app now for iOS and Android.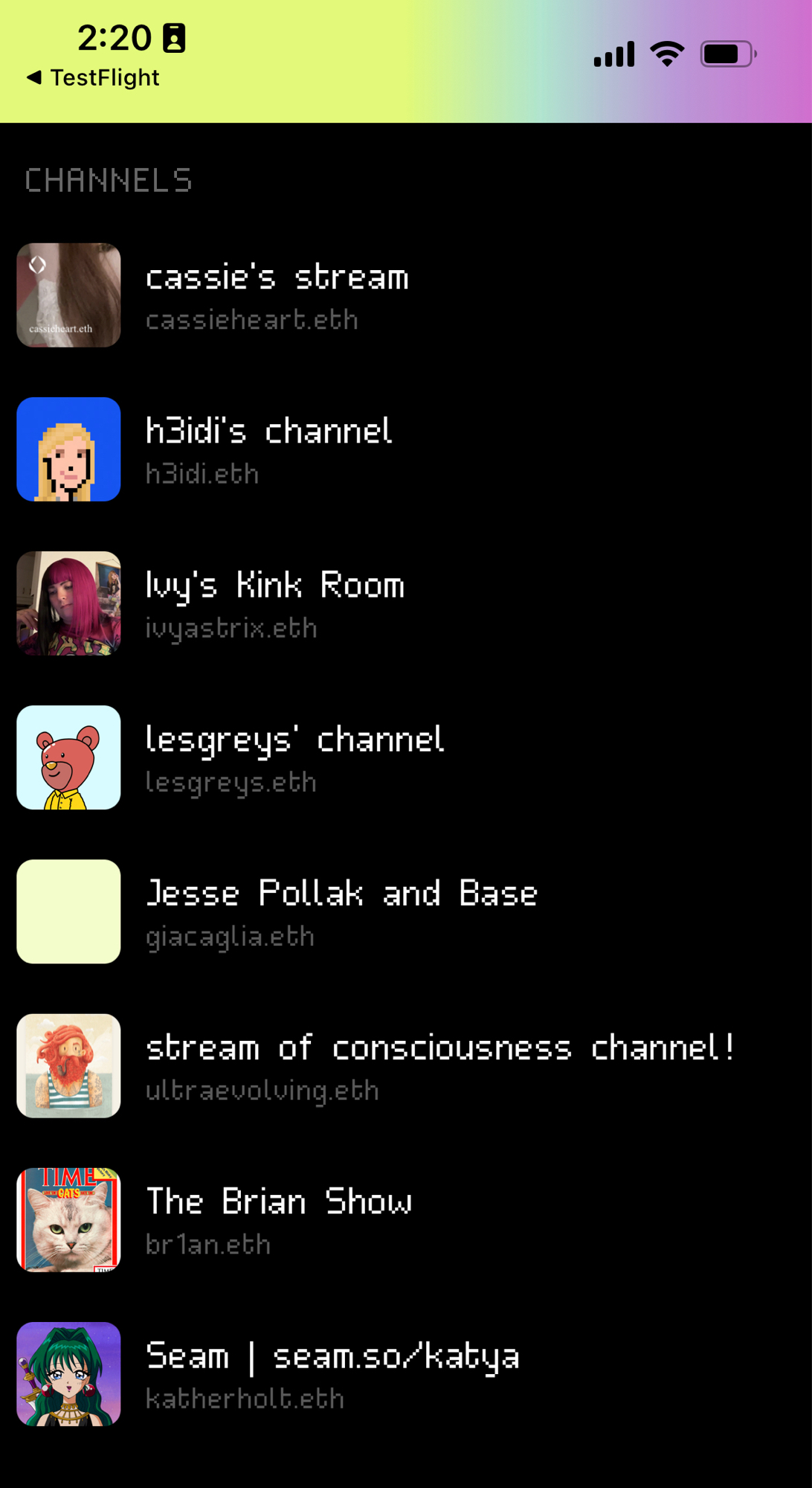 ---
@emma, a.k.a. Emma Kwan, has started work on Stereocaster, a service to "see what people are listening to on Farcaster." Kwan has been blogging about the process so far on Paragraph. A prototype is available now at Stereocaster.com – Kwan describes it as "rough" but reviews from other casters have been great so far. "This is awesome," said @nonlinear, a.k.a. Jonny Mack. Kwan is building the project as part of Buildspace Nights & Weekends S3.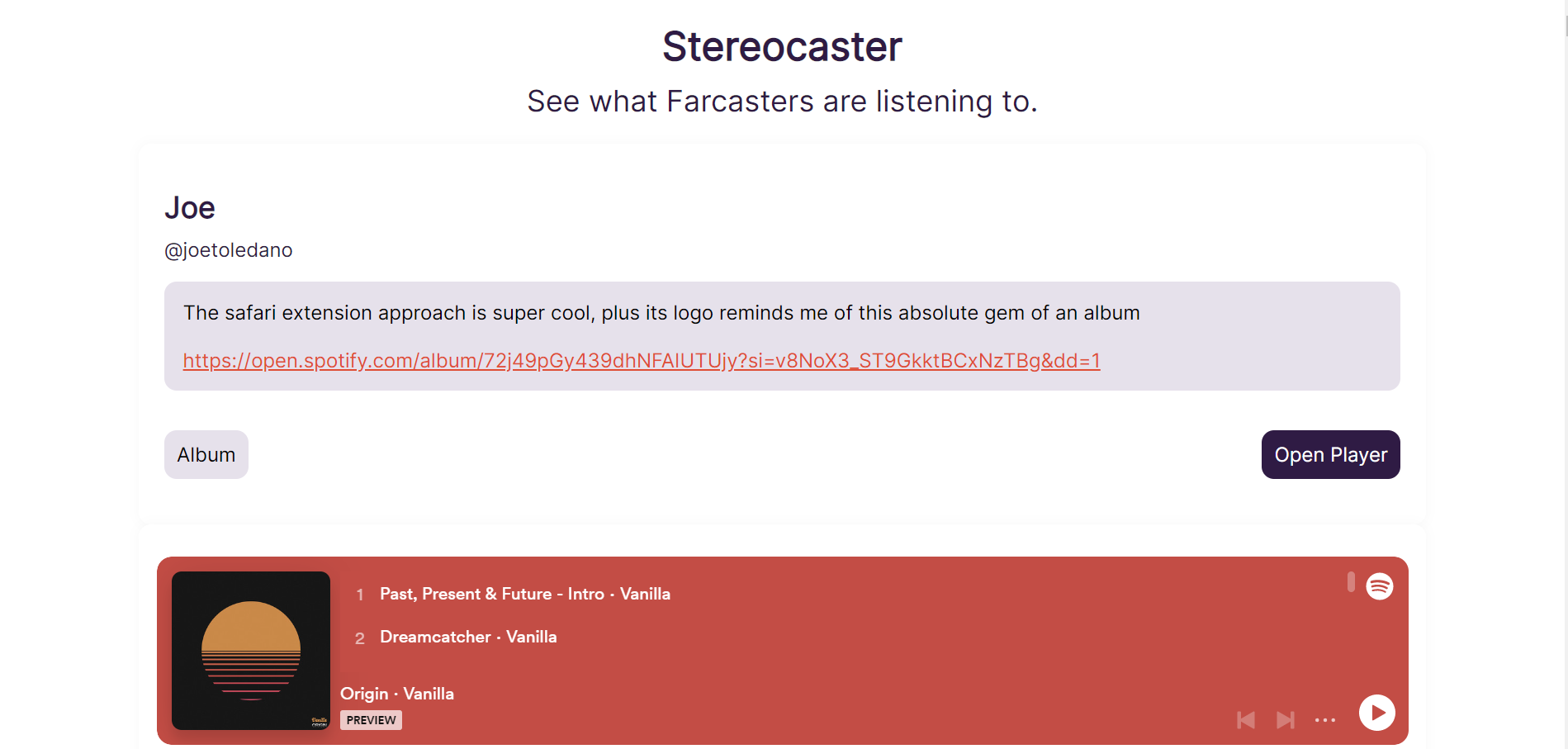 ---
@phil asked Srinivasan and Romero when the Farcaster protocol will support quote casting. Romero explained that quote casting is actually supported right now, but noted that on Warpcast, Merkle Manufactory hasn't "implemented the special button called 'Quote cast' that 1. copies the original cast link 2. embeds it in a new cast 3. allows you to comment on said cast."
---
Merkle Manufactory has rolled out in-app notifications of new features. The first notification that went out promoted the Warpcast web client. "We're testing with less active users this week," said Romero. "Apologies in advance if you get it and have already checked out web (but worth checking it out again!)."

---
Another small-ish update shipped by the Merkle team this week: A visual cleanup to the Warpcast emails, according to a cast by Romero, who added that the design was inspired by Linear.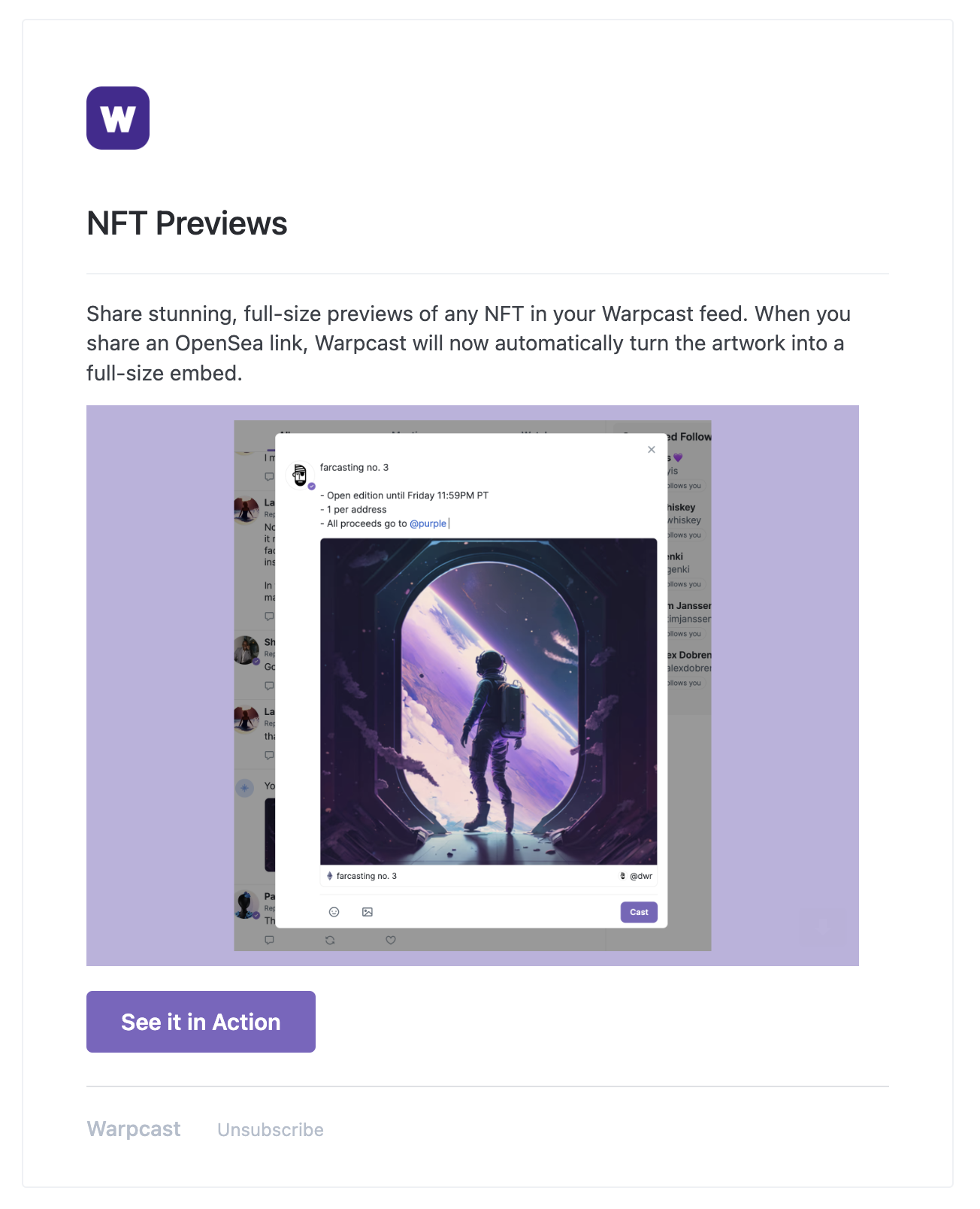 ---
EventCaster added a new feature in conjunction with FarCon tickets going on sale – a "Buy Ticket" button right on the EventCaster page. "When you buy a ticket, you'll automatically appear as going on the event page," said @matthew in the launchcast. "And you'll see there's a new "Buy Ticket" button that takes you directly to highlight." (For more on the FarCon ticket mint, see below.)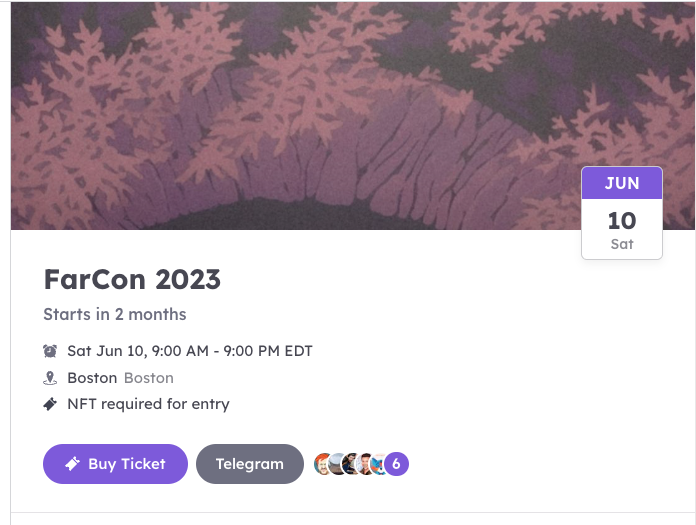 ---
Casterscan, the block explorer launched last week by @dylsteck, a.k.a. Dylan Steck, and @yashkarthik, a.k.a. Yash Karthik, has a new feature by way of a partnership with NF.TD. "If you own a NF.TD NFT with your connected address, all your links will show up on your Casterscan page," said Steck. "Big thanks to @steph @vm for making this possible 🔥🔥" Also added this week to Casterscan: A new, more compact grid designed by Karthik, an "Images" filter, and a few bug fixes.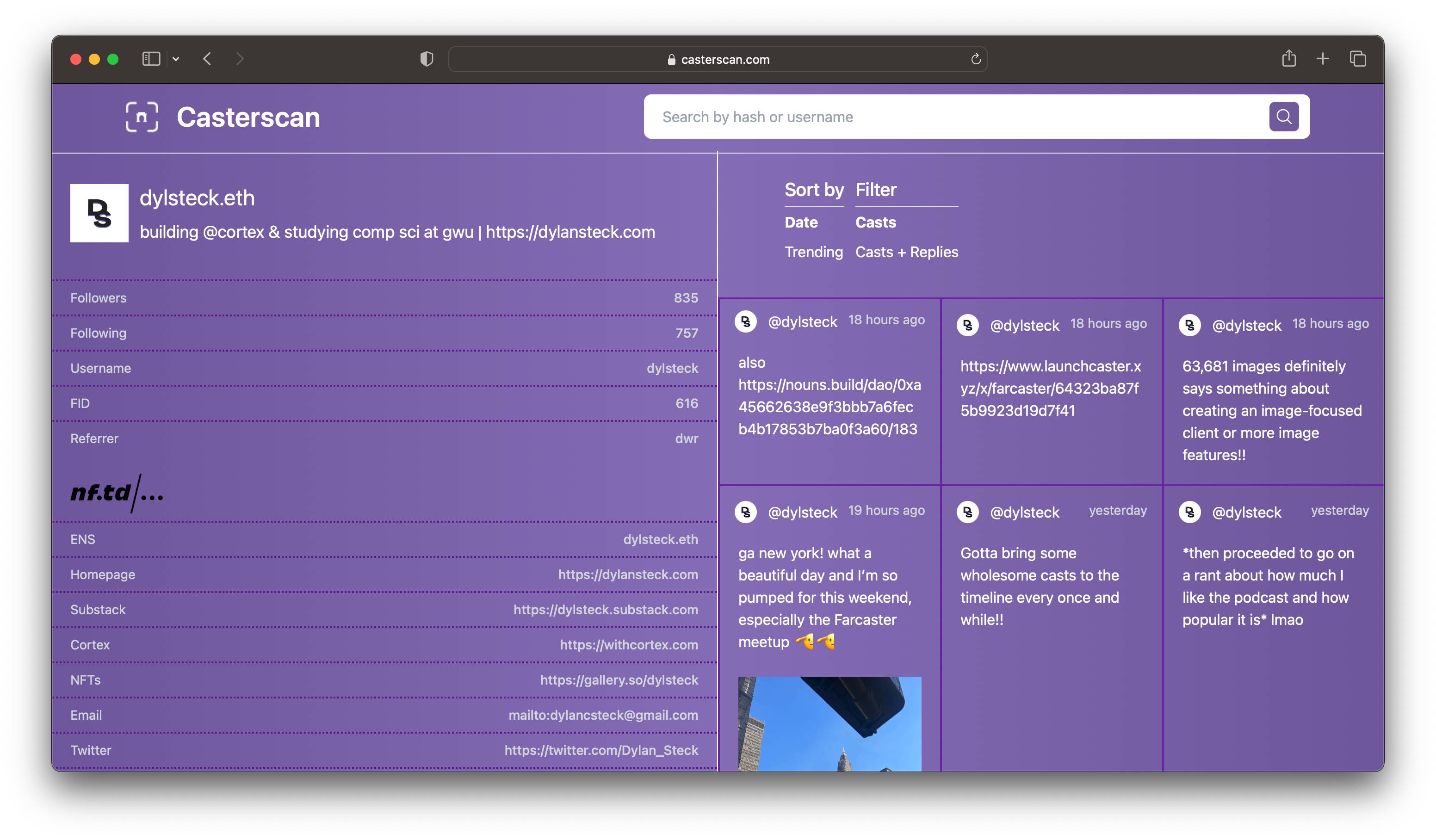 ---
@v, a.k.a. Farcaster cofounder Varun Srinivasan, shared his usual weekly update from the Merkle team's Warpcast Changelog. Shipped this week: bug fix for GIF rendering on mobile, styling fixes on the web client, ability to share NFT previews in casts, and notifications when you mint an NFT.
---
Alphacaster.xyz, the DAO-aware Farcaster client, is launching curated DAO feeds starting with Purple. Founder @billzh, a.k.a. Bill Zheng, the feature as "casts directly related to your DAO, plus gov and auction updates" and said that curated feeds for more DAOs will roll out soon. Zheng also noted that the threading UX has been redesigned on Alphacaster, and an Android client is now available via APK (for access, send Zheng a message on Telegram). You can find Alphacaster's full changelog here. The curation is currently handled through keyword filtering and a few manually defined rules, and Zheng said he may try GPT-based curation in the future.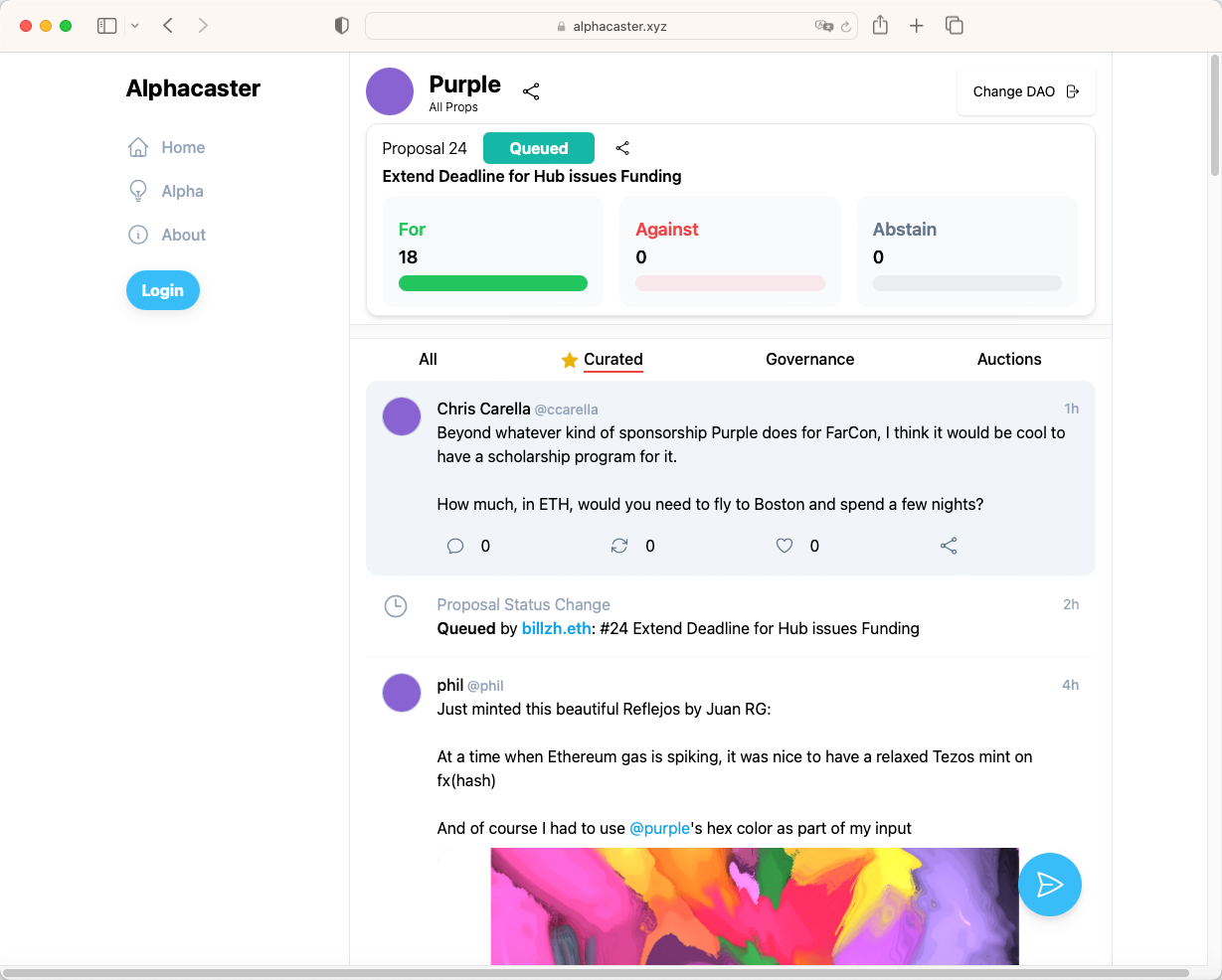 Dev notes
Srinivasan has written a whitepaper on the Farcaster protocol, and he's looking for feedback. "It's meant to be a bitcoin whitepaper like docs that eases developers into the goals, design and tradeoffs of Farcaster," said Srinivasan. The paper, available to read on Github, gets to the heart of what "sufficiently decentralized" means for the social protocol. The whole paper is worth a read, and not so long (less than 1,200 words), but if you read one part of it, let it be the conclusion:
An astute reader will note that Farcaster lacks features common in social networks. Timestamps are unreliable, data isn't permanent and there are no mechanisms for private messaging. The eventually consistent nature of the network also means that developers are exposed to more complexity when building applications.

Farcaster makes these tradeoffs to achieve a level of decentralization that puts users and developers in control. It is far easier to add features to a decentralized network than it is to try and decentralize a feature-rich network. The protocol is robust enough to build simple, practical and public social networks that people will use.
---
The initial batch of tickets for FarCon became available to mint this week, but unfortunately the mint didn't go quite as the organizers expected. The tickets, priced at .18 ETH each, get minters access to the June 10-11 conference in Boston, as well as being attractive NFTs in their own right with custom art by @0xen. "The FarCon Mint went... not like we thought it would 😂," said co-organizer @cameron, a.k.a. Cameron Armstrong, adding that he and co-organizer @grin would be discussing next steps. "We know people want to get together, so what missed the mark?," asked Armstrong. Here's a summary of the responses, courtesy of GPT-4: "The main reasons people did not mint or purchase tickets for the conference in Boston are the high ticket price, lack of a clear agenda, short notice, and inconvenient location. Aligning the event with a major conference or offering tiered pricing could potentially improve attendance."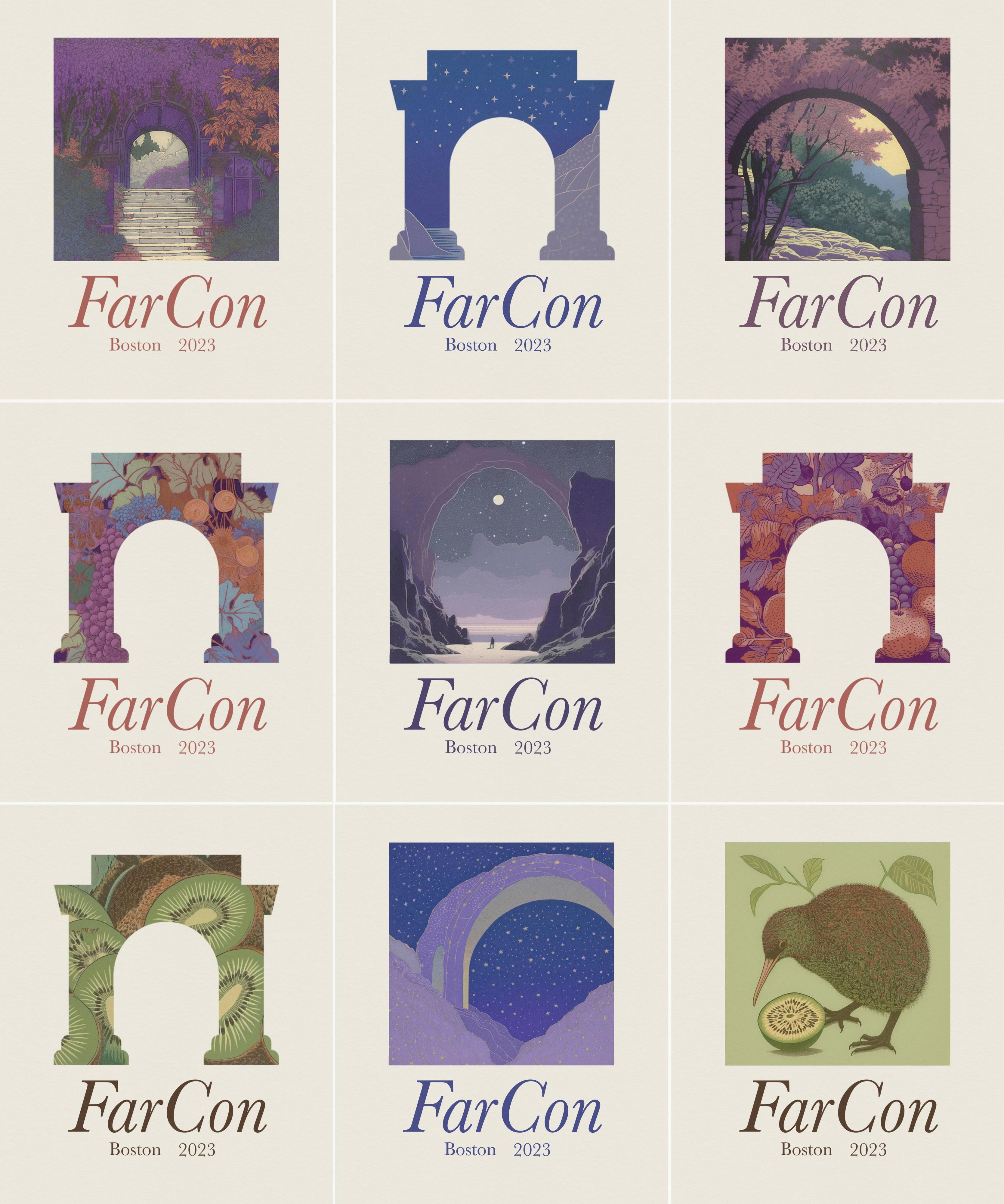 Armstrong and @grin didn't take long to come up with a new plan. On Thursday, Armstrong announced that the co-organizers were relaunching the ticket sale with a reduce price of 0.01 ETH. Armstrong explained the process and thinking in-depth via a blog post. "We're learning as we go and doing so in public so others have less challenges organizing Farcaster events in the future," he said, going on to answer virtually all of the questions raised in the feedback thread. The new mint opened up Friday. (Armstrong said that he was "cooking up something v special" for @jayme, a.k.a. Jayme Hoffman, who had minted a ticket in the original batch, as well as the "mysterious PattyMalibu" who also minted.) In addition to the updated tickets with reduced mint price, @0xen also released a separate .007 ETH promotional mint for people who'd like to "donate, support and become a mini-sponsor" but not attend the conference themselves. FarKiwi is available to mint now on Zora.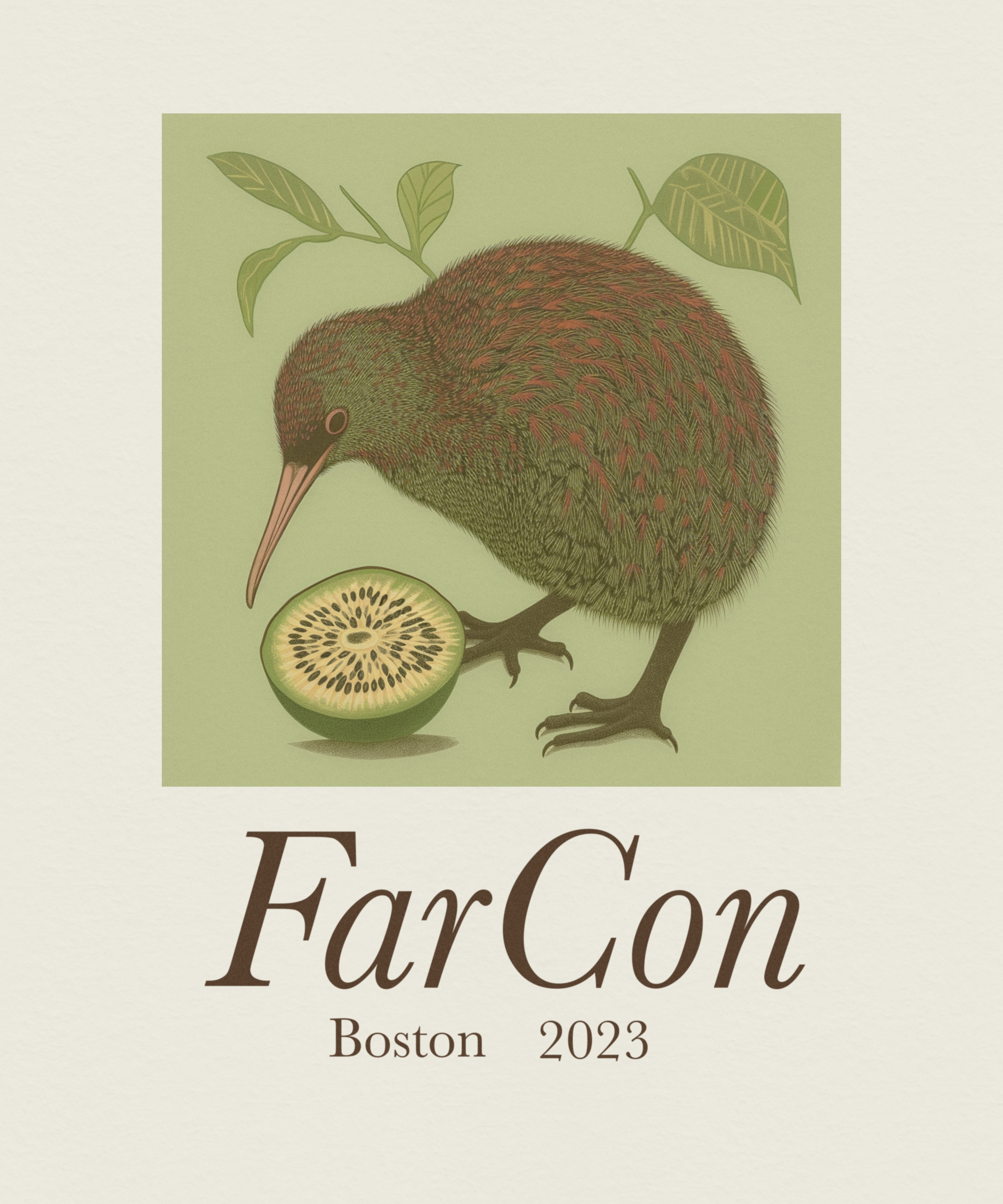 ---
Romero shared a visualization of the "Farcaster stack," one of a few wireframes he shared this week after becoming an apparent convert to Excalidraw.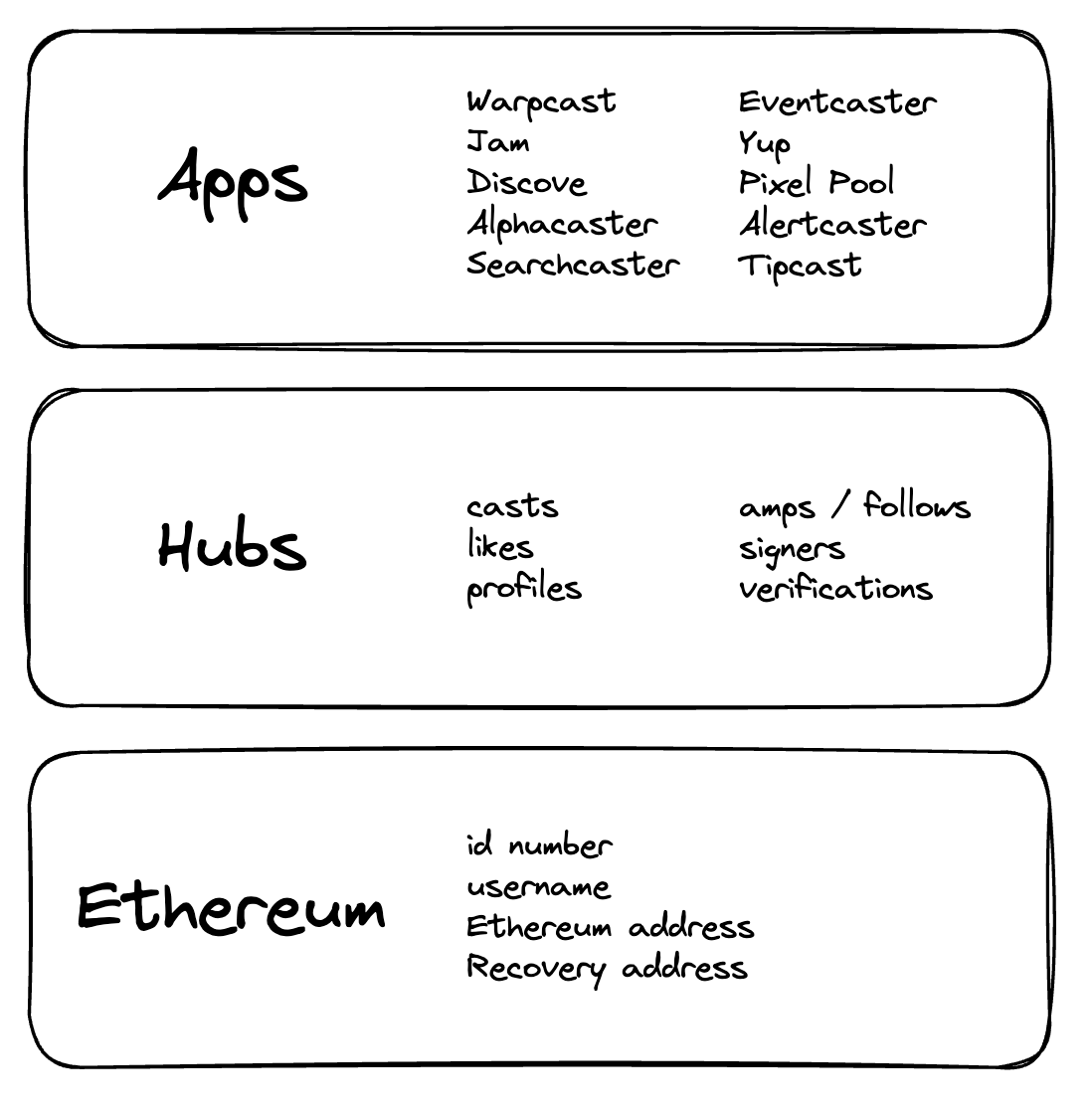 Romero also shared a second version which contrasts the Farcaster stack with Mastodon and Bluesky.

---
Srinivasan is seeking feedback on a proposed formal process for making Farcaster Improvement Proposals. "It's a structured way for people to propose changes relevant to the Farcaster community, and for the community to ratify or reject them," said Srinivasan, adding in a followup cast that the formalization comes after a few people had already started to propose changes and wanting to make sure there was a lightweight and efficient process to validate and implement them. You can read the proposal about proposals here.
---
Romero has published a two-question survey for Farcaster developers. "Goal is to give others confidence that an open source projects or potentially paid service would have users/customers," said Romero. You can fill out the survey here, or browse responses as they come in.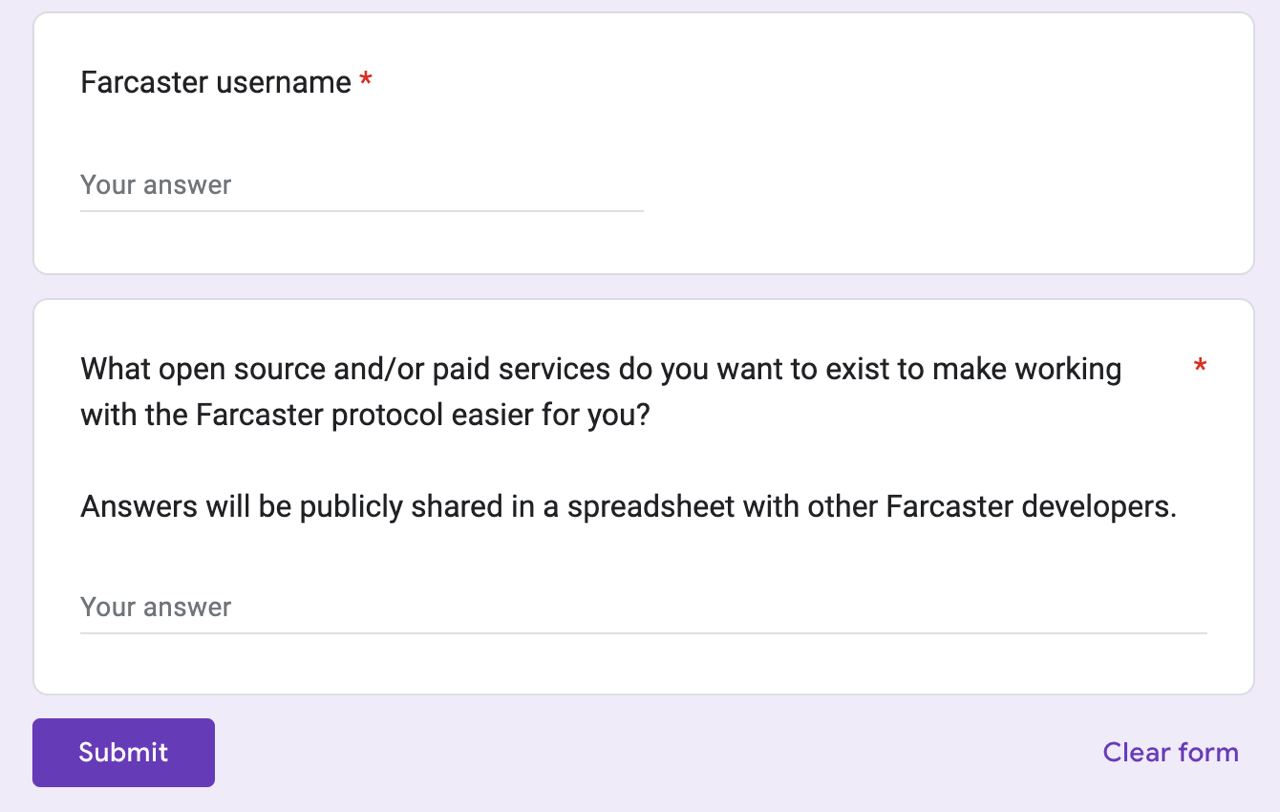 Ideas worth sharing
Reminder – More invites are available by request. Romero shared a PSA this week encourage casters to reach out for an invite re-up. "If you want a batch of invites to invite people you know to Farcaster, send me a direct cast," said Romero. "If I don't follow you, reply and I'll consider it."
---
@pal asked Farcaster: "This might be blasphemous, but does Farcaster need a way to onboard users without requiring an Ethereum wallet and storing a seed phrase?" @pal added that the UX of saving a seed phrase causes friction. Romero responded and said that he thinks it's a useful proof of work filter for now. "We will get a to a place where it's not required imo," said Romero.
---
The Chromium-based browser Arc has a feature called Boosts which lets users customize their experience on websites by including site-specific JS and CSS. Romero put out a call for feedback on how to make it easier to write a Boost for the Warpcast web client. "Is there anything we could do in the CSS on Warpcast web to make it more hackable?," he asked. If you have thoughts, head over to the cast and share your feedback.
---
The NFT NYC Farcaster Meetup was held last Saturday night. @tayyab shared a photo from the event. "Anybody jealous? 😉," he teased. "Very," admitted @ccarella, a.k.a. Chris Carella.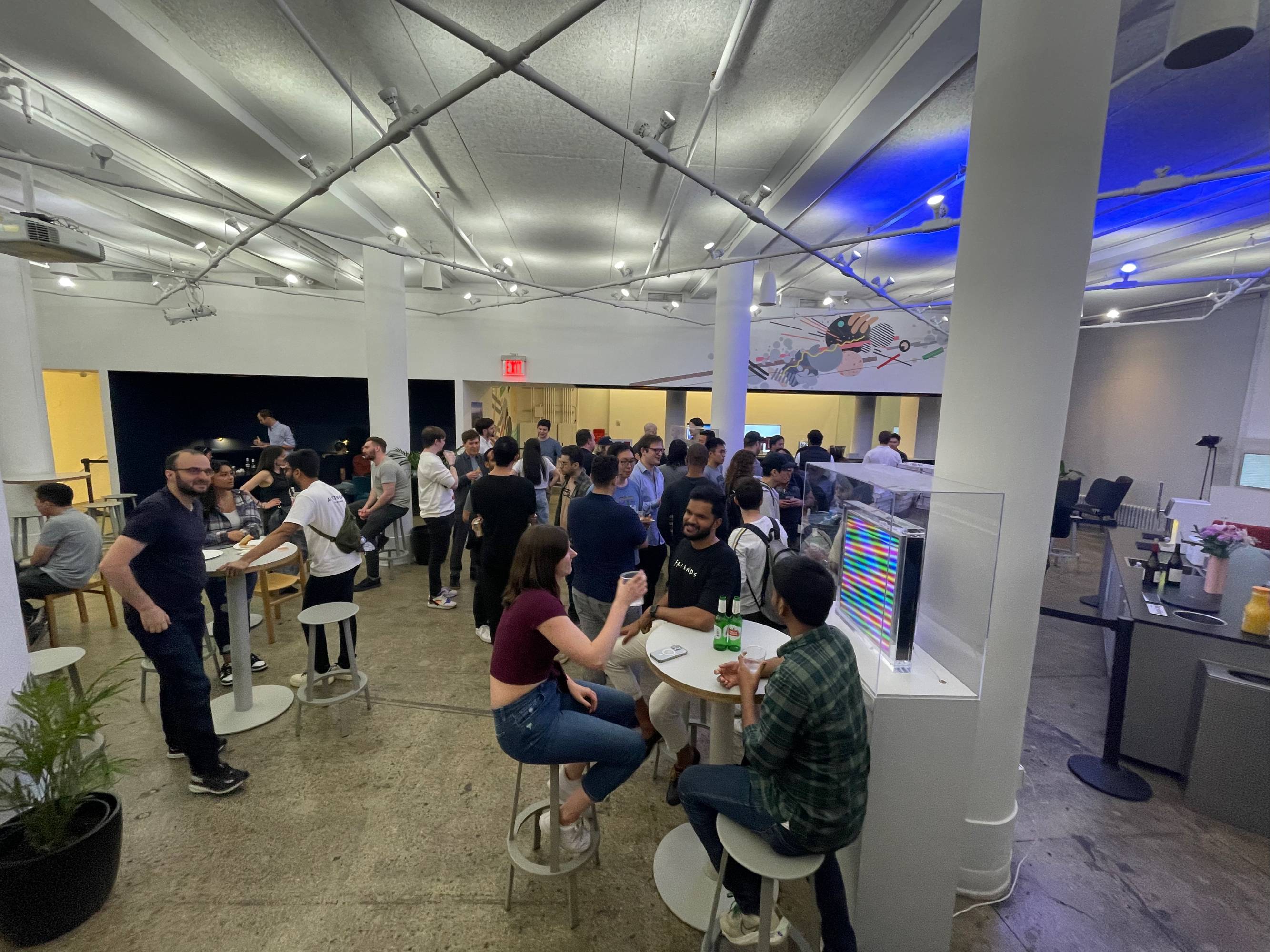 ---
Romero shared an idea for a Tweetdeck-style product that integrates with all of the emerging decentralized social protocols. "Could also do cross-posting with some smart logic for prompting username switches, etc.," said Romero. In a followup cast, Romero called the idea "Bloomberg terminal for open internet feeds."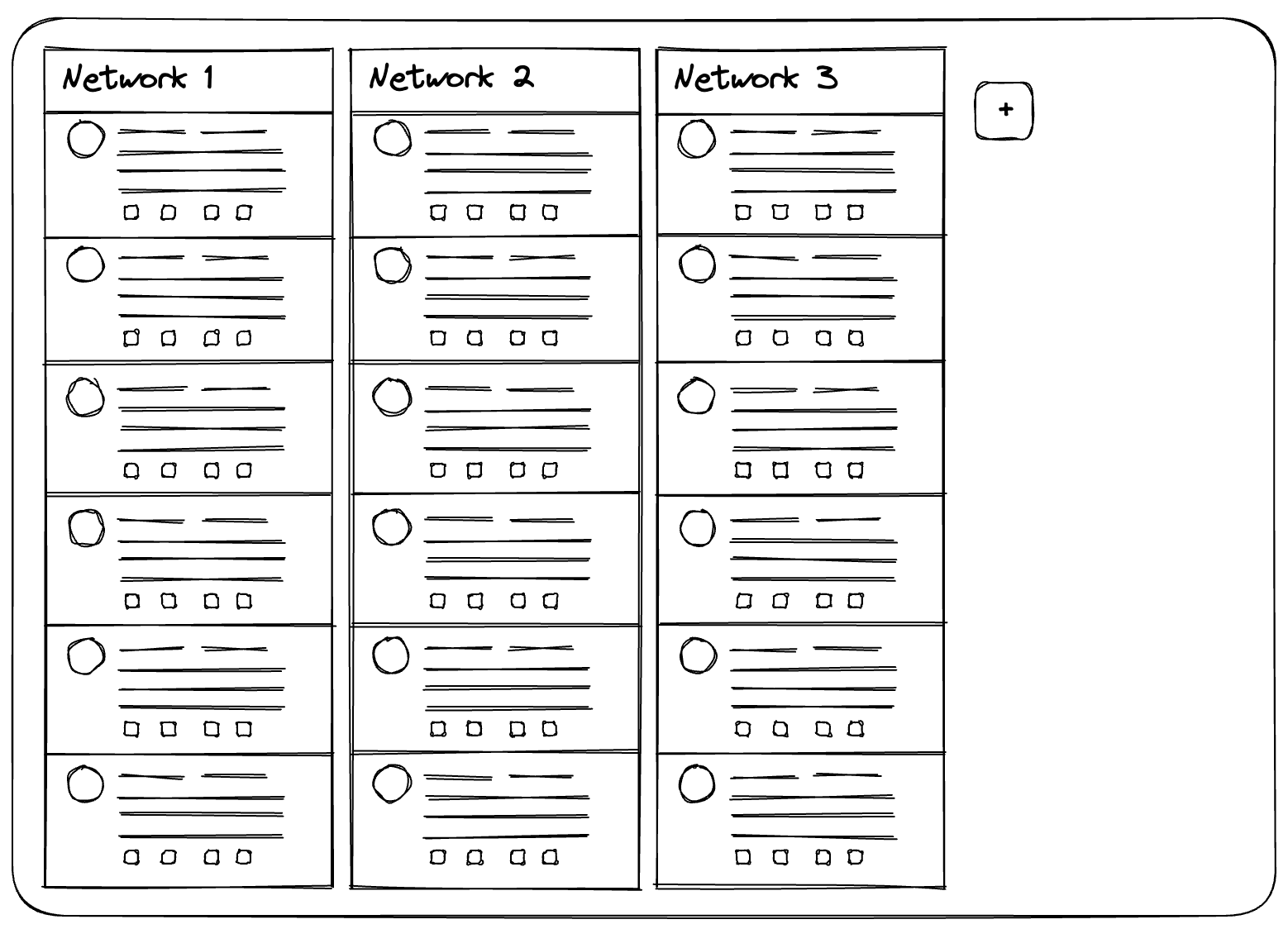 ---
Romero's latest experiment in NFTs for public goods funding is available to mint now. casters no. 1 is available to mint through Monday as an open edition for .0025 ETH (limit one per address). Proceeds go to Purple. The prompt?
a vector illustration of a futuristic astronaut's helmet, floating underneath a Farcaster - style arch portal, trending on artsation, detailed depiction of nature, synthwave palette, many shades of purple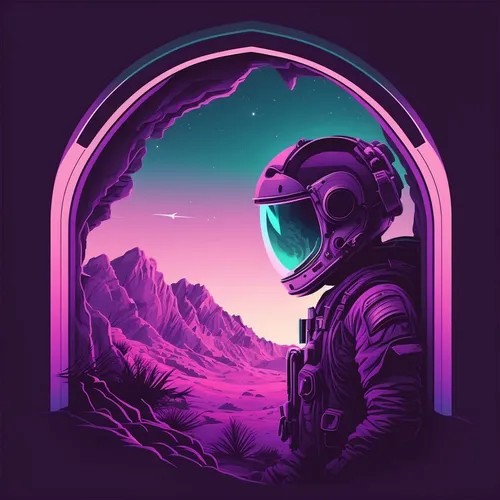 ---
@ivy, a.k.a. Ivy Astrix, shared her thoughts on Farcaster vs. Bluesky in a Substack post. "tl;dr i feel more of a co-creator of something on Farcaster and more of a member of a club on BlueSky and align far more with credible neutrality than vibes," said Astrix.
---
Srinivasan and Romero hosted their latest Clubhouse room on Thursday evening. As usual, the co-founders provided a mix of dev and product updates. Srinivasan said there are 15-16 hubs running at any single time right now, and that he remains focused on making building on Farcaster more accessible to devs at different levels, ranging from querying casts, to writing bots, to managing hubs. One of their recent experiments to improve the dev experience was having Romero run through the hub setup guide without any guidance from Srinivasan, and using that experience to help identify any rough edges that should be sanded down. Romero said there are a bunch of new features coming down the pipeline which will build on the Hub architecture and the recent Alpaca protocol improvements, which Srinivasan said will take up about a week to roll out to all hubs. Romero also discussed the possibility of adding a "mint" button to Warpcast and the complications with doing that. Some notes about the mainnet migration and how that will work were also shared on the call. You can listen to the full recording here.
Farcaster By the Numbers
Powered by Farcaster.network. Changes in totals based on last week, other changes based on four-week rolling average.
Weekly Active Casters: 1,600 (-100 compared to 4-wk avg.)

Monthly Active Casters: 3,200 (no change compared to 4-wk avg.)

Total Casts: 611,000 (+21,000 week over week)

Total Users: 12,000 (no change week over week)

Average Casts per Day: 2,880 (+491 compared to 4-wk avg.)

New Users per Week: 330 (+48 compared to 4-wk avg.)
Sponsored by Purple

Purple is a DAO whose goal is to proliferate and expand the Farcaster protocol and ecosystem. The DAO operates on Nouns.Build, Discord, and Charmverse.
This Week in Purple
There's an old adage in journalism – don't bury the lede! Well, this week in Purple, there was a singular event which can't be celebrated enough. Purple instigator @ccarella, a.k.a. Chris Carella, welcomed the latest member of his family into the world. We are all just thrilled for Chris on his successful launch of Carella 2.0! Now, onto the other news this week in Purple...
PRPL 23 Remove the Founder Allocation for the Founder multisig passed with 26 'For' votes and 1 'Against' vote. 🫡
PRPL 24 Extend Deadline for Hub issues Funding passed unanimously with 18 'For' votes. Bounties will now be available thorough May 13 to devs who merge a pull request that resolves a Github issue for Farcaster Hubs. To claim a bounty, do the following:
Create a Github gist that includes your Farcaster handle & a link to the merged pull request.

Make a cast with the gist and mention @purple. Also include your preferred Ethereum address to receive the fund (if no address is provided, Purple will just use your Farcaster connected address).
Purple's first droposal ended this week. The interactive art by @chriscocreated was minted 72 times, raising about 1 ETH for Purple and the artist each. "These are great additional, non-auction based, ETH for our Treasury," said Carella. "We should do another one."
Get to Know Purple
This week, meet Purple DAO member @borodutch.
TWIF: Why did you want to join Purple?
So the other day I submitted a Prop House request for retroactive funding and won one of the last places. Obviously, I bought into Purple to skew further incentives towards benefiting the most crucial part of Farcaster protocol in my opinion. Since then, I have wreaked chaos which was exactly my goal.
It was also a part of my icebreaker joke during ETHDenver Farcaster meetup to sell Purple tokens to uninitiated.
TWIF: What excites you most about Farcaster?
The most exciting part about Farcaster is its community. It's early, small and very unique on the Internet. So many brilliant builders gathered on the same platform. I no longer use Twitter because — let's be honest — now my feed consists of spam and Elon's posts there. Even though I don't follow neither spam, nor Elon.
TWiF: Can you give us a few recommended follows on Farcaster?
Sure! @cassie, @dwr, @v, @syed, @ccarella, @briang, @ted, @greg, @j4ck, @abc are among the ones that I'd turn on notifications if I could only turn on notifications for them.
Upcoming Dates of Note
FarCon
June 10-11 - Boston, MA
Have an event we should add to a future edition? Send us a reply to this email!
Job Listings
Contract Designer (@dwr)
Merkle Manufactory cofounder Dan Romero said that he's looking for a contract designer who's comfortable implementing designs in React/React Native and who has experience building information-dense UI. Interested? Send Romero a direct cast at @dwr.
Senior Engineers (Discove)
According to founder David Furlong, the ideal hire "already uses Farcaster, believes in it & wants to see it succeed 💜." The stack includes React Native, Next.js, and TypeScript. For more information, DM Furlong at davidfurlong.telegram for more info.
Have a job listing we should add to a future edition? Send us a reply to this email!
This newsletter is published with Paragraph.xyz. The format of this newsletter was inspired by Week in Ethereum News. With questions, comments, or other feedback, please send a reply to this email, or access the "farcaster-weekly" channel in Purple's Discord.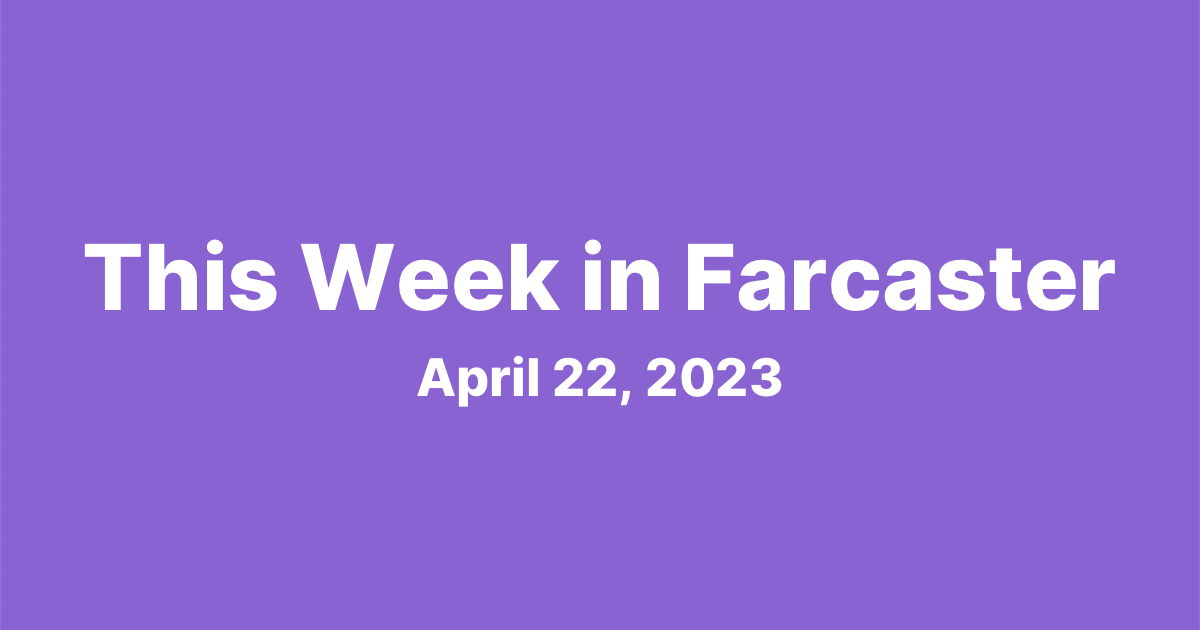 Collect this post to permanently own it.
Subscribe to This Week in Farcaster and never miss a post.