This edition is sponsored by Purple, a DAO whose goal is to proliferate and expand the Farcaster protocol and ecosystem. Interested in sponsoring a future edition? Send us a reply to this email!
Farcaster News and Links
FarCon is happening now!
FarCon, the first-ever Farcaster conference, kicked off on Saturday, June 10, in Boston. Organized by @grin and @cameron, a.k.a. Cameron Armstrong, the unconference began informally yesterday with a hang at the "real" Marriott involving a few matches on a semi-saturated pickleball court and a bar takeover at Cambridge Brewing Company. The official programming kicked off this morning at Venture Cafe in Cambridge, with @dwr, a.k.a Farcaster cofounder among the attendees.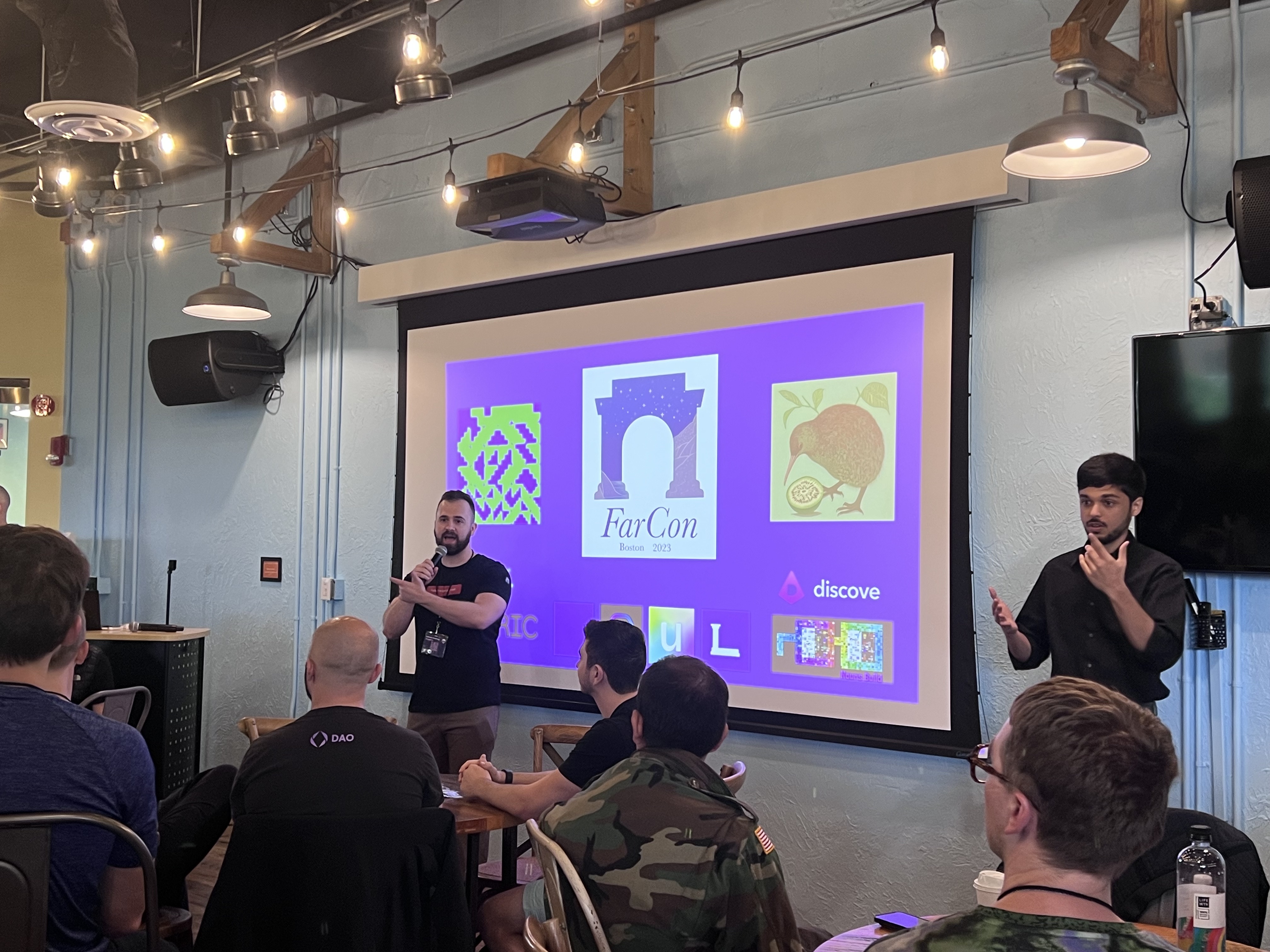 In the kickoff, @grin explained why he and Armstrong decided to organize the conference. "We're here because of Farcaster," said @grin. "The soon-to-be sufficiently decentralized protocol."
@grin said that Dan talks a lot about the protocol roadmap, but noted that he doesn't talk about the social protocol as much. "But that's why we're here – to do the social thing."
The social protocol roadmap should come from us, said @grin. "So what's the roadmap? It's basically this: hanging out on the protocol, interacting on the protocol, investing our time and energy into Farcaster."
@grin said that the goal is to feel a sense of ownership. "If we're investing into Farcaster, we kind of own Farcaster. Maybe that's a weird thing to say – that you own a protocol – but I think that's real."
The relationships and experiences we have with each other are real, said @grin.
"We should feel like we own Farcaster. So we're here to deepen those relationships and work together and figure out what we're going to do with this thing that we own."
Romero also gave brief opening remarks. Romero shared why he and @v, a.k.a. Farcaster cofounder Varun Srinivasan, decided to start Farcaster after leaving Coinbase. "We fundamentally wanted to work on something that 30, 40, 50 years ago, we would be very proud to share with our grandkids," said Romero. "The thing that we worked on was bigger than ourselves and bigger than any one company."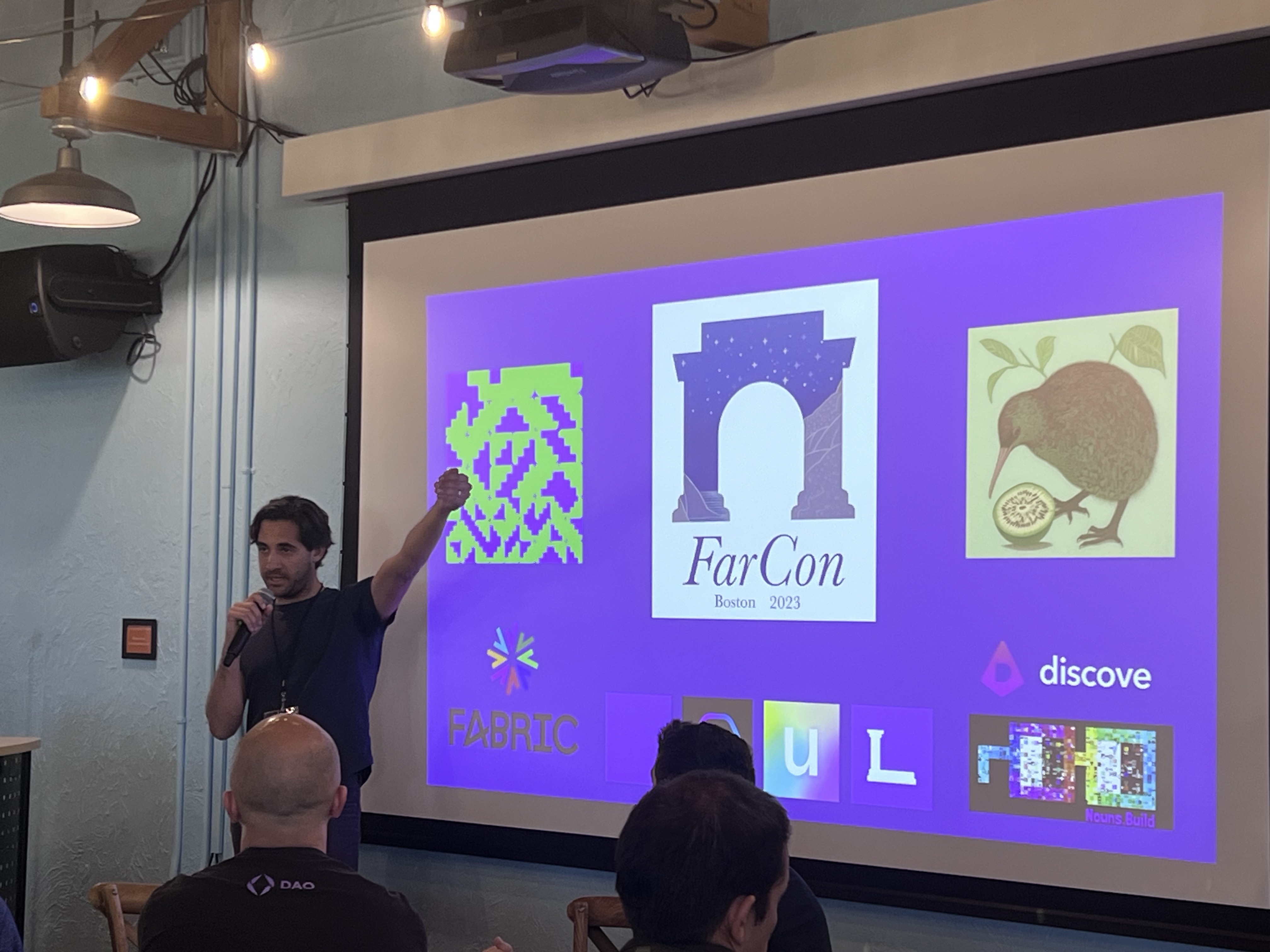 Romero said he hoped that Farcaster ended up on the "Mount Rushmore" of internet protocols alongside HTTP and SMTP. He also said that he and Srinivasan wanted to work in the project in a way that felt authentic to them, and not fall into the hype-startup trope. "We wanted to build an opinionated protocol in an opinionated way," said Romero.
Romero said the long-term version is to have a billion people using the protocol daily. The path to doing that, he said, is having many apps, services, projects, and "weird stuff" happening on the protocol. "It needs to feel like it's collectively owned," said Romero. "The only way you're going to do that is if you actually have people using it."
Romero's thinking was influenced by recently reading a book on the Grateful Dead that was recommended to him. "They wanted people to feel like being a deadhead was more than just being a fan of the band," said Romero. "It's a great analogy of what we want Farcaster to be."
Romero said that FarCon is a foundational step for getting the protocol to a place where it is actually a protocol.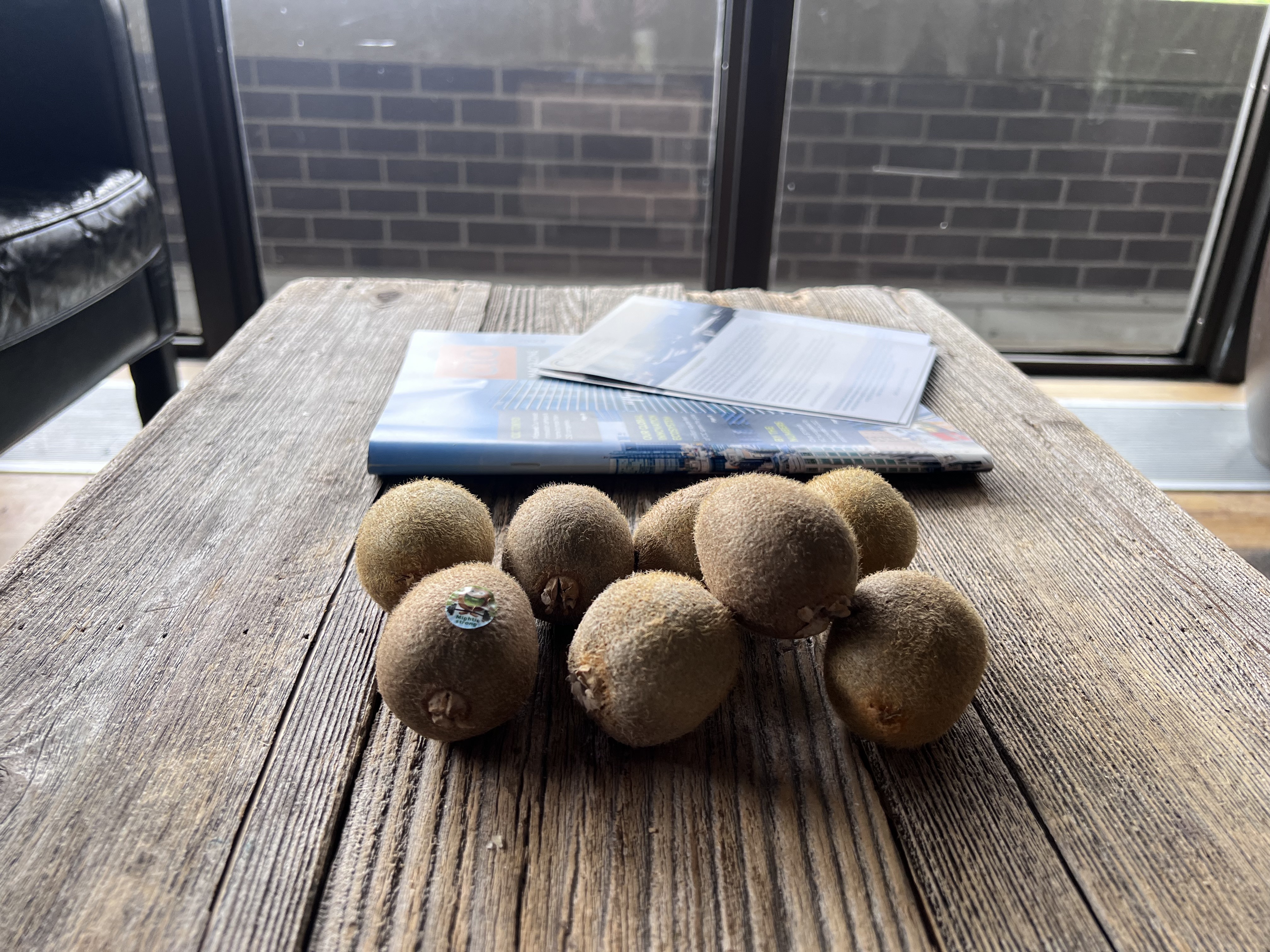 App updates
Channels have landed on Warpcast mobile. The feature was announced mid-week, just in time for FarCon. Channels are the first major Warpcast feature to build upon FIP-2, which added support for new types of embeds, parents, and reaction targets. Warpcast has launched two channels to start, for FarCon and Purple, with more coming soon, according to @dwr, a.k.a. Farcaster cofounder Dan Romero. "Anyone can cast and read casts in channels," explained Romero in the launchcast. "When you cast in a channel, it won't appear in the main feed." Romero said that the Merkle Manufactory team is experimenting and plans to iterate quickly on this feature, and will be adding support for channels to be hidden and reordered by individual users.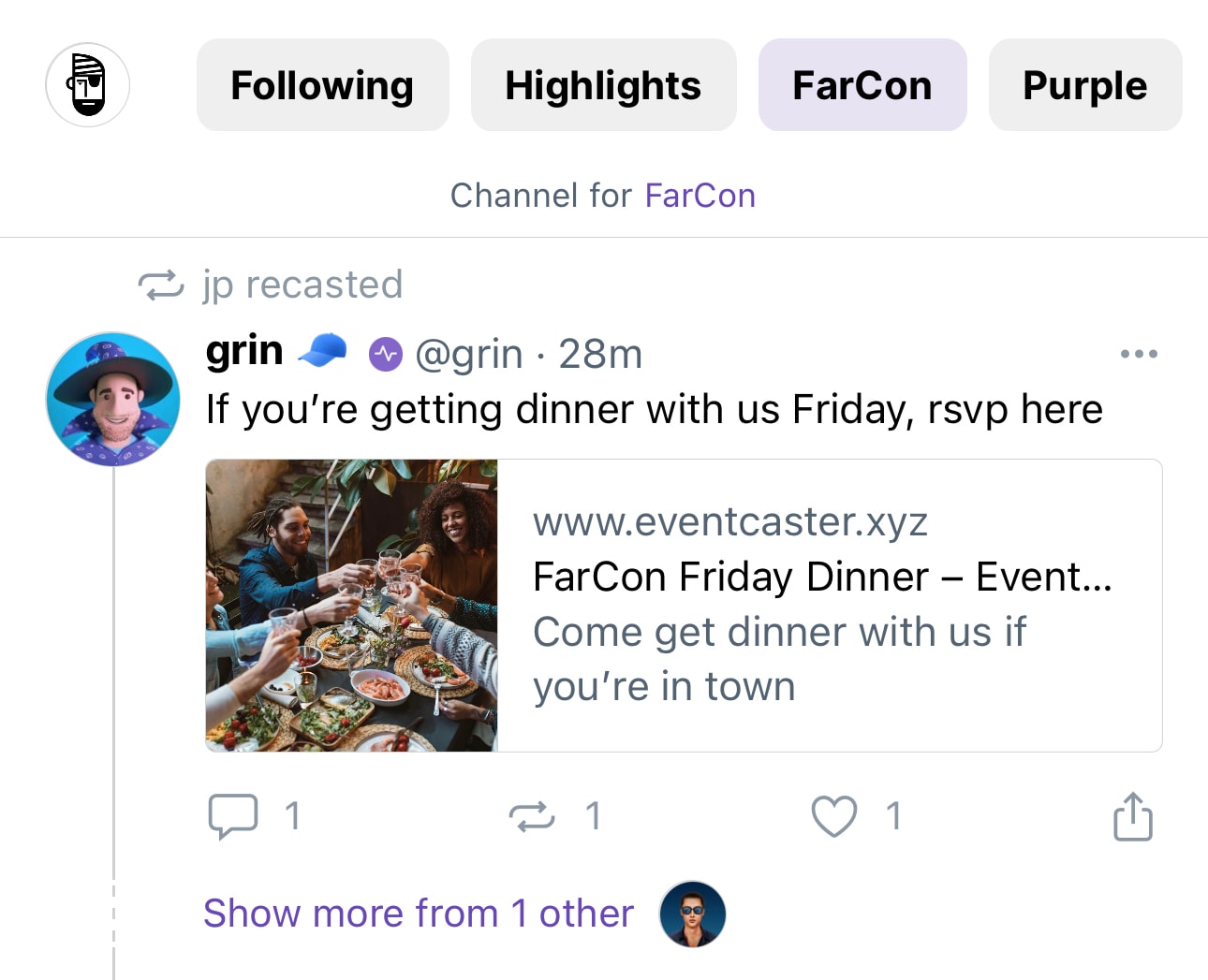 ---
The first round of quests has launched on Farquest.app. "We want @farquest to be the first destination for new casters to explore Farcaster," said @jc, a.k.a. jcdenton.beb, in the launchcast. "We hope through these efforts, we'll make a dent in new user retention 🚀" Farquest is built on top of the decentralized social protocol bebOS. The creators say it's solving Farcaster's problem of: "Cool app, what's next?"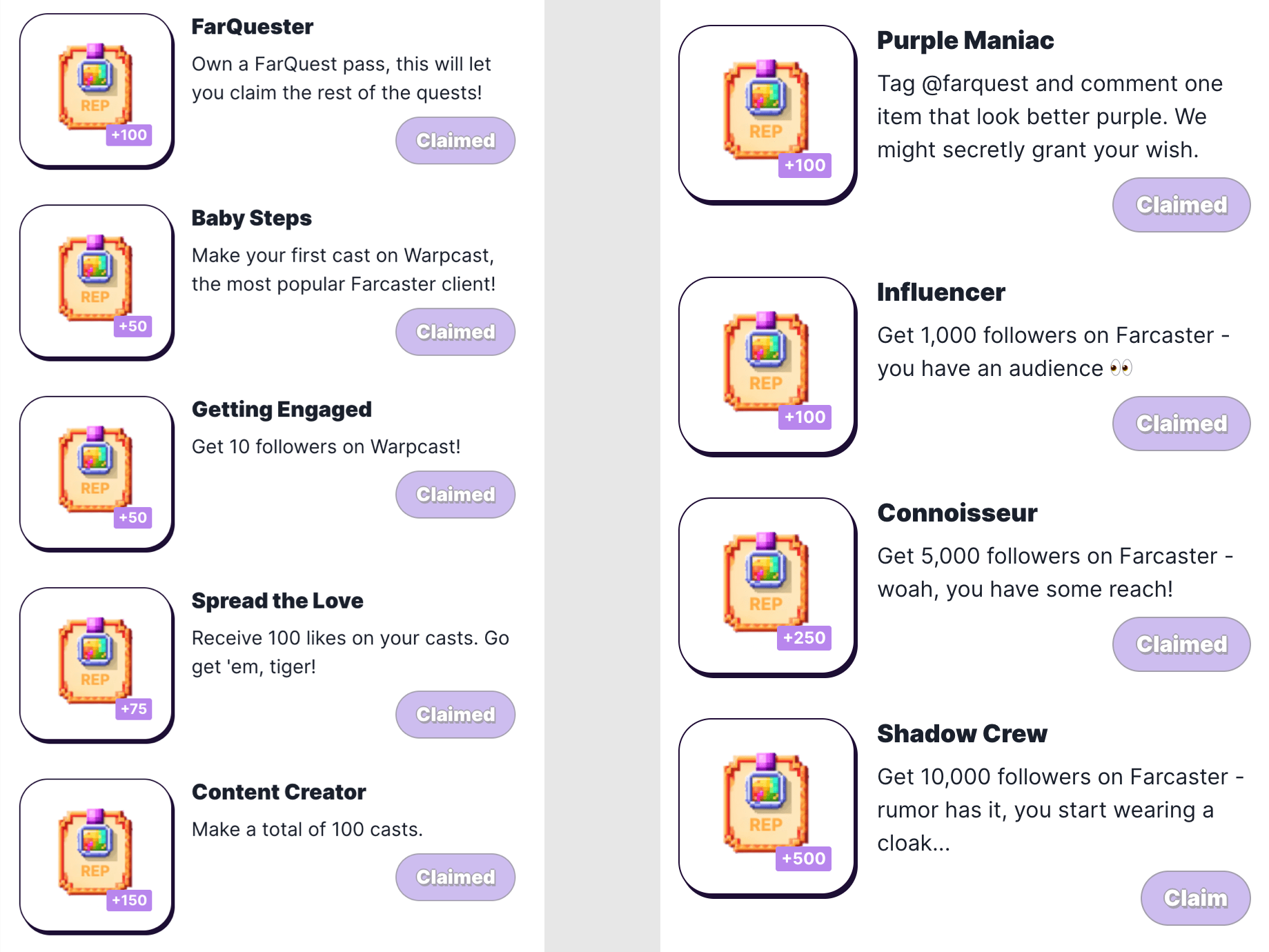 ---
Warpcast mobile now helps users prune their follower list in advance of the June 14 migration of follows to Hubs, at which point each Farcaster user will be limited to 2,500 follows. ("We'll likely have a way to increase this amount once we're on mainnet later this year," notes Romero.) On the 'Following' tab, you'll now see a list of your least-interacted with follows, and will be able to unfollow them all with just two taps. Romero said that right now, less than 100 users follow more than 2,500 users.

---
Warpcast notifications now make it easier to welcome a new user or DAO member with a cast. "Cast buttons for new users you invite join or someone joins Purple—makes it easier to welcome them," said Romero in announcing the feature enhancement. "Also for Purple a more convenient follow button."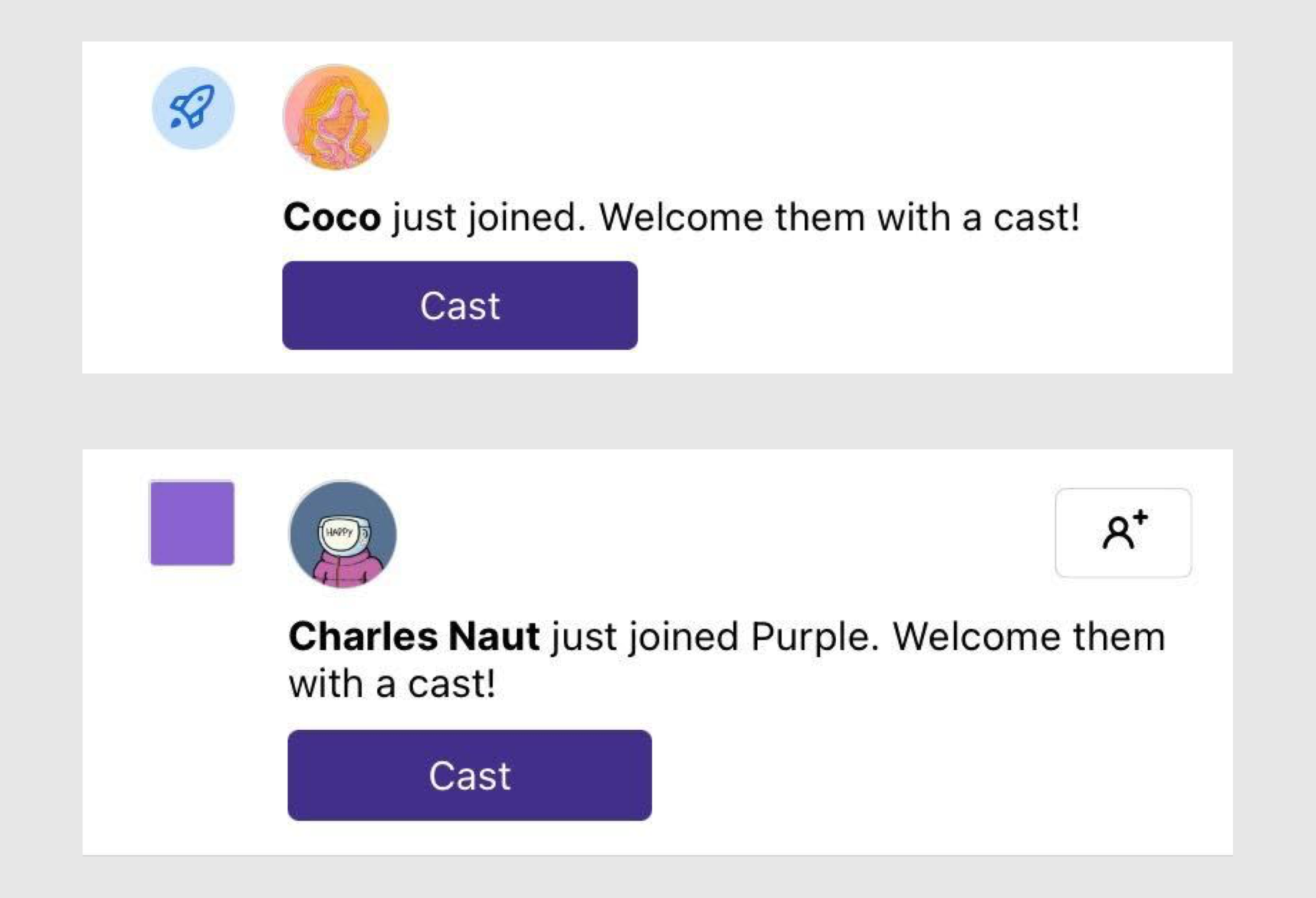 Dev notes
The Warpcast web client now supports cast intents, allowing "Cast This" buttons to be easily integrated into third-party sites. "Using the warpcast.com/~/compose with text and embed parameters will generate a deeplink into Warpcast apps with a pre-populated cast," explained Romero in the launchcast. Here, try an example.
---
Romero shared an annotated screenshot showing how Channels in Warpcast work at the protocol level. For more on the architecture, read up on FIP-2.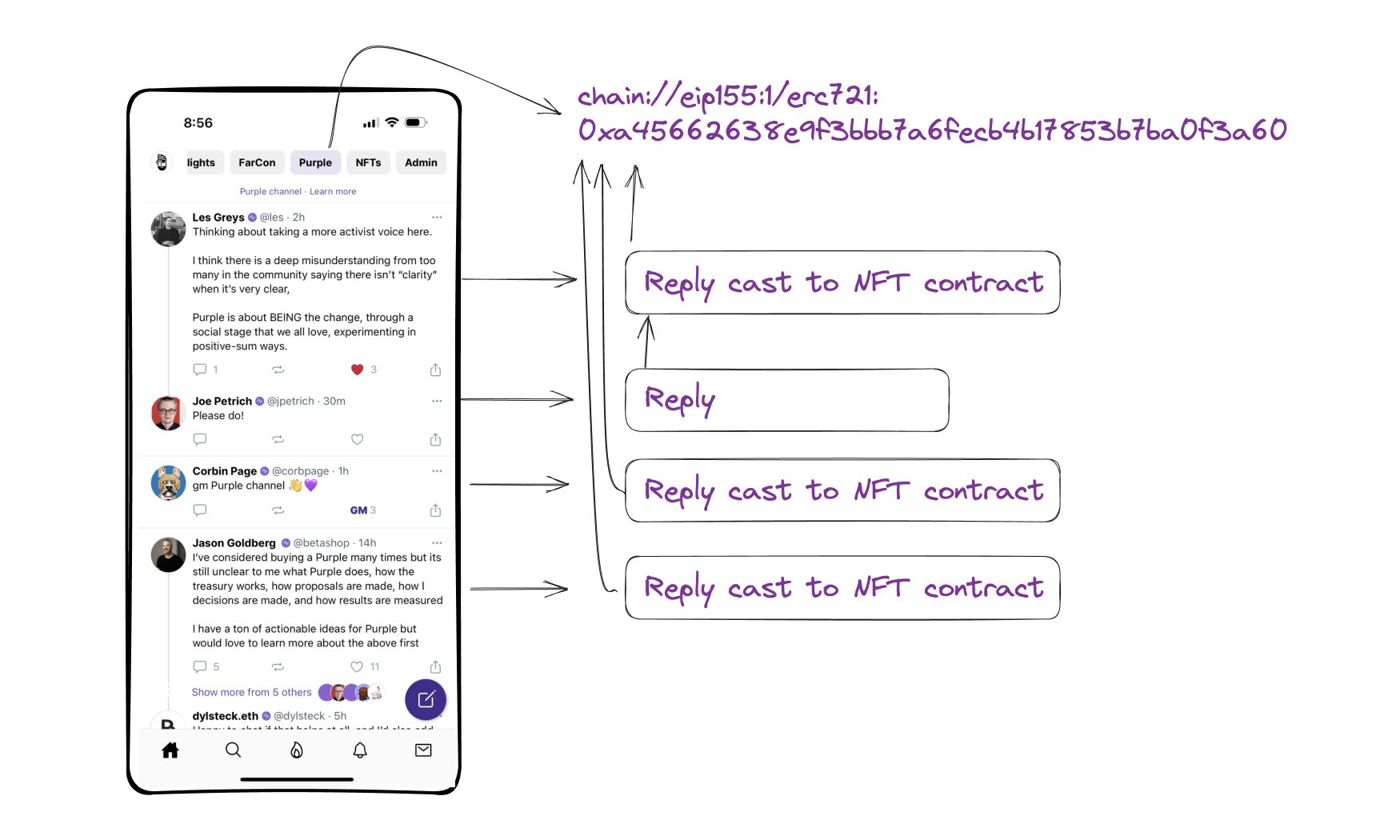 Ideas worth sharing
Farcasting No. 4 is available to mint. The prompt: "A painting showing two people rafting through water along an archway, a portal into another contrasting landscape, in the style of alien worlds, rusty debris, junglecore, fantastic scenes, human connections, anthropological, iconic, synthwave aesthetic"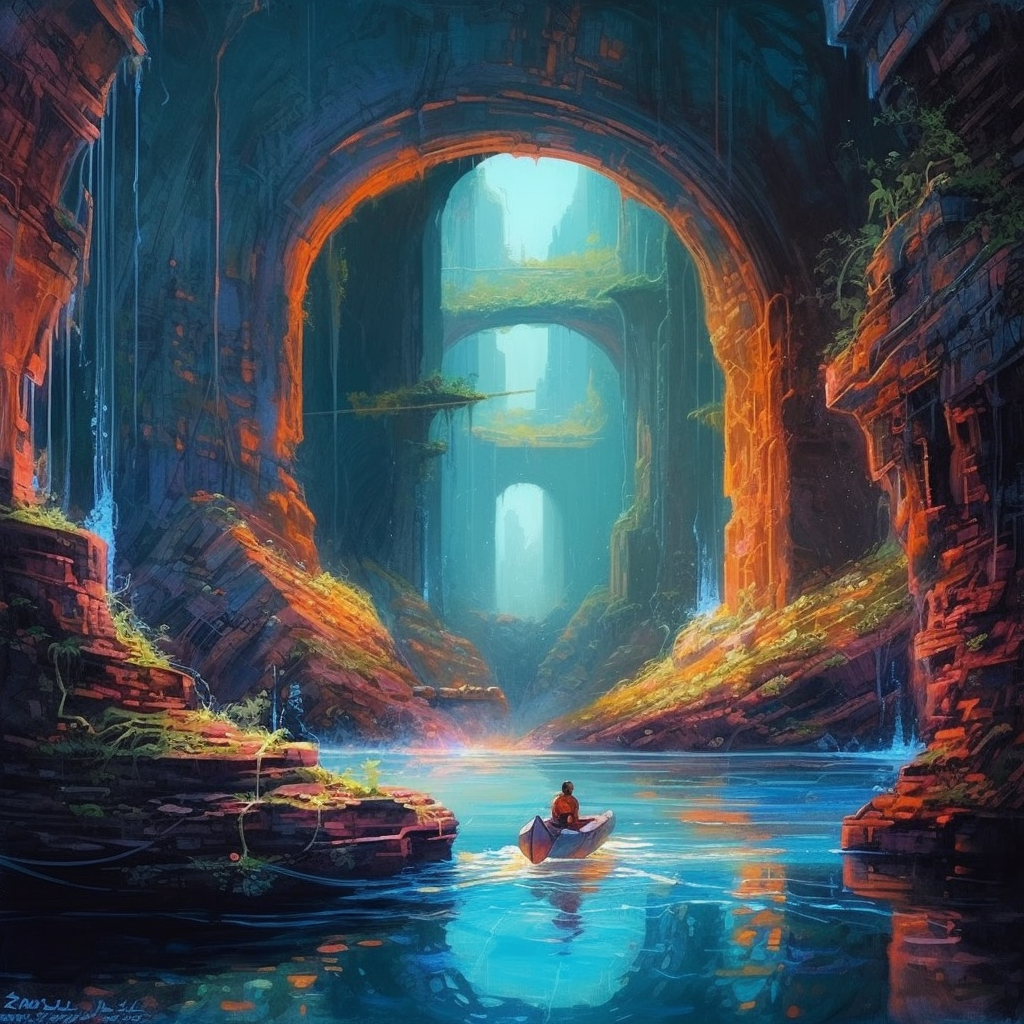 ---
Voting closes tomorrow on the SayMore & Purple FarCon Essay Contest. Nearly two dozen essays were submitted, with 0.5 ETH to be awarded to the Best Overall Essay, 0.1 ETH to be awarded to three honorable mentions, 0.1 ETH for the boldest essay, and 0.1 ETH for the best DAO or Purple related essay. Find links to each essay here, and then vote on your favorites.
Farcaster By the Numbers
Powered by Farcaster.network. Change calculations based on last week. Note that total casts and total users are both rounded to the nearest 1,000.
Weekly Active Casters: 1,500 (+25 compared to 4-wk avg.)

Monthly Active Casters: 2,800 (-100 compared to 4-wk avg.)

Total Casts: 738,000 (+22,000 week over week)

Total Users: 14,000 (+500 change week over week)

Average Casts per Day: 2,980 (+233 compared to 4-wk avg.)

New Users per Week: 119 (-51 compared to 4-wk avg.)
Sponsored by Purple

Purple is a DAO whose goal is to proliferate and expand the Farcaster protocol and ecosystem. The DAO operates on Nouns.Build, Discord, and Charmverse.
This Week in Purple
Voting open PRPL 31 Predictable retroactive funding rounds is open through Sunday. This proposal would see Purple direct 15 ETH to three more Prop House rounds for retroactive public goods funding. Each round would have five winners funded at 1 ETH each. So far, the proposal has seen unanimous support, with 23 'For' votes. If passed, it would be the DAO's single largest allocation to date, albeit spread across three rounds so it's similar in scope to previous Prop House rounds passed through PRPL 17 and PRPL 4, just with three rounds committed instead of one.
Voting closed The informal, non-binding, POAP-only Prop House round for 'What should Purple spend its time and ETH doing' ended on Thursday, with the 11 submitted proposals seeing more than 160 votes cast. Among the top entries were @dylsteck's What the DAO should Do and TK's Purple Strategy - Season 2.
Upcoming Dates of Note
Have an event we should add to a future edition? Send us a reply to this email!
Job Listings
Have a job listing we should add to a future edition? Send us a reply to this email!
This newsletter is published with Paragraph.xyz. The format of this newsletter was inspired by Week in Ethereum News. With questions, comments, or other feedback, please send a reply to this email, or access the "farcaster-weekly" channel in Purple's Discord.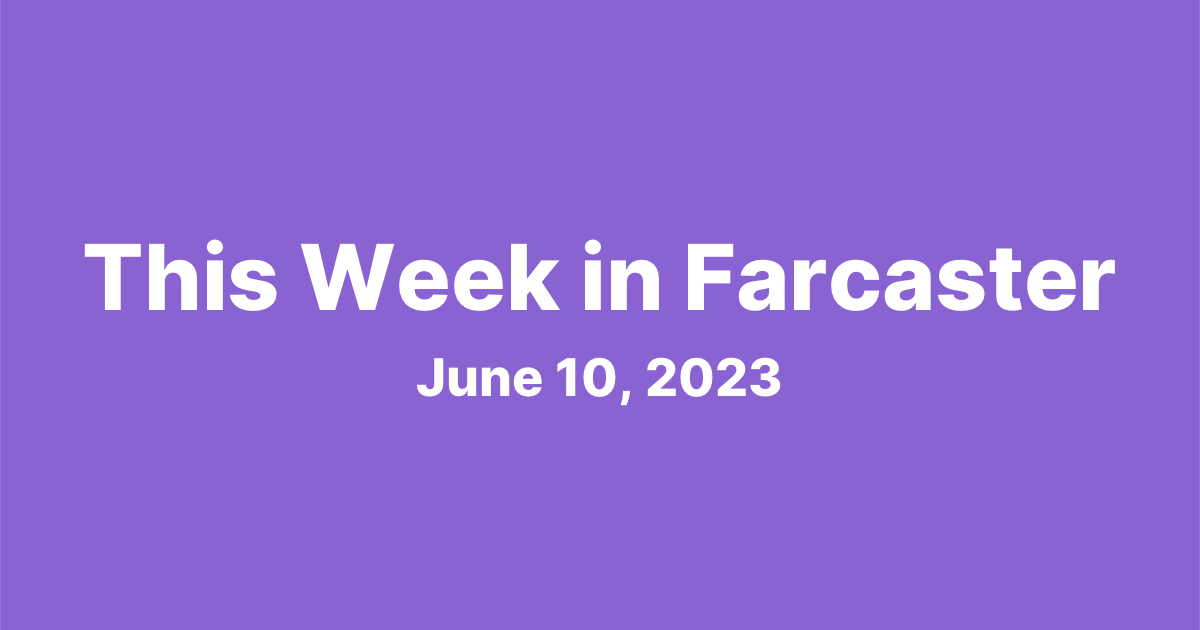 Collect this post to permanently own it.
Subscribe to This Week in Farcaster and never miss a post.