This edition is sponsored by Purple, a DAO whose goal is to proliferate and expand the Farcaster protocol and ecosystem. Interested in sponsoring a future edition? Send us a reply to this email!
Farcaster News and Links
App updates
For Game 5 of the NBA Finals, a temporary dedicated 24-hour channel was setup. @dwr, a.k.a. Farcaster cofounder Dan Romero, announced the experiment on the afternoon of the game. To enable the channel, users had to mint a free "Game 5" NFT on Zora. The feature received enthusiastic feedback from the community with casters suggesting more dedicated channels for future events and custom NFTs to represent teams. In lieu of the r/nba subreddit ban, the "Game 5" channel served as an immersive sanctuary for NBA fans, with casters suggesting how channels could be a prospective contender for subreddits in general. Romero said in a followup cast that Warpcast will soon support showing, hiding, and creating channels soon. Also this week, the Purple and FarCon channels were updated to be visible only to tokenholders, a convention also kept with the new Purpler, Builder DAO, and Nouns channels added this week. "More channels and improvements coming soon," said Romero. "Thanks for being patient as we iterate and learn. Excited to get this permissionless within Warpcast soon." (Editor's note: Thanks to @fractalqualia, a.k.a. Zohaib Ali, for contributing to this story!)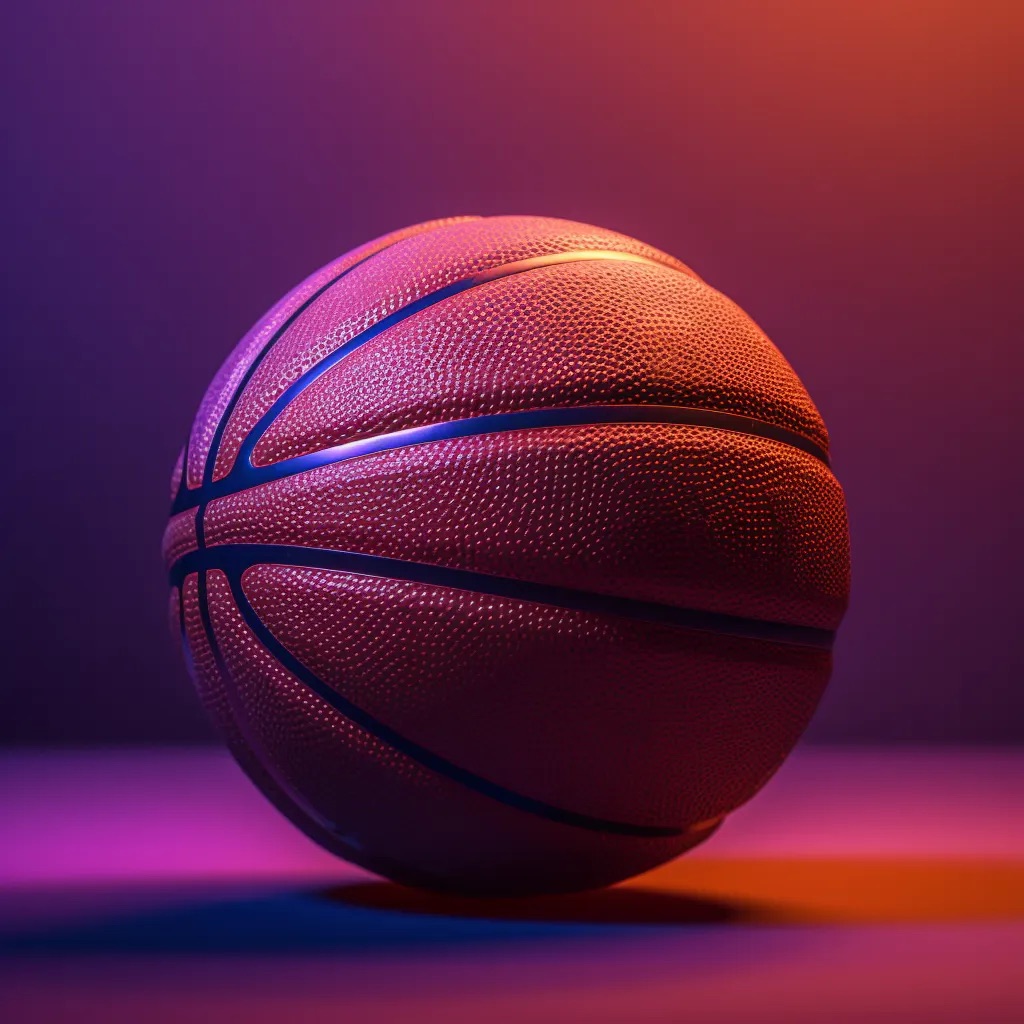 ---
Last week, the Warpcast web client added support for cast intents – a link structure that lets apps pre-populate a cast for users, similar to how Twitter and Facebook share buttons work. App developers, most notably Zora, wasted no time in implementing the new capability. @jacob, a.k.a. Zora founder Jacob Horne, shared the new integration appropriately gracing the post-mint experience of farcasting no. 4 by Romero. Horne also minted his own commemorative 'Cast' artwork. "Wow I wish we added the Cast button earlier it's so convenient," said Horne in a followup cast later this week.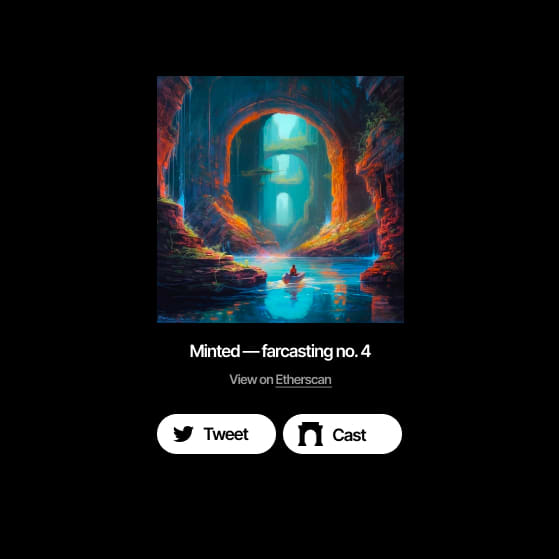 Pincaster.xyz was among the apps to integrate the new cast intents capability, with a new "Share on Warpcaster" button. @matallo, a.k.a. Pincaster creator Carlos Matallín, said in the launch cast that any casts sent using the button will be automatically included in the collection.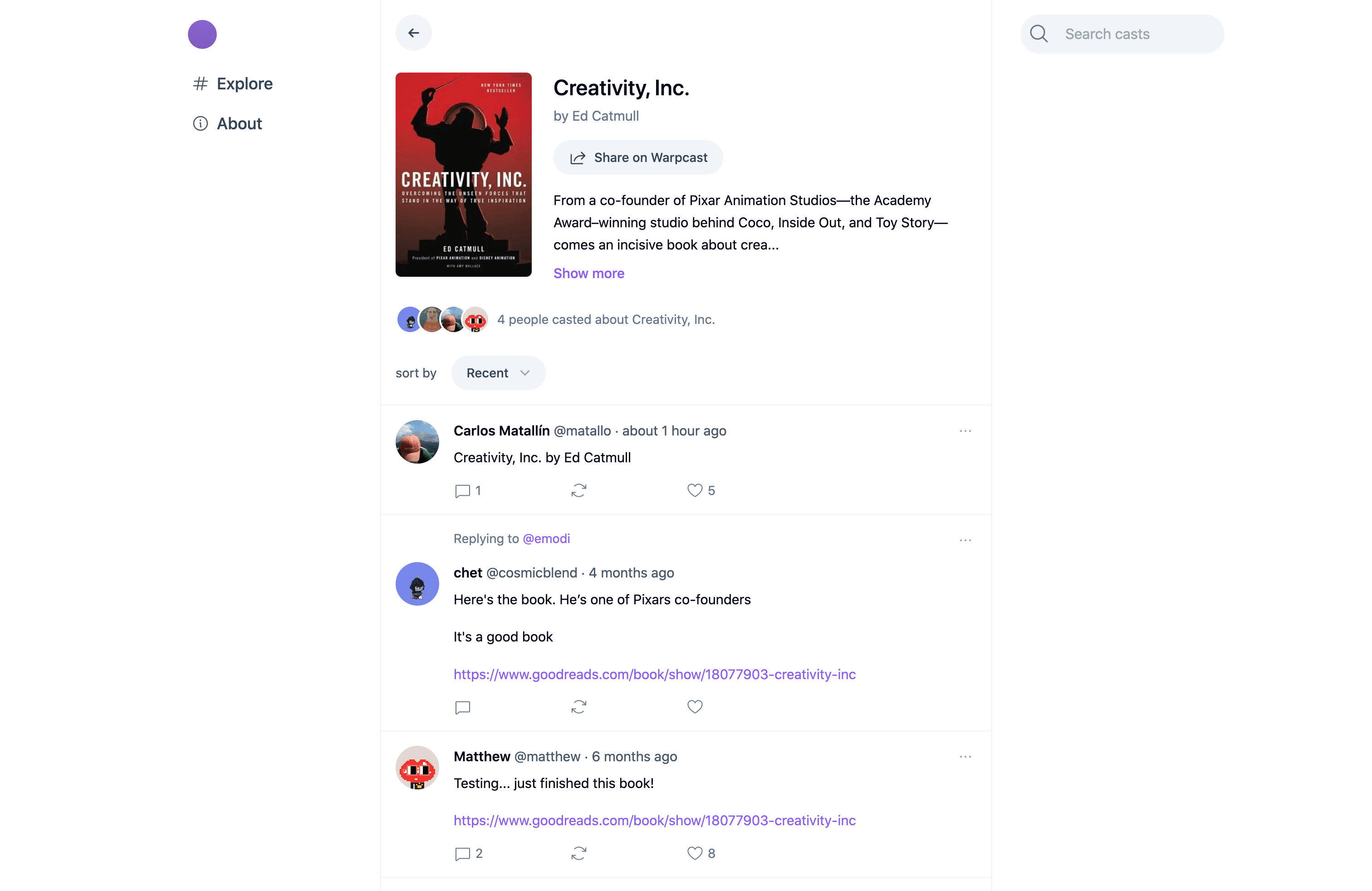 Kiwi News also added a "Share to Warpcast" as a premium feature only available to Kiwi News NFT holders, @timdaub announced this week. You can mint your own access NFT here.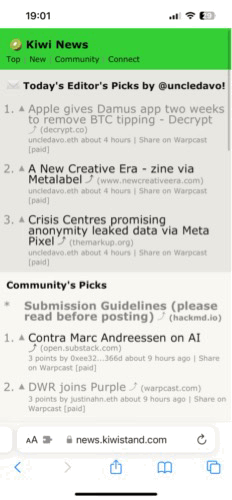 ---
SayMore.tv now supports scheduled casts. "Craft your words now, but cast them whenever your heart so desires ✍️ ," said @cameron, a.k.a. SayMore founder Cameron Armstrong, in the launchcast. The app supports Connect with Warpcast (no other login needed). Armstrong noted that the app also got a "fancy new look" over the past few weeks thanks to a collab with @nbragg, a.k.a. Noah Bragg. "This launch supports text only casts for now... and SayMore will expand into either threads, scheduling replies, or supporting image embeds next (based on demand," said Armstrong.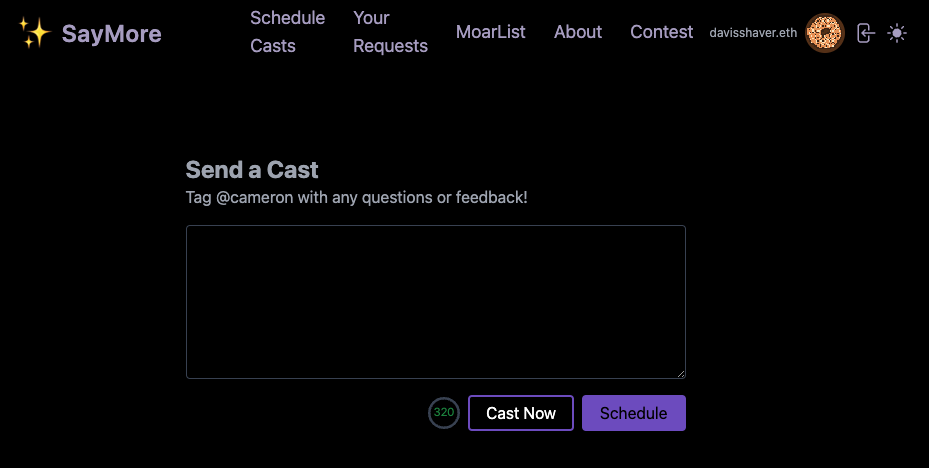 ---
Connected addresses in Warpcast clients are now labeled v1 or v2. Romero announced the labeling update midweek. "Be sure all of your addresses are v2!," encouraged Romero.

Another small change to Warpcast: Users who haven't been active in a while will now see a label about their 'Following' tab being sorted to show the most popular casts of accounts you follow. The label also includes an option to revert to showing the latest casts instead.

---
Launchcaster.xyz now supports creating updates and launches directly from the app. @jayme, a.k.a. Launchcaster founder Jayme Hoffman, shared the update this week. As part of this feature, Sign In with Farcaster support was added, as well as a nav refresh.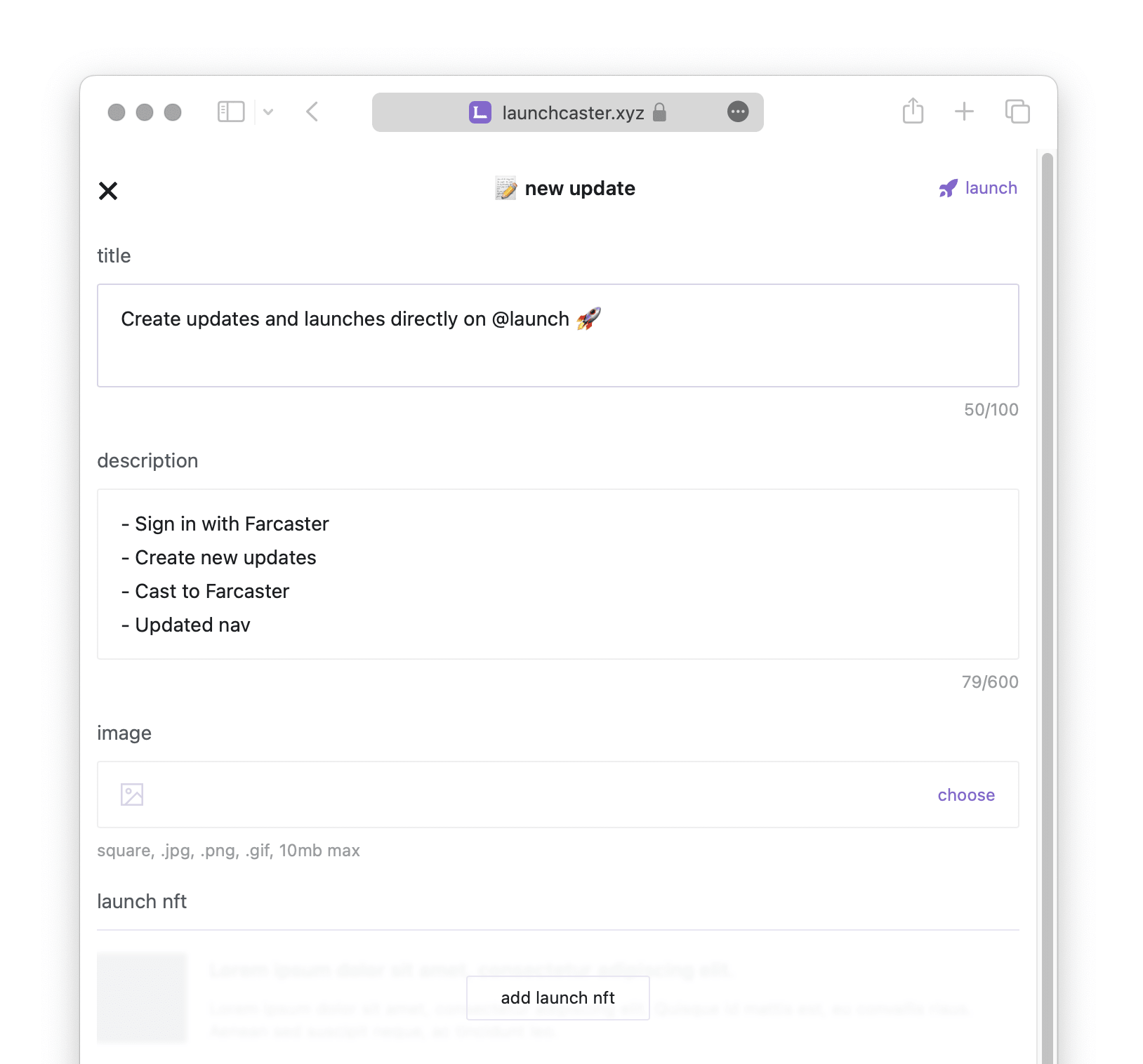 This week, LaunchCaster also added a CrossLaunch feature. Hoffman said that the feature was "inspired by the builders launching across networks." It supports posting updates to Farcaster, Lens, and (soon) XMTP.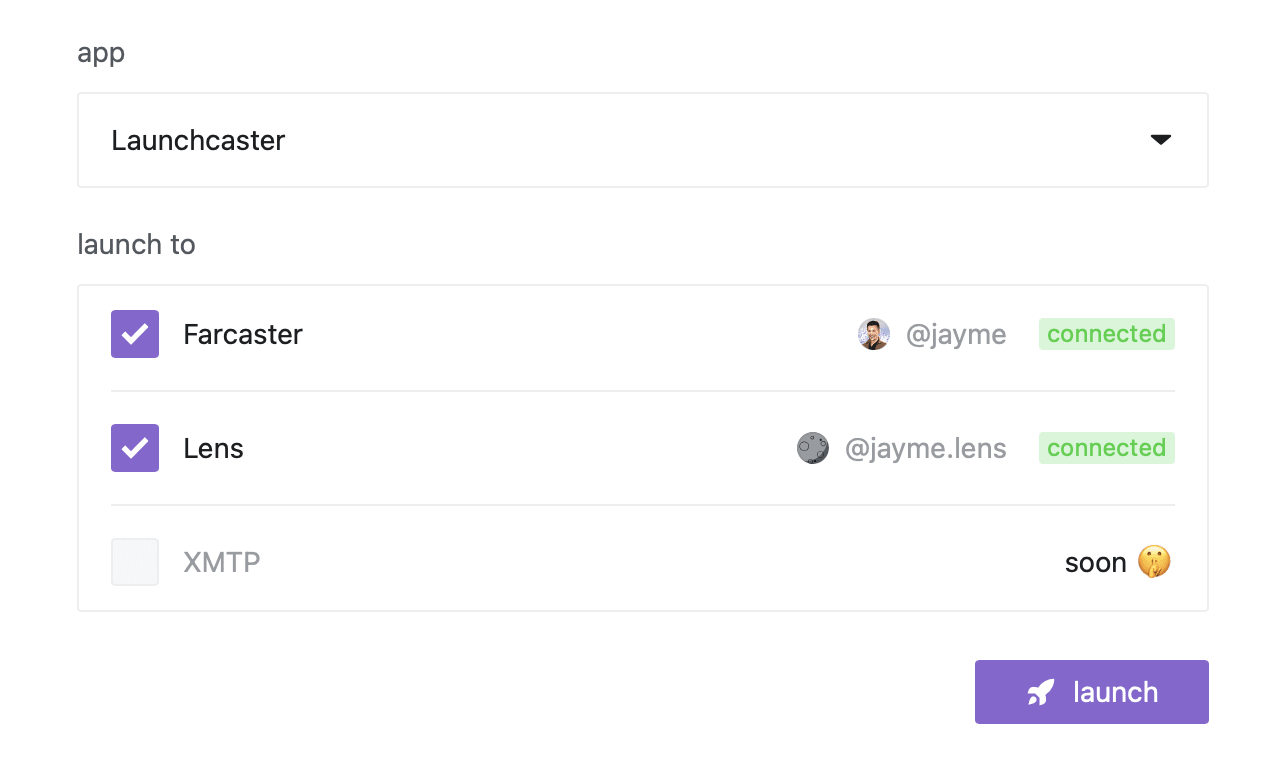 ---
The Farcaster client Jam is up for grabs. @betashop, a.k.a. Airstack.xyz founder Jason Goldberg, said that the startup has decided focus on its core business. "Our core mission is developer tools, not apps," said Goldberg in an announcement cast. Goldberg said the team is huge fans of Farcaster, but does not have the bandwidth to run Jam right now. "Over the next weeks we'll consider all options for Jam," said Goldberg. "All interest and ideas are welcome!"
Dev notes
Follows have now been migrated to Hubs. Romero and others have been communicating the migration for the last several weeks. "Follows are now fully decentralized!," said @v, a.k.a. Farcaster cofounder Varun Srinivasan, in celebrating the milestone. "Warpcast just published all our follows to Hubs and they can be fetched using the Link APIs." The migration enables follows (and, in the future, other types of user-to-user links) to exist permissionlessly on the protocol as Links. The 2,500 follow limit, as well as a limit to the byte length of each link, were conceived to manage storage requirements for hubs. As part of the migration, the Merkle Manufactory team automatically trimmed down the follows of anyone with more than 2,500 follows based on interaction data. Romero said that there were approximately ~60 users over the 2,500 following limit before the migration took place.
---
Srinivasan also announced that the protocol team is ready to move ahead with consideration of the FIP for ENS Usernames. This FIP would see the existing fnames implementation replaced with a two-tier naming system built with ENS. By default Farcaster users would get a free off-chain ENS name, made possible by CCIP, such as username.farcaster.xyz. Users could also use their own on-chain ENS name on the protocol. Hubs would keep track of usernames and emit events when ownership of usernames change and have responsibility for ensuring ownership of usernames. On Friday, Srinivasan posted a YouTube video explaining the rationale and thinking that went into the proposal. He said that the design goal was to make the implementation low friction, decentralized, and ENS compliant. The FIP will be discussed further on next week's dev call, scheduled for 10am PT on Thursday, June 22.
Ideas worth sharing
FarCon wrapped up last Sunday in Boston. Your TWIF editor was in attendance and had a fantastic time. Organizers @grin and @cameron nailed the assignment and left attendees eager to see the event take place again in the future through a new organizing team.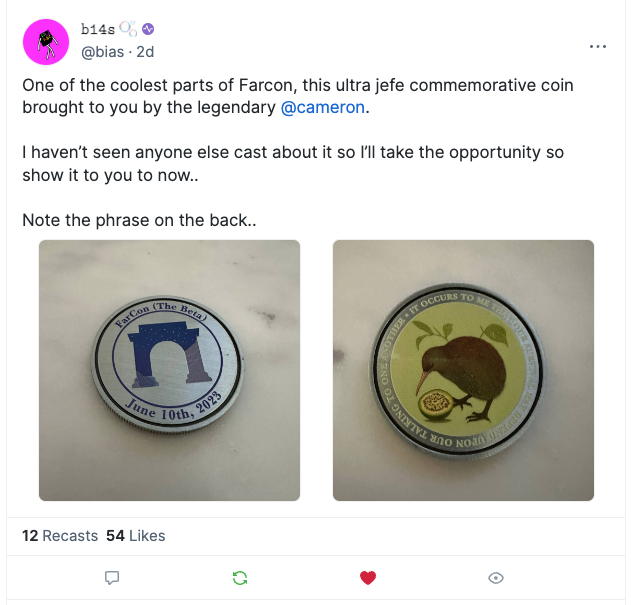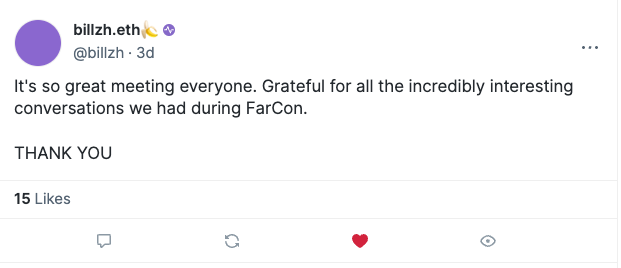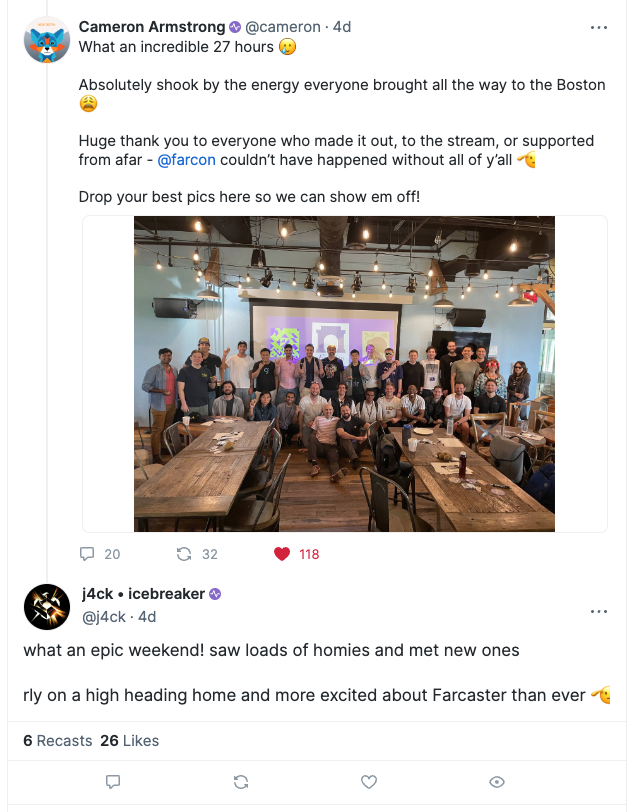 ---
Episode #2 of "Humans of Farcaster" featuring @les, a.k.a. World Builder designer Les Greys, was released last week amid the hubbub of FarCon and so you may have missed it. Produced by @grego, the podcast shares the stories of those using (and building) Farcaster. "It's inspiring to hear about his World Builder Collection currently in progress and being built in public alongside the Farcaster community," said @grego of hearing Greys' story. Episode #1 featured @colin, a.k.a. Paragraph founder Colin Armstrong.
---
@nomi, a.k.a. Nilli cofounder John Passafiume, shared a design concept for a "New Cast" icon that incorporates the Farcaster arch motif.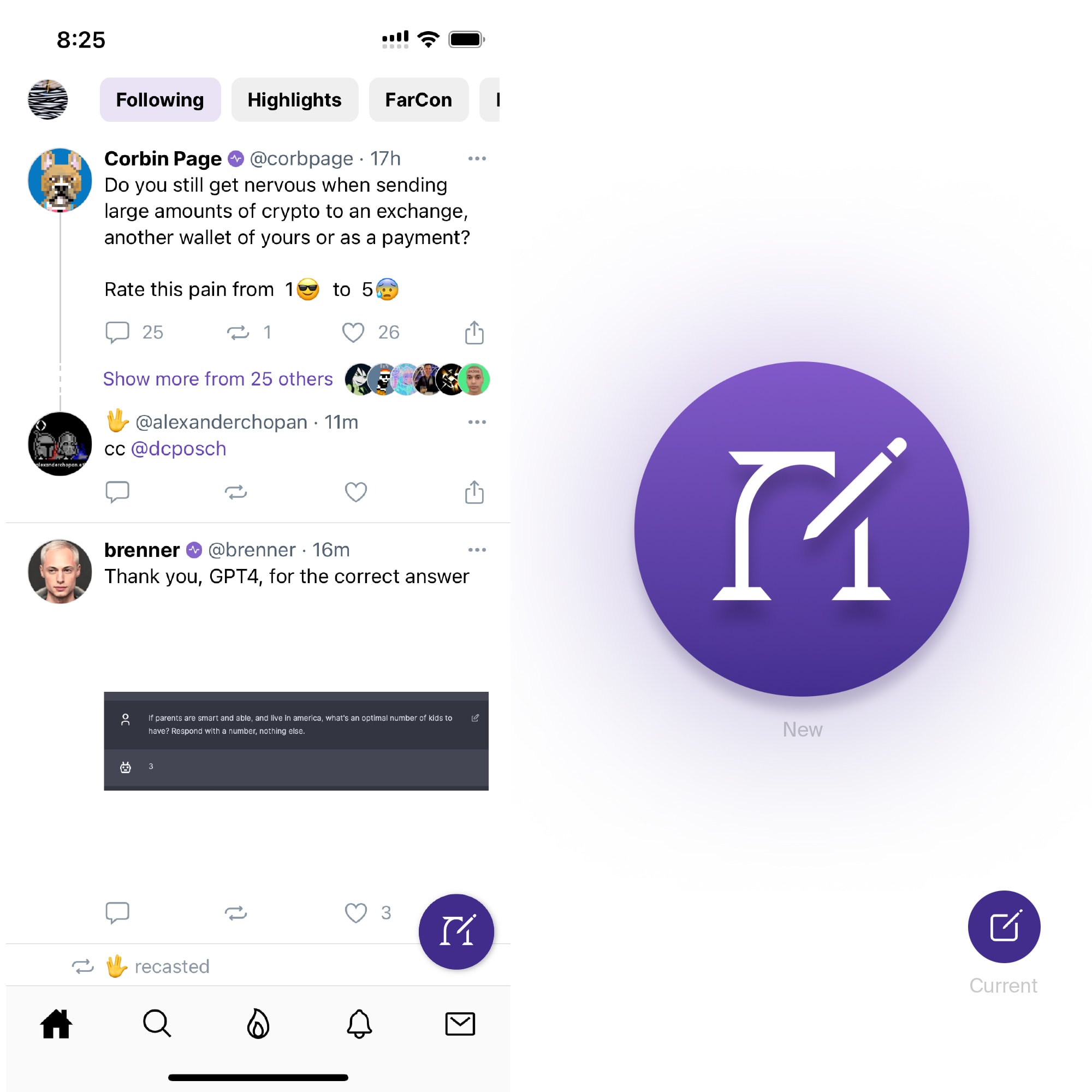 ---
@slobo, a.k.a. slobo.eth, started a conversation about how Farcaster users feel about brand accounts on the protocol. @tldr, a.k.a. Nilli cofounder Tim Reilly, said that he likes brand accounts since they help him "keep a pulse on 'farcaster native' projects, which is one of my fave things about our space rn." @adrienne chimed in and said that she's cool with brands on Farcaster as long as they feel like people, referencing @blobs. "Even better is for you to also talk about whatever you are building from your personal account," said @adrienne. "Grow with us here 🌱"
Farcaster By the Numbers
Powered by Farcaster.network. Change calculations based on last week. Note that total casts and total users are both rounded to the nearest 1,000.
Weekly Active Casters: 1,500 (+25 compared to 4-wk avg.)

Monthly Active Casters: 2,800 (-25 compared to 4-wk avg.)

Total Casts: 757,000 (+19,000 week over week)

Total Users: 14,000 (+250 change week over week)

Average Casts per Day: 2,699 (-110 compared to 4-wk avg.)

New Users per Week: 228 (+41 compared to 4-wk avg.)
Sponsored by Purple

Purple is a DAO whose goal is to proliferate and expand the Farcaster protocol and ecosystem. The DAO operates on Nouns.Build, Discord, and Charmverse.
This Week in Purple
Proposal passed PRPL 31 Predictable retroactive funding rounds was passed unanimously with 34 'For' votes. This proposal directs 15 ETH to three more Prop House rounds for retroactive public goods funding. Each round would have five winners funded at 1 ETH each. The first of the three rounds has already been put up on Prop House. Anyone with an Ethereum address can propose that their own project or someone else's be considered for a retroactive gift. Proposals will be open until June 22, followed by a one-week voting period. As noted by @ccarella, FarQuest was the first to submit a proposal on Friday afternoon.
Get to Know Purple
This week, meet Purple DAO member @punk, a.k.a. 𝙿𝚄𝙽𝙺.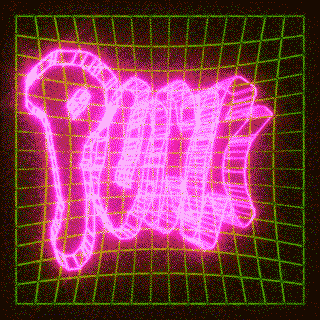 TWIF: Why did you want to join Purple?
We joined Purple because it was the first organization of humans that placed their bets on the Farcaster community and protocol. It was a no brainer as Farcaster is the 𝙿𝚄𝙽𝙺est place in all the liminal spaces that have emerged from the enshittification of all of the old liminal spaces (web2 surveillance capitalism platforms). As we could contribute to a convicted organization aimed at spreading the awesomeness found on Farcaster, we jumped at the opportunity.
TWIF: What excites you most about Farcaster?
We're excited most about the open and composable opportunities for a new era of social humans desperately needed after the painful exploitation we've been subjugated to for the last nearly two decades of the internet. Social shouldn't be led by outrage-targeting algorithms that extract content and attention to line the pockets of one visionless scumbag; it should enhance and enrich the lives of all the humans and communities that contribute to the experience and the interactions. Farcaster has started in the right direction in this light and we know we want to be here to ensure it keeps going down the beautiful path of human flourishing.
TWiF: Can you give us a few recommended follows on Farcaster?
There are so many awesome humans on Farcaster, this cannot be stated enough. Honestly nearly any active caster is a recommendation at this point. To recommend a few explicitly though, we'd recommend following @adrienne for her compassion and curiosity. Follow @n64jerry for a genuinely authentic and fun-loving soul for content that doesn't beat the same drums as the generally widespread usecase of Farcaster right now. @esskayen for alternative vibes that can also border on the deranged and hilarious. Try following @davisshaver cuz they're a hardworking stellar human that should be the recipient of far more engagement as well.

Hope to see more people come around to what David Byrne and most deeply convicted Farcasters already know: this must be the place.
Upcoming Dates of Note
Have an event we should add to a future edition? Send us a reply to this email!
Job Listings
Have a job listing we should add to a future edition? Send us a reply to this email!
This newsletter is published with Paragraph.xyz. The format of this newsletter was inspired by Week in Ethereum News. With questions, comments, or other feedback, please send a reply to this email, or access the "farcaster-weekly" channel in Purple's Discord.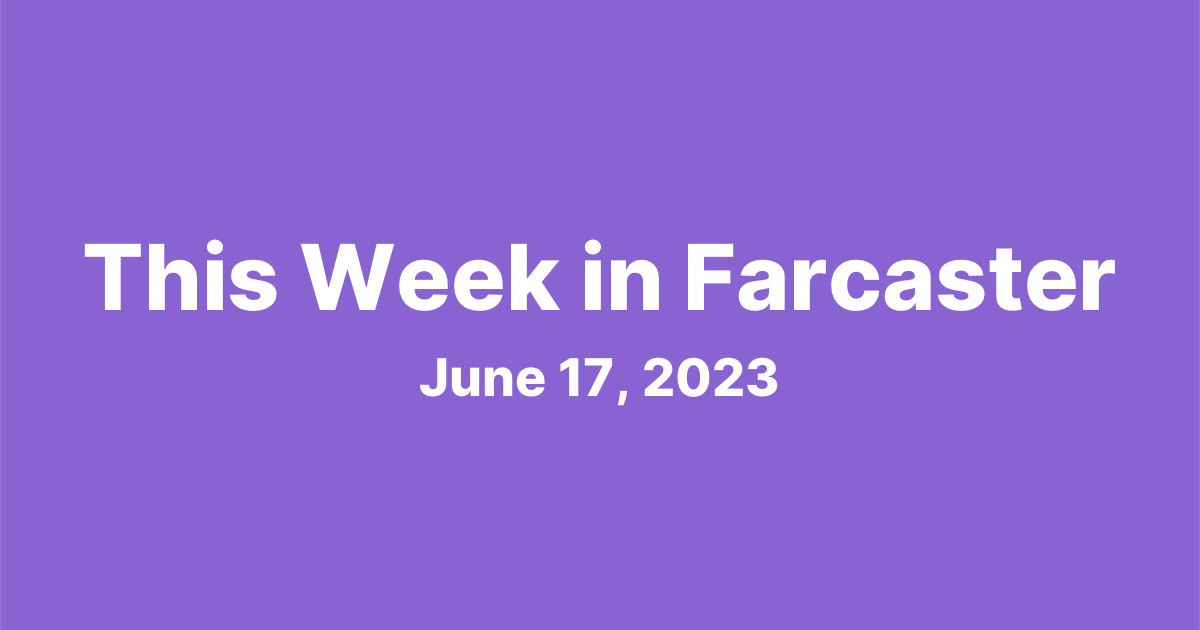 Collect this post to permanently own it.
Subscribe to This Week in Farcaster and never miss a post.