This edition is sponsored by Purple, a DAO whose goal is to proliferate and expand the Farcaster protocol and ecosystem. Interested in sponsoring a future edition? Send us a reply to this email!
Farcaster News and Links
App updates
The Warpcast web client now supports up to two link previews, @dwr, a.k.a. Farcaster cofounder Dan Romero announced this week. "We're planning to iterate here, so I expect us to adjust the size a bit to make sure the link meta doesn't dominate feed real estate," said Romero, who also tested the feature with a two-image cast sent from Jam. The feature is expected to roll out to mobile and desktop soon.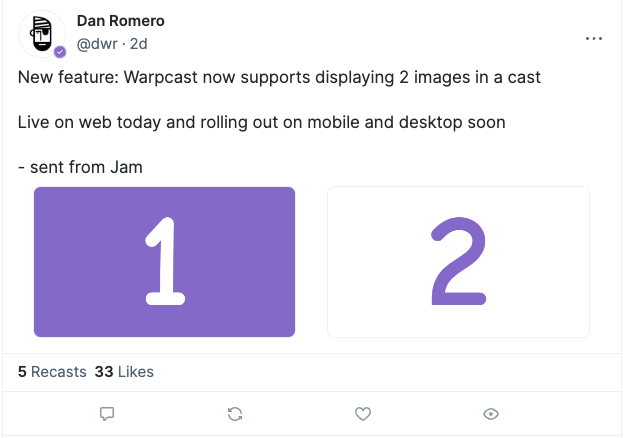 ---
@alexpaden, the first developer-in-residence to have been sponsored by Purple, is getting closer to the release of a client app for his ditti-boost CLI interface. The client app will expose ditti power user features such as following collection owners, following new users, or unfollowing non-follow back users. (HT @kmacbeth)
---
@thecskc, a.k.a. Krish Chelikavada, launched 0xPass, "a wallet connector with superpowers and native Farcaster support." The product builds on top of RainbowKit to offer social sign-in to onboard users who don't have existing wallets, and includes the ability to link accounts with an identity, including linking a Farcaster identity. "We built 0xPass with the Farcaster community in mind," said Chelikavada in the launch thread. "Would love to get feedback from all the builders in here so we can bring to you the best login experience possible for dapps."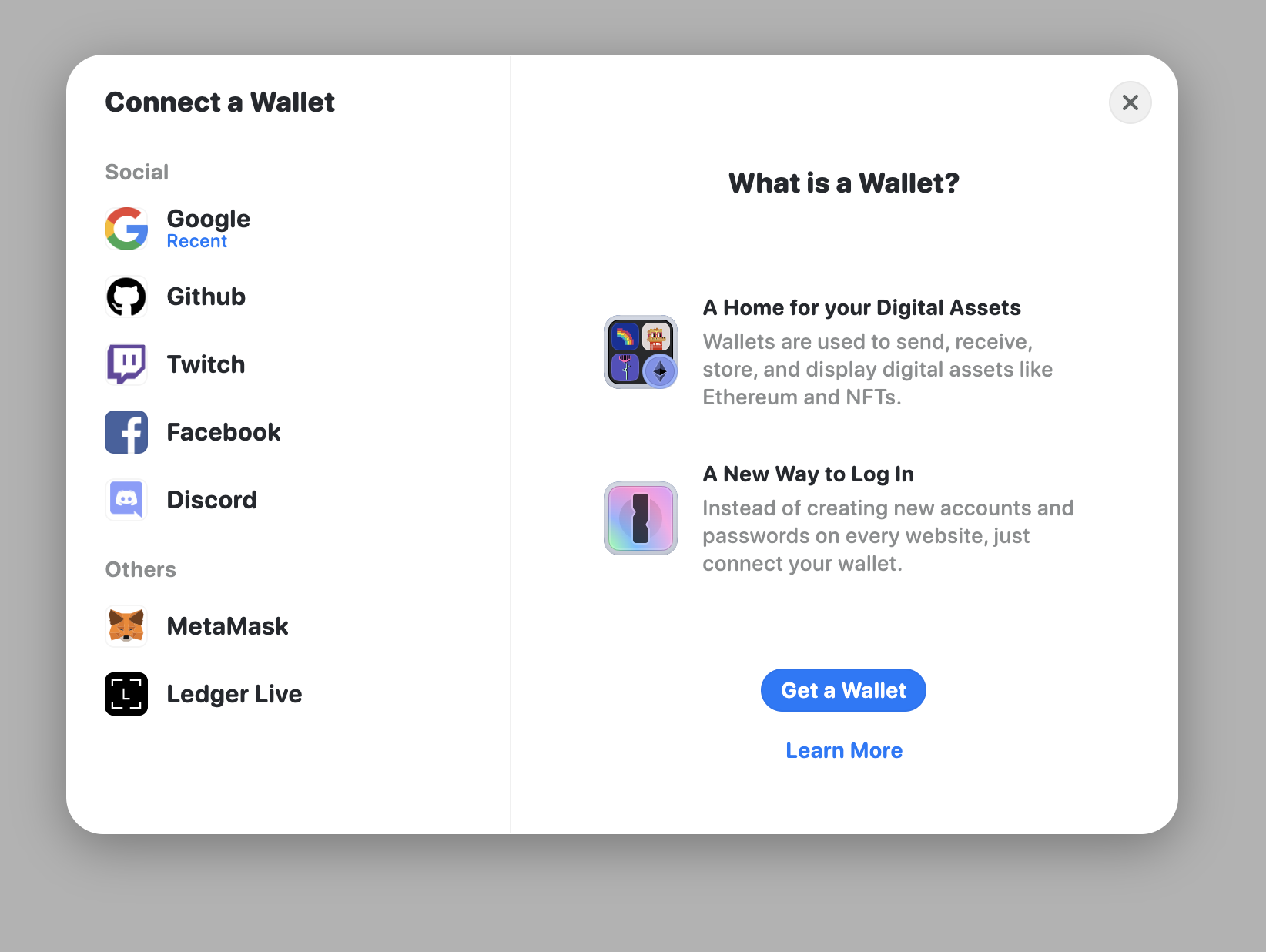 ---
@emma, a.k.a Emma Kwan, posted a video update on the bird site about her work with Stereocaster.com, the Farcaster-based music app she's building as part of Nights & Weekends Season 3. Kwan said that her main goal for the week was gathering feedback from users on what they'd like to see from the service. Stereocaster currently pulls in casts with Spotify links and offers inline listening and playlist functionality. Watch the video update here and head over to Stereocaster.com to give it a try. You can read more about Kwan's recent updates to Stereocaster via her Paragraph newsletter. (Editor's note: Stereocaster provided the soundtrack for most of this edition! HT to @joetoledano @andrewcjoe and @ccarrella for sharing the tunes.)
---
@andyjagoe, a.k.a. Andy Jagoe, has launched @alertcaster. The service is described as "like Google Alerts, but for Farcaster." Alertcaster is currently in a closed beta, with access available by sending a direct cast or mention to Jagoe on Farcaster. According to the docs, the service supports daily digest and 'as it happens' email alerts, as well as 'as it happens' webhook alerts for integration into your system of choice. For more about the service, check out the docs or ping Jagoe for an invite.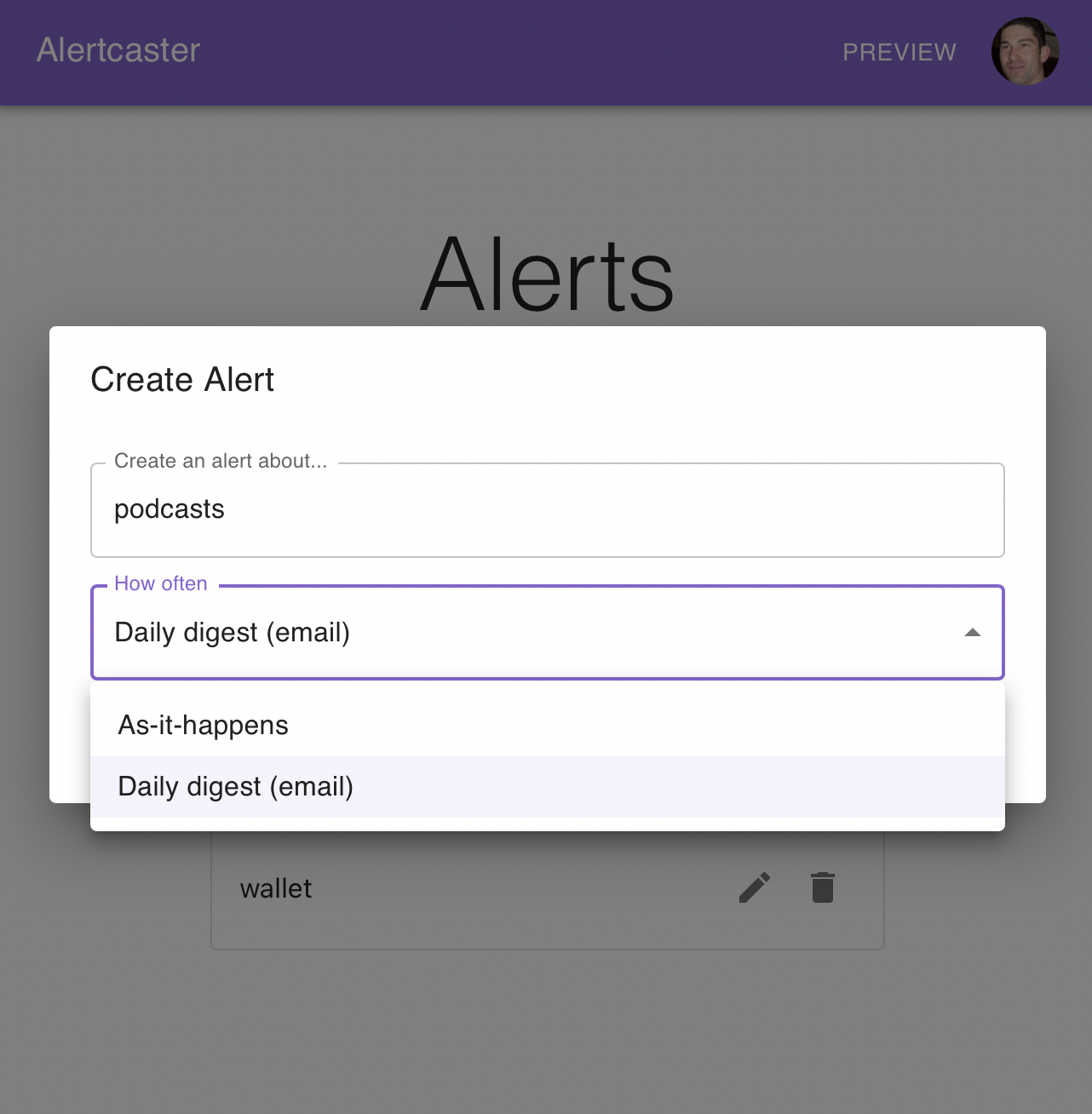 ---
@dylsteck, a.k.a. Dylan Steck, noted that @casterscan is now connected to hubs. "The data is indexed in Supabase & the updated front-end with all this new content to show should be ready to go this week," said Steck. Casterscan is a Farcaster-based "block explorer" created by Steck and @yashkarthik, a.k.a. Yash Karthik. You can check it out at Casterscan.com. "There are a few other ideas brewing up around how people can quickly access analytics or find answers to questions about Farcaster data -- so stay tuned for more updates," said Steck.
---
Following up the recent introduction of Purple badges on Warpcast profiles, Warpcast continues to experiment with DAO-specific features, using Purple as the testbed. Purple holders will now get a notification any time a new member who is also on Farcaster joins, Romero announced last week.

This week, Romero launched another feature for DAO members. "If you're in the DAO, any time there's a new onchain proposal for Purple, you'll receive an in-app notification with:
name of the proposal

who proposed it

a link to the Alphacaster page"

---
@blobs and @event are planning "the first-ever Blobs Walkathon," said @matthew. The walkathon is planned for next weekend in San Francisco. @matthew is looking for feedback on whether Saturday or Sunday would work best.
Dev notes
@v, a.k.a. Farcaster cofounder Varun Srinivasan, opened a new discussion thread about permissionless onboarding. On last week's dev call, Srinivasan had noted that permissionless hubs and permissionless signups were the two biggest priorities for the team. Srinivasan raised several points for discussions:
The identifier registry is currently on Goerli. If it was moved to mainnet, signing up would cost ~50k gas or $5 today. Rather than the current mainnet plan, should Farcaster consider moving the identifier registry to an L2 , or maybe it should be kept off-chain and centralized to start?

Farcaster names are also on Goerli. Associating a Farcaster name to a Farcaster identifier would cost an additional ~100k gas or about $10 at today's mainnet prices. In the future, Farcaster plans to support using ENS names if the user already owns one. But for users without an ENS, should Farcaster consider issuing free "domain-bound usernames like foo@farcaster" or free ENS-subdomain names like foo.farcaster.eth? Srinivasan noted these could be managed by a server to start and then issued on-chain in the future.

Currently, Warpcast pays the gas costs on Goerli for identifier and name registration and associates them with a new wallet. A recovery system is built into the registry which allows another address to recover the identifier and name if the user loses their keys. However, these wallets may accumulate other assets over time, which would not be recoverable. through the current system. Should the wallet instead be created as a 4337 or another smart contract wallet standard to enable more sophisticated/comprehensive recovery? The tradeoff could be increased gas costs but lower churn.

Storage costs become a real issue as the network scales. Currently Farcaster does not charge for storage costs. If permisionless signup leads to a flood of airdrop farmers or other spammy accounts, it might make Hubs expensive and/or difficult to operate. Should there be a mechanism for users to pay for different tiers of storage?
These are weighty questions for the protocol and feedback on the direction here could have broad and long-lasting impact. "100% permissionless protocol is our top priority, so please leave input if this is important to you," said Romero. "Revisiting a bunch of priors before we finalize our plan for the next few months." Head over to the thread to weigh in.
---
@df, a.k.a. Discove founder David Furlong, started a conversation about a Farcaster Improvement Proposal to enable emoji reactions. "Would love to be able to respond to casts with any emoji," said Furlong. "Emojis can be used as primitives for voting as well as reacting to content." Romero, Srinivasan, and others weighed in with questions and generally positive feedback, although the complexity of the idea was noted and it seemed uncertain when this idea could be incorporated into the roadmap, but in the near-term clients could experiment with emoji affordances in advance of protocol support, such as treating a cast with a single emoji as a reaction.
---
Later in the week, Furlong started another thread about a Farcaster Improvement Proposal for subcommunities. Furlong envisions a URL scheme that would make it possible to tag a cast to a specific subcommunity. "Clients can make it easy for people to see all the casts that have a parentUri or embed of for example tag://formula1, and provide a way to for people to create a cast in that community," said Furlong. "With Purple this might already be possible by agreeing to reply to the CAIP of the NFT collection of the DAO."
Ideas worth sharing
How about a group chat interface for Farcaster? That's the idea @matthew shared this week as he hacked together a "very rough" prototype of something he calls FarChat. "FarChat renders Farcster threads as chronological group chats," said @matthew. "This is real data!" The concept is reminiscent of the very first idea on Romero's list of 50 Farcaster ideas from March – "make a client that looks like the iMessage home screen UI; if someone you're following casts, bump them to the top of the list; eventually allow pinning people." @matthew said he's thinking about ways to integrate the idea into the ecosystem, such as using it for a chat feature on @event pages or creating a column for communities (e.g. a @purple chat).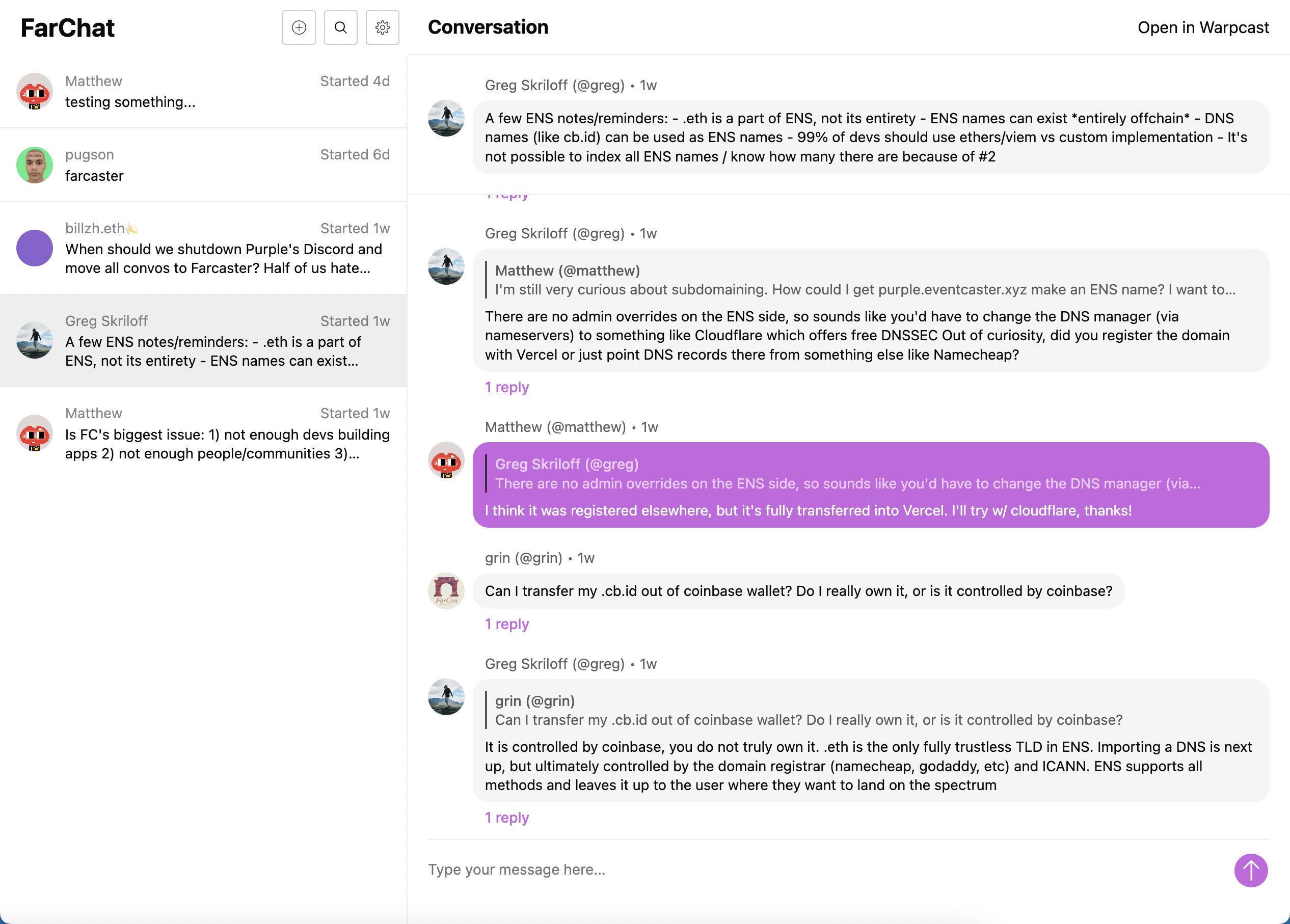 ---
Would gamification help onboard users? @n, a.k.a. Nico.beb, asked Farcaster if having quests (similar to Rabbithole.gg) could help solve the "cool app, what do I do next?" problem for new users. Some ideas Nico proposed for quests – launch on @launch, publish on @paragraph, endorse on @mosaicnetwork. @colin, a.k.a. Paragraph founder Colin Armstrong, proposed a few more: 10k steps on @blobs, post with @jam or Discove, attend an @event.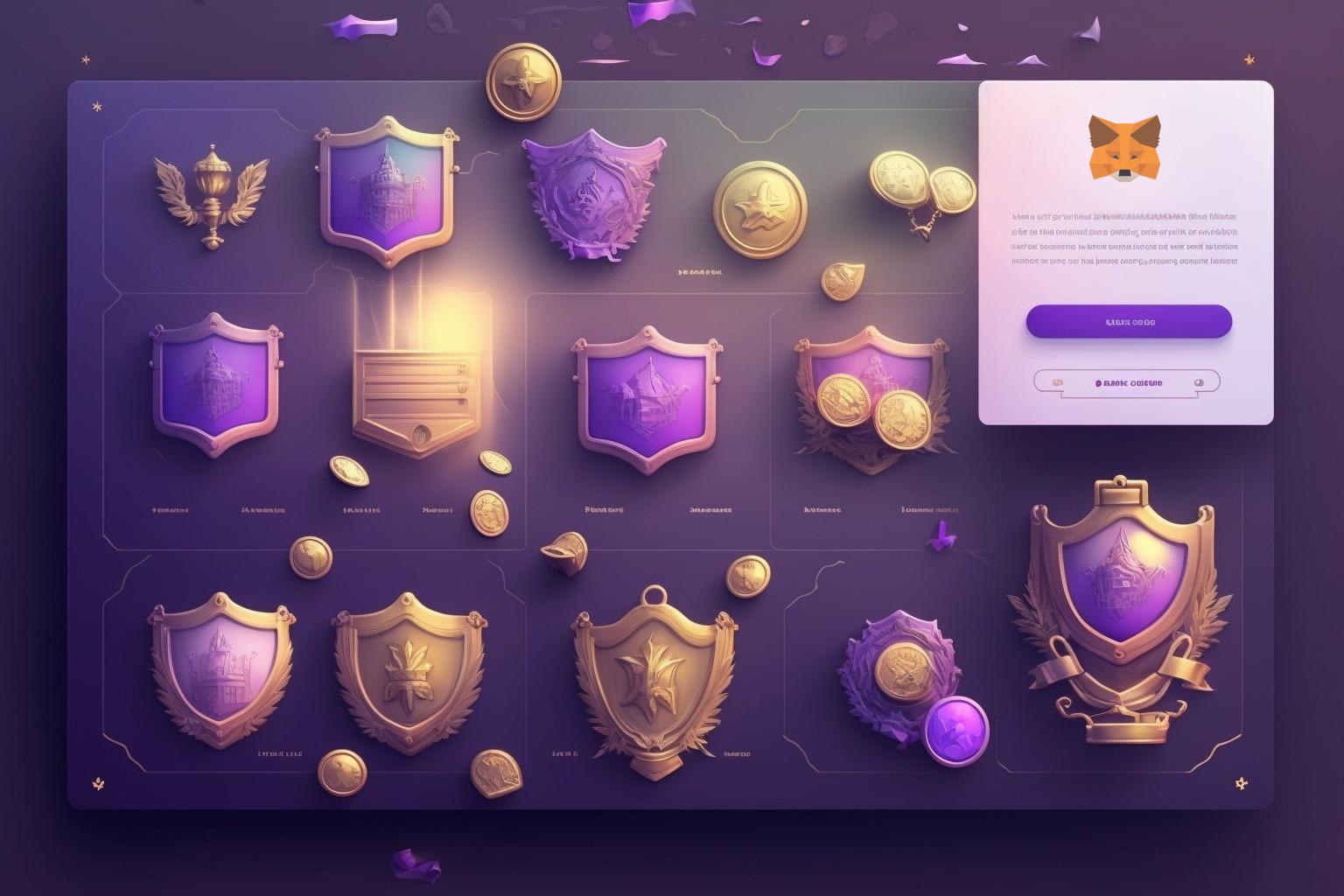 ---
With talk of extinct tusked animals and sunny cerulean horizons sometimes percolating over to the purple network, Romero made a "nudge" to casters with a request: "Would love to see a bit less 'X other protocol is bad!' and reframe to more constructive," with examples like "This thing is happening on X and one way to mitigate that on FC" and "X's approach has Y that might be interesting for FC." Something to keep in mind if you find yourself itching to opine on hellthreads, Matt Yglesias, or anything else you might see on those other decentralized protocols.
---
FarCon, the Farcaster conference planned for next month in Boston, shared some updates this week, including a few confirmed agenda items and information about a hotel block. "Added logistics, some agenda items we've confirmed, and started listing out the @farcon tech stack we're building with!," said @cameron, a.k.a. conference co-organizer Cameron Armstrong. Check out FarCon.xyz for all the info. Some confirmed sessions include a Farcaster Growth Challenges Nano Hackathon, Base L2 Builder Session with Coinbase Team, EthOS Overview, Jam Client Walkthrough, and more. "Mint your ticket after you're done looking at your FarCat 🫡," said Armstrong.
---
@0xen launched FarCats on Monday. This collection of 1,661 "Fanciful, Fashionable, Fucked Up" mascots for Farcaster is available to mint on Zora for 0.008 ETH each. FarCats trended this week on Mint.Fun and Coinbase NFT (where it was second only to the 'Stand with Crypto' collectible).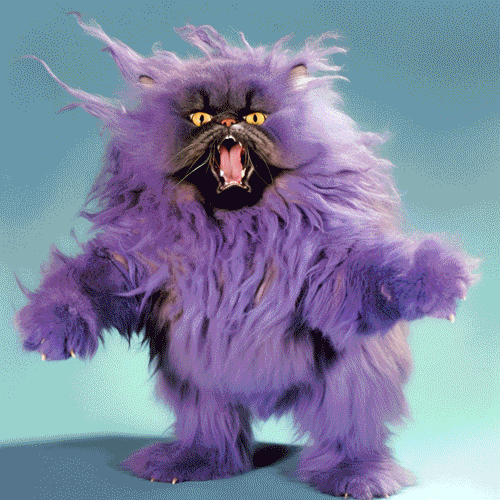 Farcaster By the Numbers
Powered by Farcaster.network. Change calculations based on last week. Note that total casts and total users are both rounded to the nearest 1,000.
Weekly Active Casters: 1,600 (-25 compared to 4-wk avg.)

Monthly Active Casters: 3,300 (+50 compared to 4-wk avg.)

Total Casts: 646,000 (+19,000 week over week)

Total Users: 13,000 (+1,000 week over week)

Average Casts per Day: 2,680 (+47 compared to 4-wk avg.)

New Users per Week: 185 (-62 compared to 4-wk avg.)
Sponsored by Purple

Purple is a DAO whose goal is to proliferate and expand the Farcaster protocol and ecosystem. The DAO operates on Nouns.Build, Discord, and Charmverse.
This Week in Purple
Voting closed PRPL 25 Sponsor the Forefront Newsletter passed with 19 'For' votes and 2 'Against' votes. This prop saw Purple sponsor the Forefront Newsletter for the month of May for 1 ETH. The prop has been executed.
Voting closed PRPL 26 Bot Developer Prop House passed unanimously with 21 'For' votes. This prop sees 5 ETH allocated to a Prop House round to encourage popular Twitter bot developers to bring their bots over to Farcaster. Five winners will be funded at 1 ETH each. The prop is currently queued. Once the Prop House round is setup, submissions will be accepted for two weeks, followed by a one-week voting period.
@ccarella, a.ka. Purple instigator Chris Carella, posted his "evolving definition" of Purple to Paragraph. Carella defines Purple as "an onchain organization that funds ideas" which "align with a vision of proliferating the Farcaster protocol and the ethos of being Purple." For Carella, being Purple means:
Do good with no expectations of return.

Teach people about Farcaster, Decentralized Social and Public Goods.

Create and proliferate software using the Farcaster protocol.

Create and proliferate art and culture on the Farcaster protocol.

Create positive externalities, embrace Public Goods and have fun.
@billzh, a.k.a. Bill Zheng, is facilitating Purple's continued conversation about potentially moving away from Discord. Zheng notes that Purple's Discord was what first convinced him to join the DAO, but "as Purple has grown to 150+ members, Discord is no longer working for us." You can read Zheng's full thoughts here. Zheng has proposed that by the end of June, Purple's Discord community will not longer be official, and that channels be set to read-only. Zheng recommends that CharmVerse and Farcaster take the place of Discord, as well as a read-only Telegram channel for official updates, similar to how the @purple account is used.
Get to Know Purple
This week, meet Purple DAO member @andreitr.
TWIF: Why did you want to join Purple?
When I first learned about Purple DAO and its mission to proliferate and fund the development of the Farcaster protocol, I was immediately drawn to the idea of being part of an early-stage movement. There's something electrifying about experimenting with new ideas and working on interesting problems alongside other builders in the space.
TWIF: What excites you most about Farcaster?
What excites me most about Farcaster is how it solves the problems that have been nagging at me for years. As a builder in the web2 social media space, I was always worried about my apps getting banned or my accounts getting restricted. With Farcaster, those concerns are eliminated at the protocol level. It's permissionless, there are no API keys, and I own my social identity and data.
For example, while building on Twitter, I was constantly concerned about the platform's limitations. Farcaster allows me to explore novel blockchain-enabled use cases without worrying about being limited or censored. I'm excited to build on Farcaster and see what new opportunities it will bring.
TWiF: Can you give us a few recommended follows on Farcaster?
Here are some fun bots to follow 🙂
Upcoming Dates of Note
FarCon
June 10-11 - Boston, MA
Have an event we should add to a future edition? Send us a reply to this email!
Job Listings
Staff+ Distributed Systems Engineer (Merkle Manufactory)
Merkle Manufactory cofounder Dan Romero said that he's looking for a staff+ distributed systems engineer to work on Farcaster Hubs. Send Romero a direct message or direct cast with your GitHub or LinkedIn if interested.
Senior Engineers (Discove)
According to founder David Furlong, the ideal hire "already uses Farcaster, believes in it & wants to see it succeed 💜." The stack includes React Native, Next.js, and TypeScript. For more information, DM Furlong at davidfurlong.telegram for more info.
Have a job listing we should add to a future edition? Send us a reply to this email!
This newsletter is published with Paragraph.xyz. The format of this newsletter was inspired by Week in Ethereum News. With questions, comments, or other feedback, please send a reply to this email, or access the "farcaster-weekly" channel in Purple's Discord.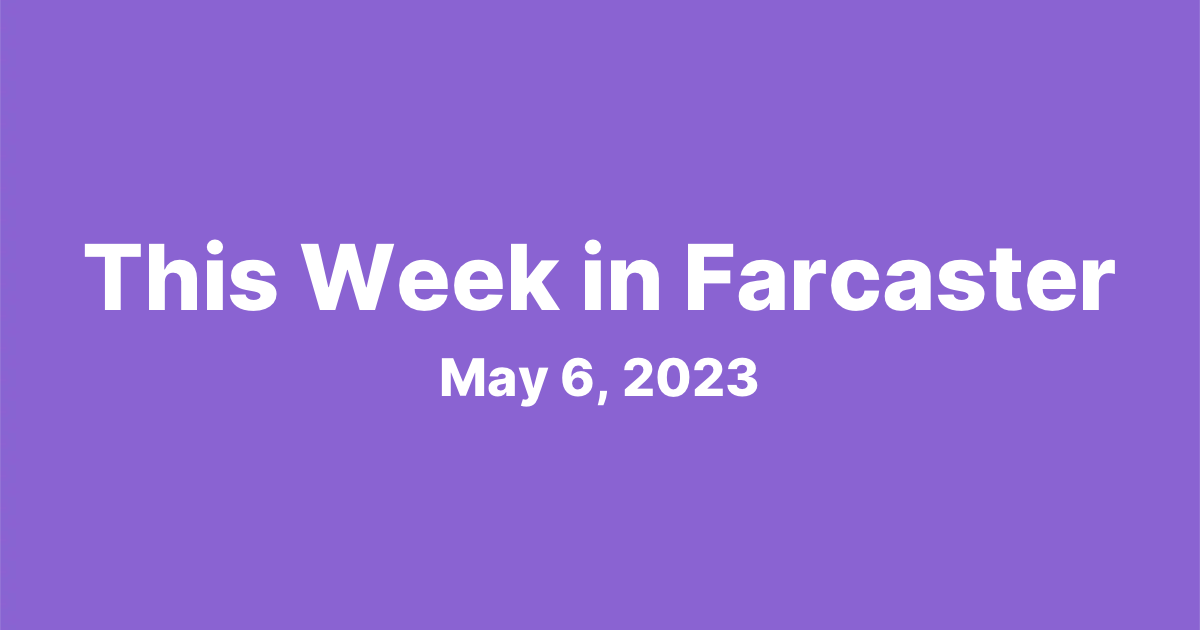 Collect this post to permanently own it.
Subscribe to This Week in Farcaster and never miss a post.