This edition is sponsored by Purple, a DAO whose goal is to proliferate and expand the Farcaster protocol and ecosystem. Interested in sponsoring a future edition? Send us a reply to this email!
Farcaster News and Links
App updates
Several updates were pushed this week for Jam. Support for searching "Groups" (based on Ethereum and Polygon NFT holdings) was added, as was the ability to add Group members to your 'For You' feed in the Jam client. @betashop, a.k.a. Jam founder Jason Goldberg, said the feature was now live for iOS and Android, and coming soon to web.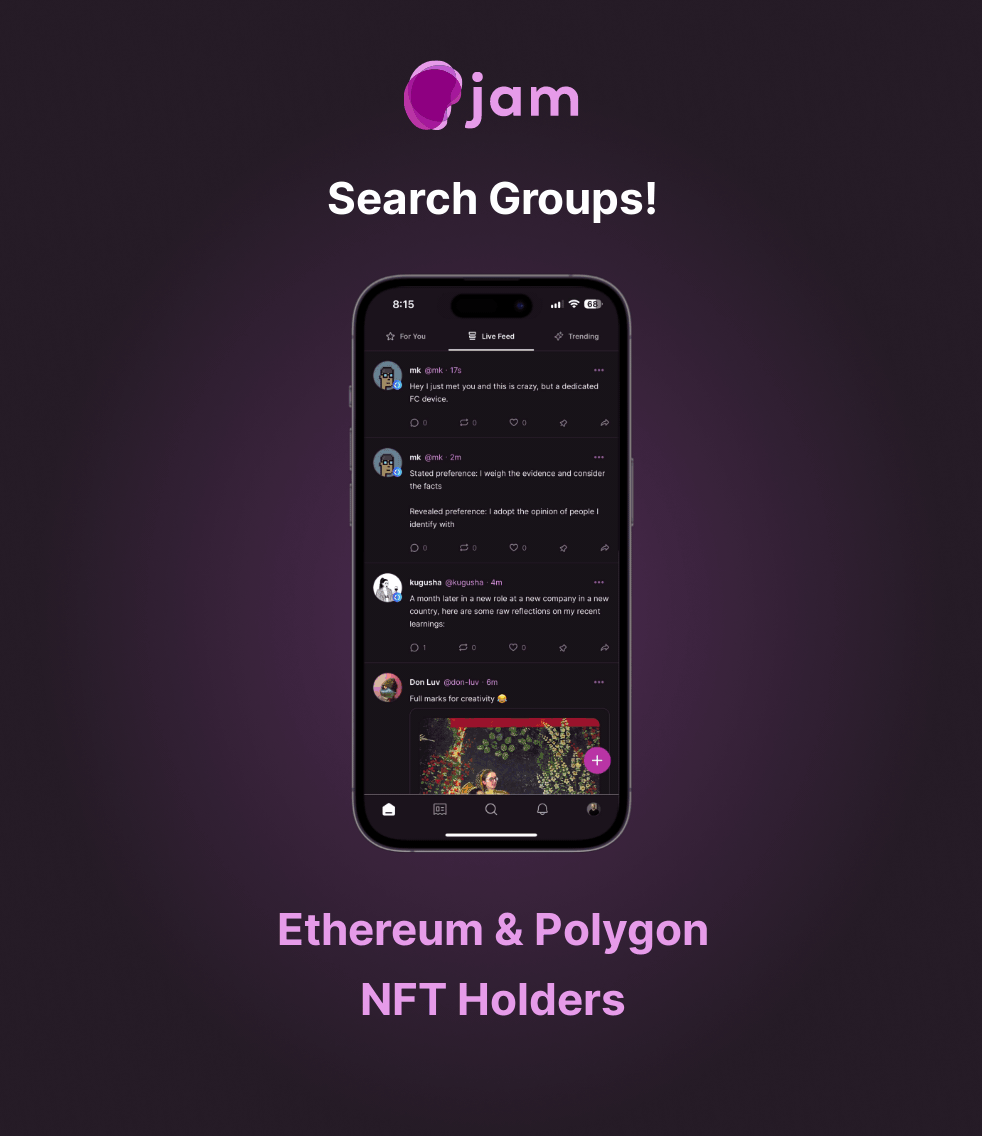 Jam also added login support on the web client. "Connect 1x to Jam/Farcaster across apps & web," explained Goldberg in the launch cast. Goldberg said that notification support would be added to the web client as well.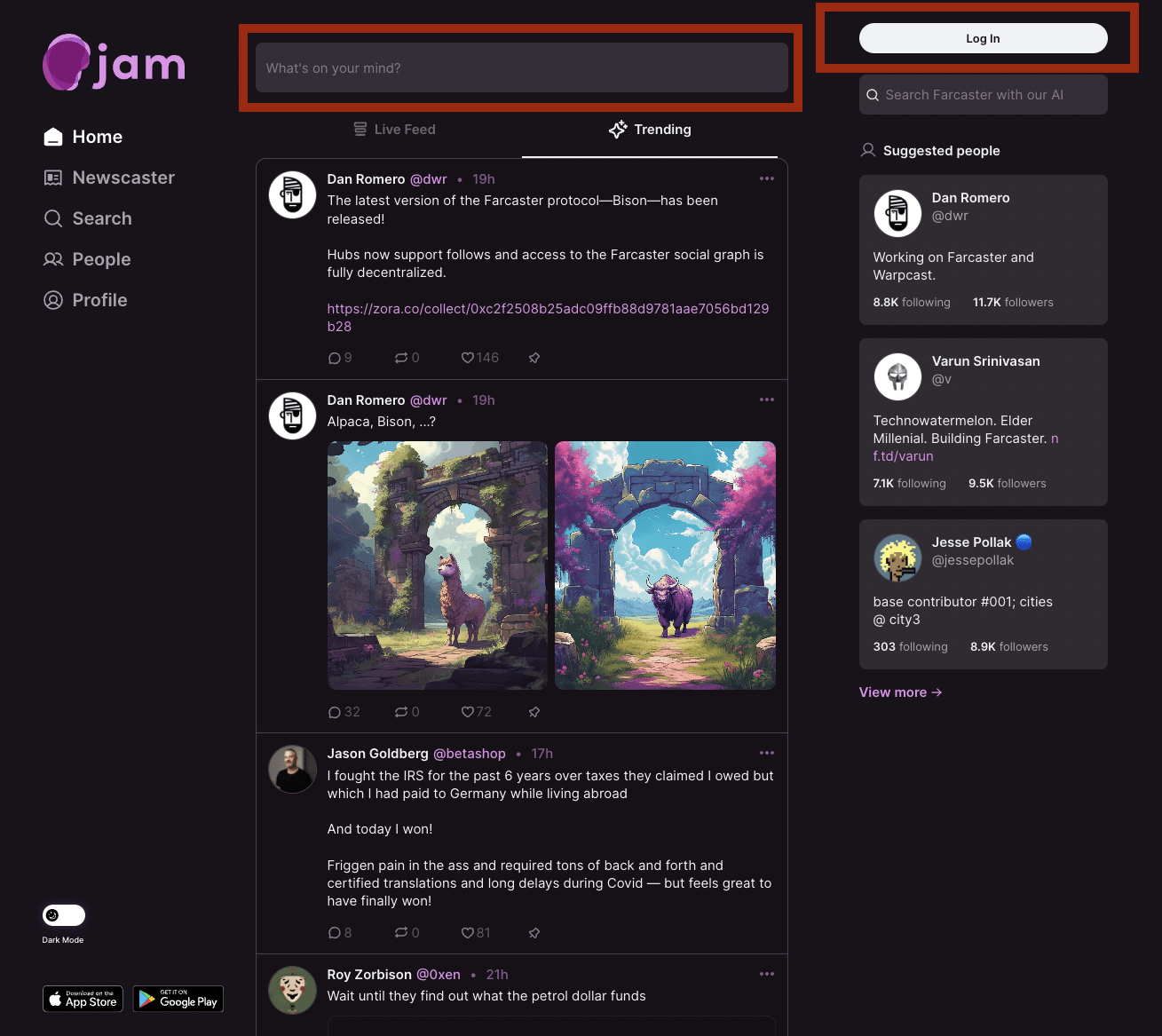 ---
Alphacaster.xyz has added a "See who hasn't voted" feature for its proposal pages. Cofounder @billzh, a.k.a. Bill Zheng, encouraged participation by noting, "abstain is also a vote" and that DAO members who aren't interested in governance could consider delegating to an active member. Also this week, Alphacaster added support for automatically splitting up long cast text into multiple threaded casts.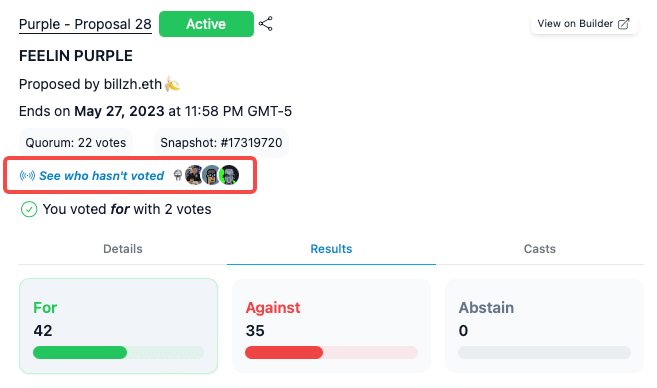 Alphacaster is also working on FIP-2 compatible discussion forums and shared wireframes for feedback. Zheng said the core features would be markdown support, all data on Farcaster, and everyone can post but members get additional badges based on token control and governance engagement.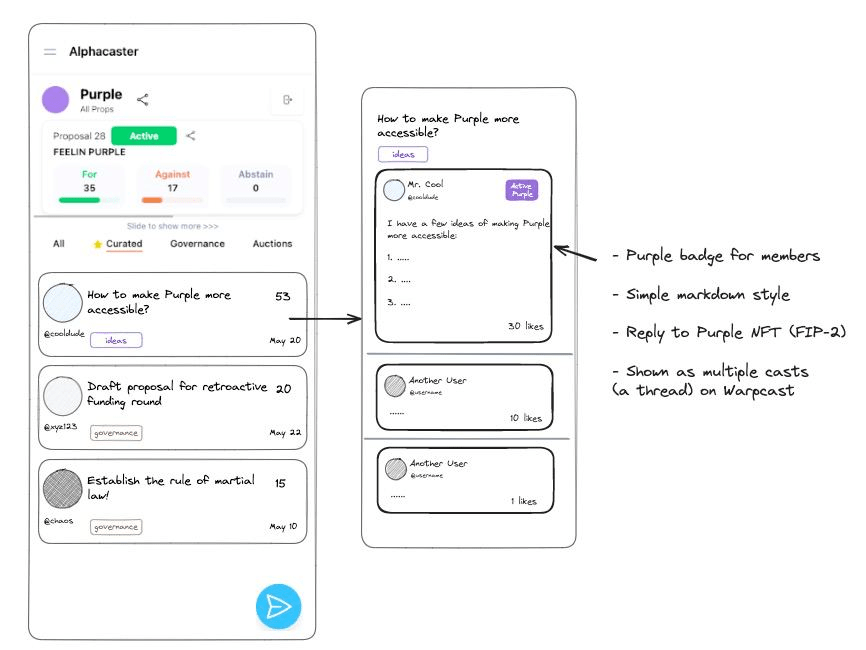 ---
In Warpcast news, the current desktop client is being deprecated while the web client is continuing to become more feature rich. This week, support was added for pasting images into the cast composer on the web client. In other image news, the mobile clients now support swiping between images.
Also this week, all Warpcast clients got support for unexpanding links. "For people playing around with the underlying protocol data, we automatically move the URL to an embed at first, and if the user clicks X, we move the URL back to the cast body as an indication that the user does not want an OpenGraph expansion," explained @dwr, a.k.a. Farcaster cofounder Dan Romero. "Warpcast only auto-expand embeds, but will linkify URLs in body."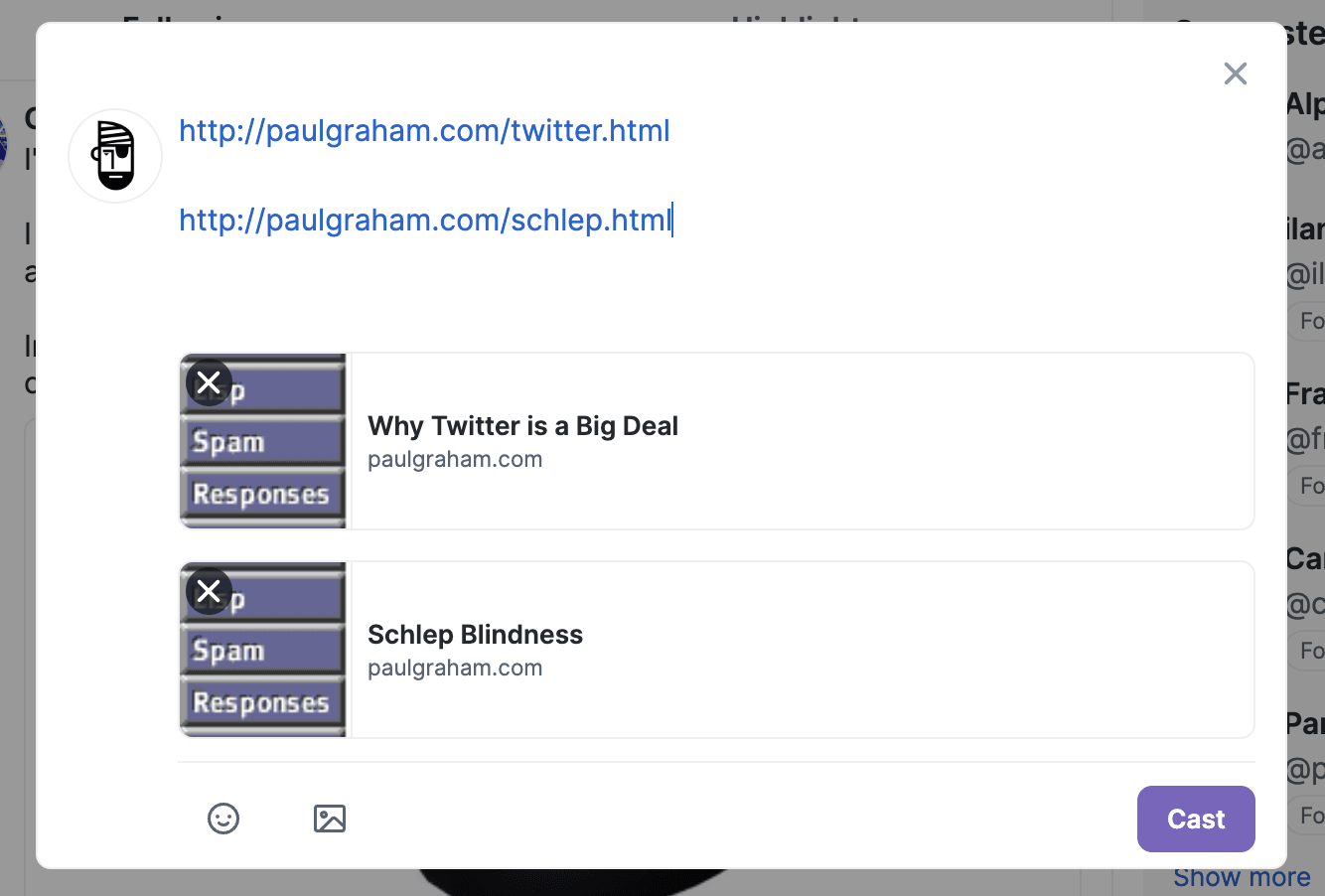 Since our last edition, Warpcast has also replaced the "verified" checkmark for NFT profile pictures with a new "active" badge. This badge is applied to users with a complete profile and a ratio of inbound reactions+replies to casts that's greater than 1 for the last 30 days. Romero explained that the badge "helps identify Farcaster accounts that are both active and engaging with a quick glance." More information about the feature is available on Notion.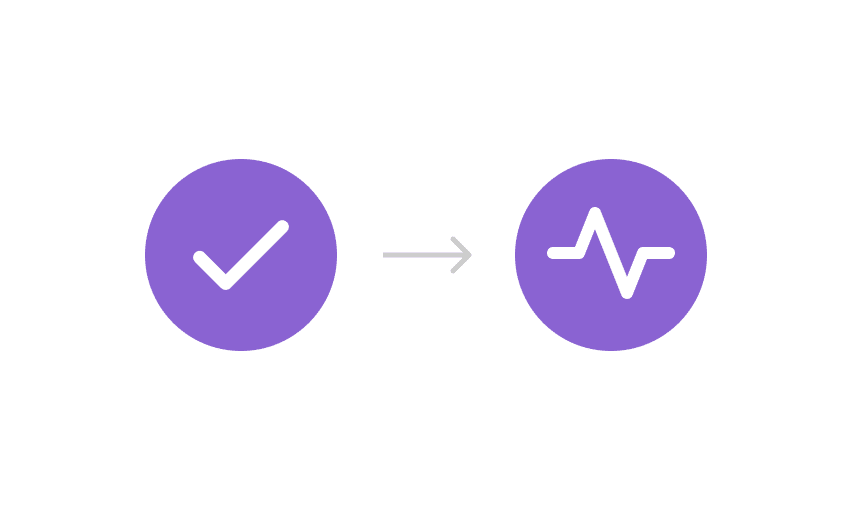 ---
The landing page for FarQuest is now live. "Complete quests, earn REP, and collect across dimensions in the Farcaster ecosystem" is the tagline. You can claim a pass now to access it as soon as it launches. Creator @n, a.k.a. Nico, said that FarQuest is a community effort with all of Farcaster. "The vision is anyone building on Farcaster can permissionlessly create quests," said Nico.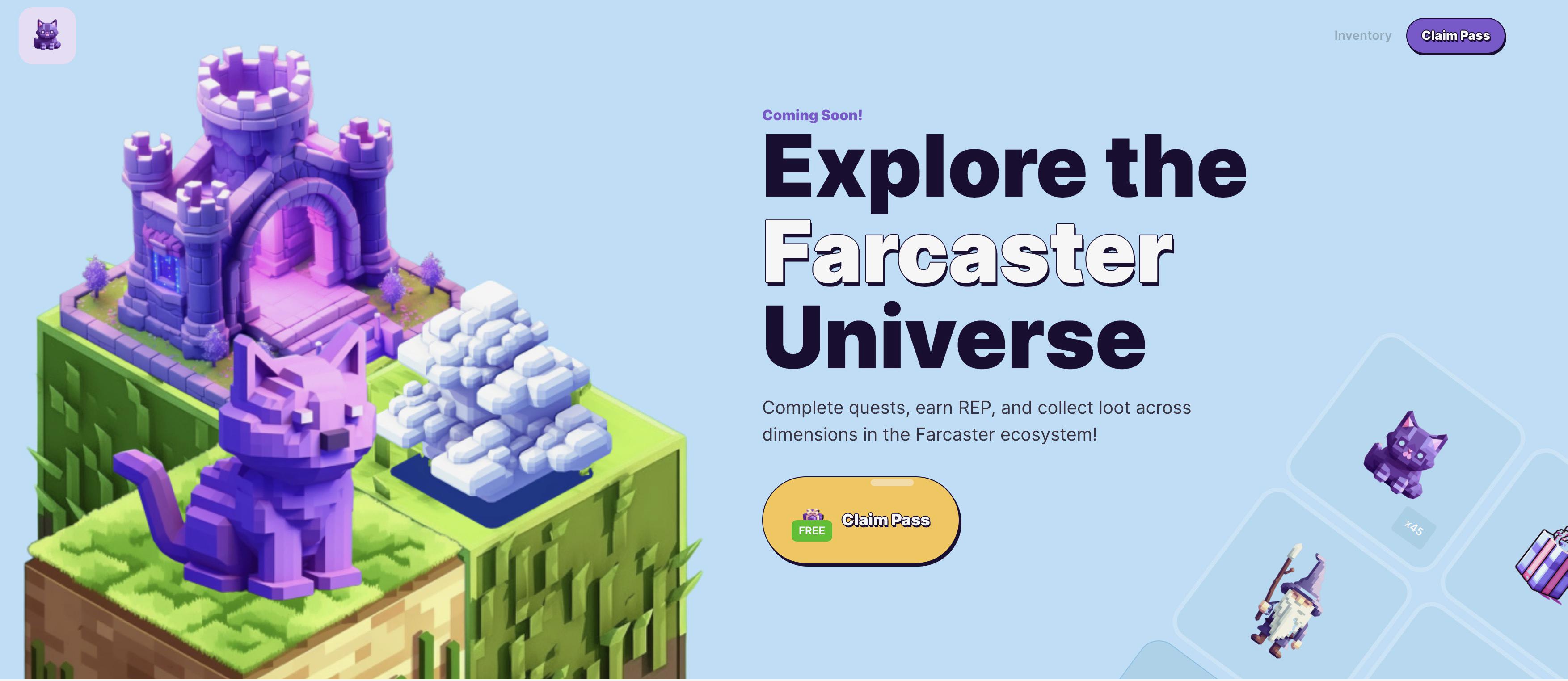 ---
🎵I don't wanna work... I just wanna look at FarCats all day 🎵
FarCats.xyz is now live. With art by @0xen and code by @cameron, the site allows visitors to enjoy all 1,661 "purrfect" FarCats, regardless of whether they've been minted yet. If you haven't minted one (or many) yet, you can still do that here.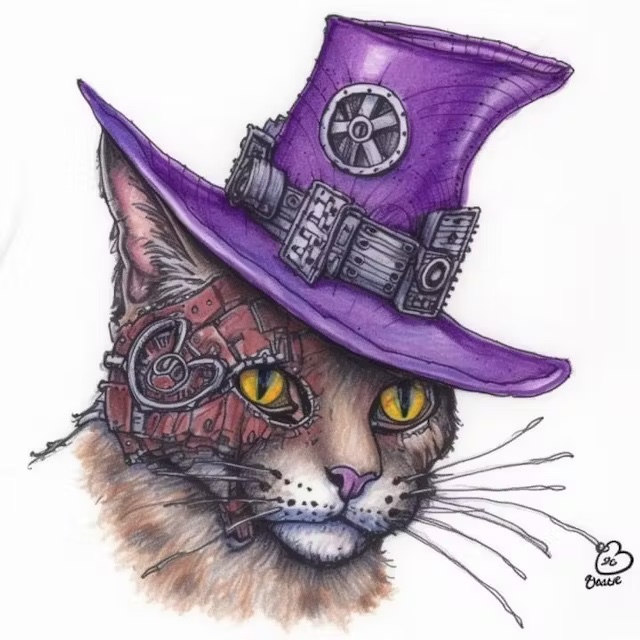 ---
Product Pages have launched on Launchcaster.xyz, allowing users to create a page with their wallet and automatically show everything you launch. Founder @jayme, a.k.a. Jayme Hoffman, said that product pages were one of Launchcaster's most requested features. For an example, check out @launchcaster's product page here.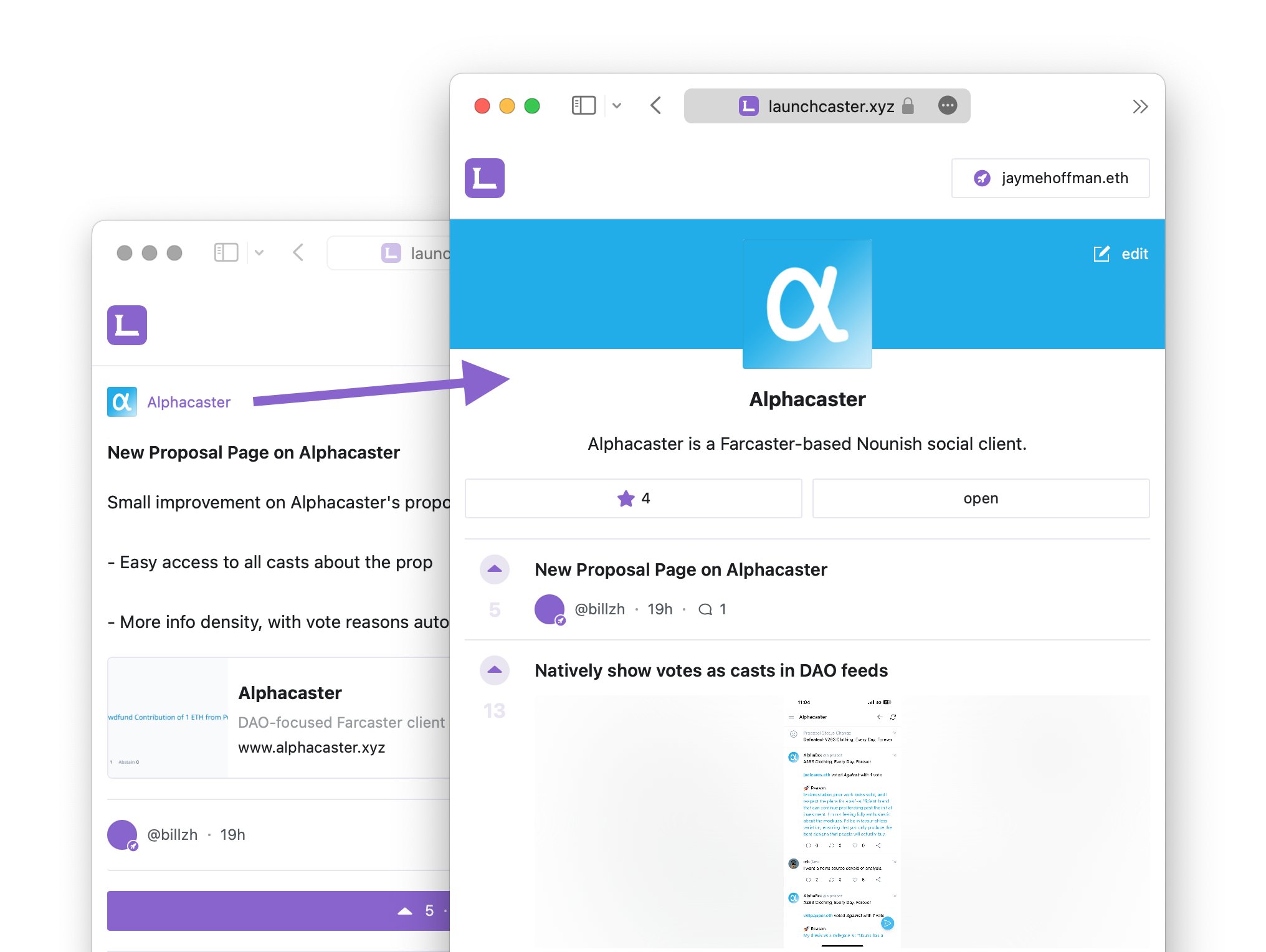 Dev notes
Bison, the latest version of the Farcaster protocol, was released this week. "Hubs now support follows and access to the Farcaster social graph is fully decentralized," said Romero as he unveiled the latest protocol version art, which is available to mint on Zora for the next few days. Hub operators have two weeks to upgrade to the latest version of the code. Romero said that after hubs have been updated, follows will be migrated to the FIP-3 link architecture, at which point read/writing follows will be 100% permissionless with hubs.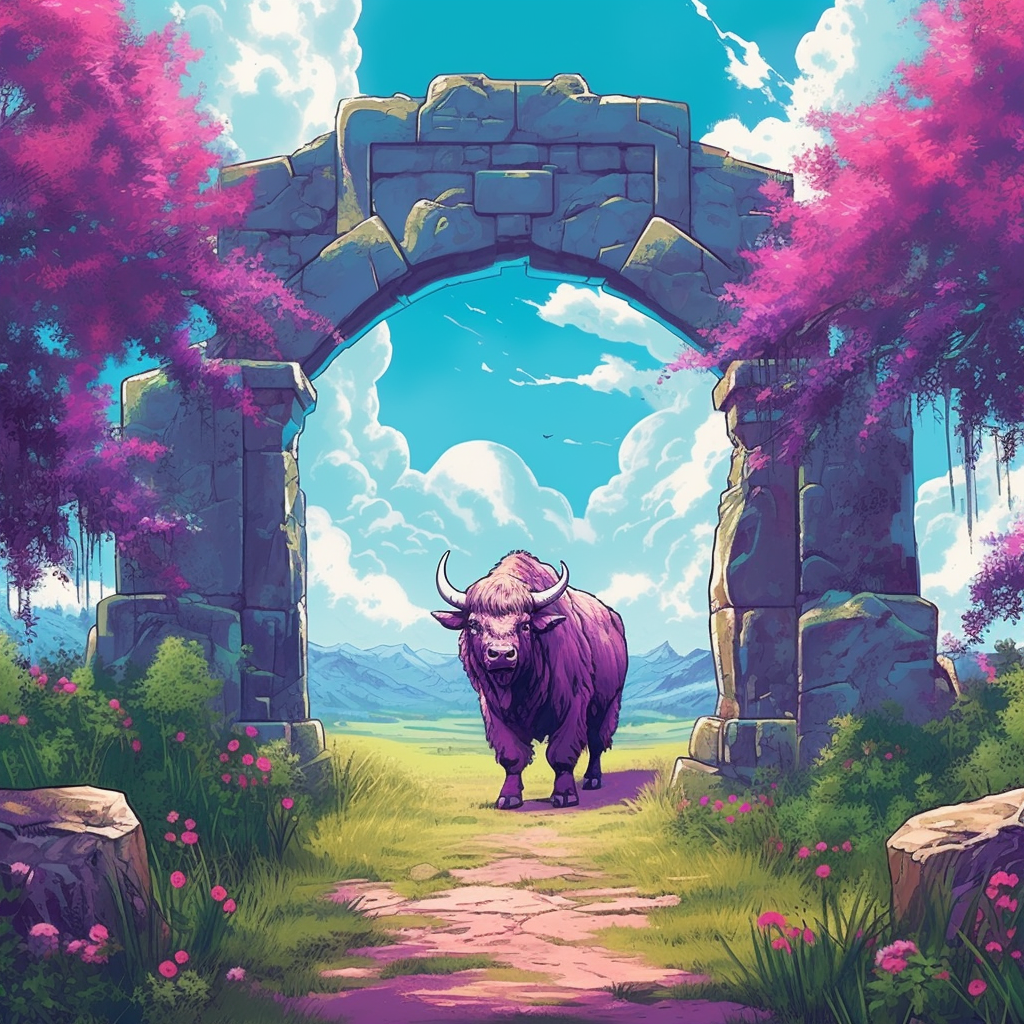 ---
The biweekly Farcaster dev call was held on Thursday, May 25. As usual, a recording of the call has been posted to YouTube. Topics included protocol support for follow/user links, ENS, and channels. @v, a.k.a. Farcaster cofounder Varun Srinivasan, gave an update about the ongoing work to improve the developer experience for Hubble, as well as talking through other open tracks, such as canonical serialization for hashing messages and multi-signatures, both of which were pushed to the next protocol release.
Also discussed on the call was ENS support, as well as migration to a mainnet L2. Srinivasan said that the team is likely to settle on an EVM-compatible chain such as Optimism, Polygon, or Arbitrum. ENS support is coming to Hubs, allowing users to mention ENS names directly, noted Romero this week. Romero also said that the Fname system will move to an off-chain ENS resolver, so that every Farcaster users gets a free ENS name when they signup.
@df, a.k.a. David Furlong, dropped some alfalfa from the developer call about what subcommunity support might look like in Warpcast. Srinivasan said that the team hopes to support many more channels, but wants to support with a narrow version focused on Purple first. Importantly, these subcommunity casts won't be private and will exist on the protocol as public casts, adding to the protocol's overall content liquidity.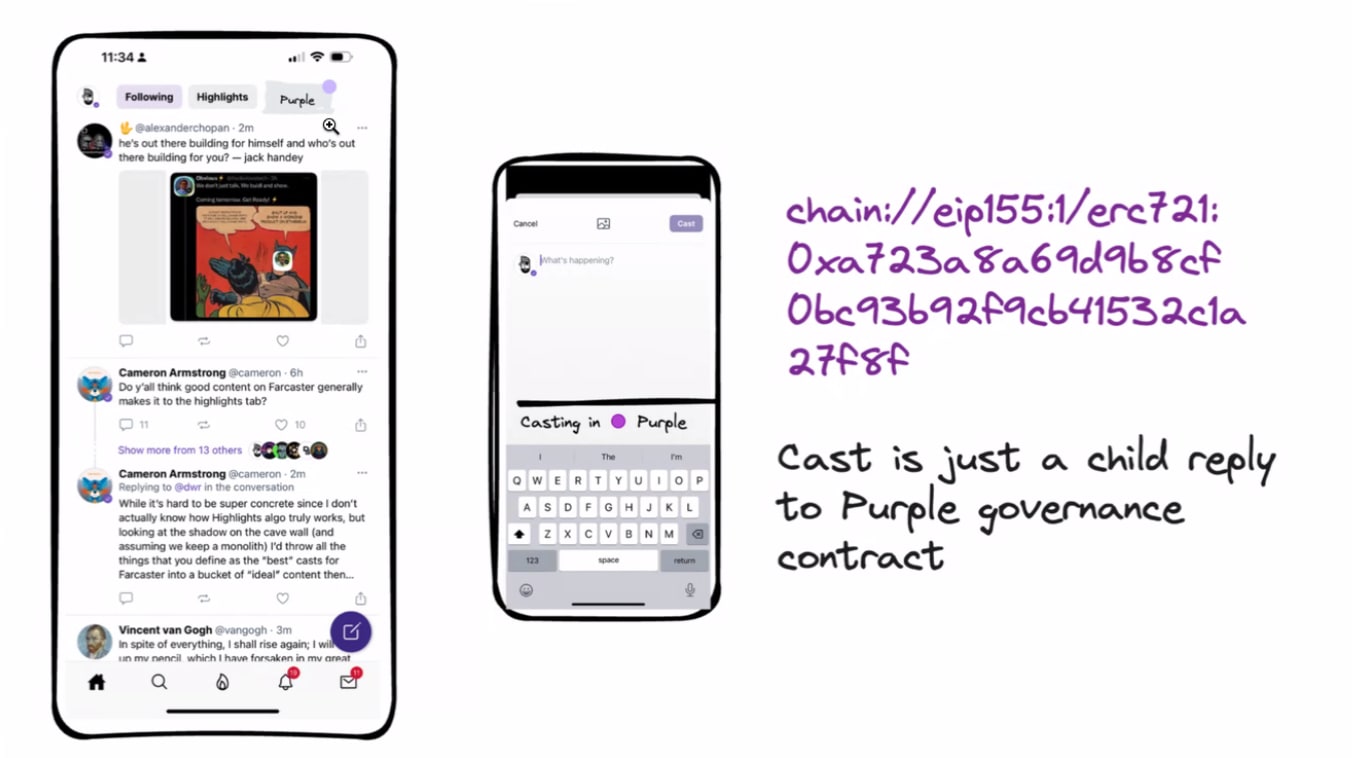 "We will try to be generally clear on how we treat things that are in channels vs. what gets bumped in feeds," said Romero. "It's not going to be perfect and we're not going to be always able to maintain it long-term, especially if our feeds get more algorithmic, but I think for the foreseeable future giving the simple – this is the stuff that ends up in channels and this is the stuff that comes up in feeds – I think what Varun said is we're going to make sure it's relevant to people based on mutual interest."
---
In our last TWIF edition, we covered FIP-2, which adds support for new types of embeds, parents, and reaction targets. @yanisme is already exploring this protocol capability for a Chrome extension that surfaces any casts about whatever URL you're visiting. The extension currently supports likes, recasts, and threads. Coming up next is login and post from widget support. Send @yanisme a direct cast if you want to test the extension.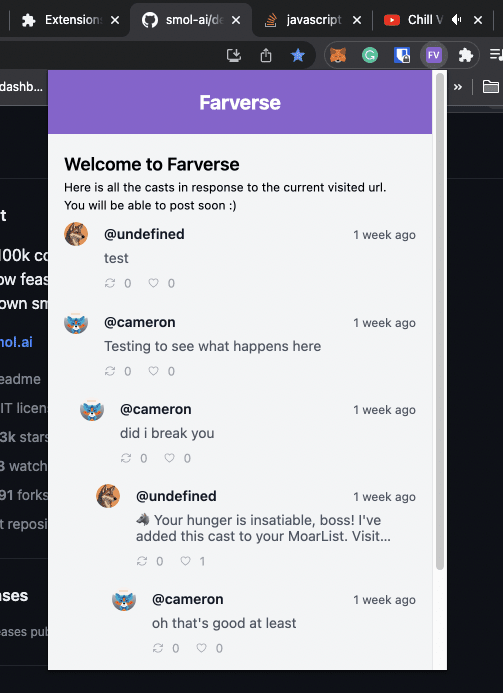 ---
@greg, a.k.a. Greg Skriloff, brought up the need for Farcaster signers to support scoped permissions. "I'm hesitant to use non-Warpcast apps today because of this," said Skriloff. "I've actively avoided the Farcaster integration in 2 apps now because I just wanted to be able to like/reply to casts but didn't want to give the devs the ability to wipe my entire profile," he added in a followup cast.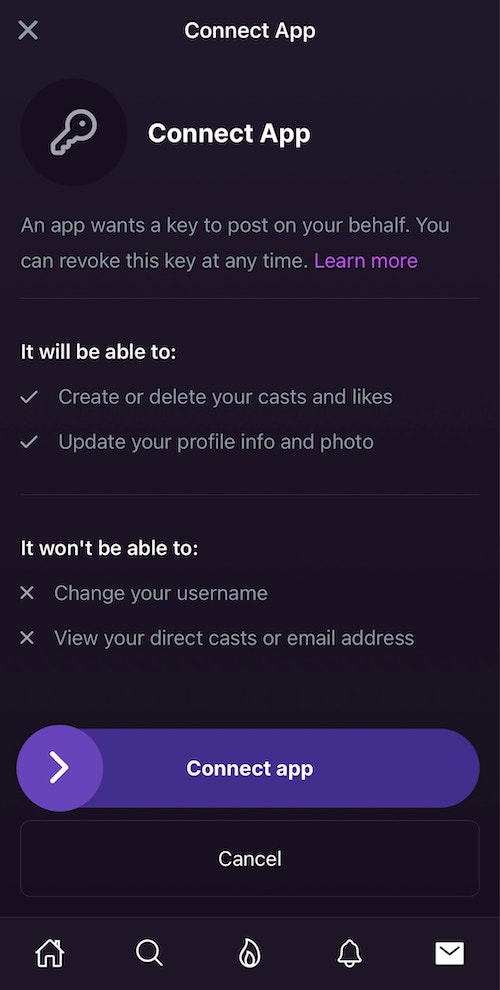 Srinivasan and Romero weighed in and said that it's possible, and just dependent on prioritization. "I've started to convince myself that this only a moderate level of complexity," said Srinivasan.
Ideas worth sharing
Purpler launched with a hyperfocus on retroactive public goods funding. The DAO was borne partly out of frustration experienced by @borodutch, a.k.a. Nikita Kolmogorov, with funding decisions by Purple. (Kolmogorov also got confused by default Nouns Builder behavior which sets the proposal threshold based on percentage of tokens.) Kolmogorov was joined with @ted as cofounder of the DAO. So far the DAO has raised 1.8 ETH through its nounish auctions. For more information, follow @purpler.
---
FarCon is happening next weekend! The first-ever Farcaster unconference raised 5.6 ETH on its Fabric crowdfund, including 1 ETH contributions from Purple and Merkle Manufactory. Tickets for the conference sold out yesterday. See you there?
---
Romero asked Farcaster what specific and small changes they'd make to Warpcast. The suggestion with the most likes – allow pasting images – has already been added to the web client. Other crowd favorites included multiple account support, persistent draft casts, and search.
---
A Bay Area meetup for Farcaster, hosted by Srinivasan, was held on Sunday, May 21, at Zeitgeist in San Francisco. Here's a partial group photo via @matthew.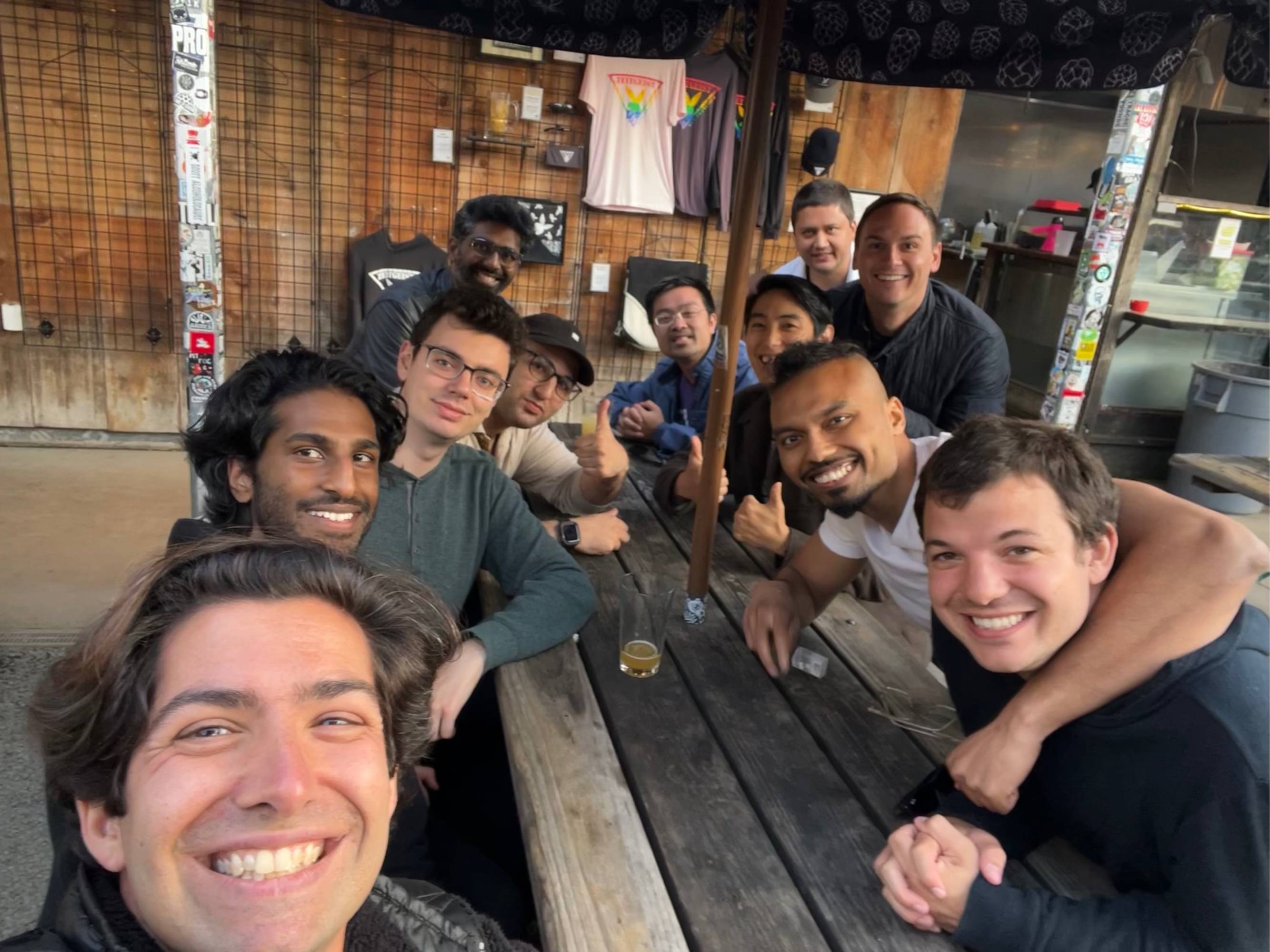 Farcaster By the Numbers
Powered by Farcaster.network. Change calculations based on last week. Note that total casts and total users are both rounded to the nearest 1,000.
Weekly Active Casters: 1,400 (-50 compared to 4-wk avg.)

Monthly Active Casters: 2,800 (-175 compared to 4-wk avg.)

Total Casts: 691,500 (+10,000 week over week)

Total Users: 14,000 (+1,000 change week over week)

Average Casts per Day: 2,658 (+61 compared to 4-wk avg.)

New Users per Week: 201 (+15 compared to 4-wk avg.)
Sponsored by Purple

Purple is a DAO whose goal is to proliferate and expand the Farcaster protocol and ecosystem. The DAO operates on Nouns.Build, Discord, and Charmverse.
This Week in Purple
The past couple of weeks have been arguably the most dynamic in Purple's history.
Proposal passed PRPL 28 FEELIN PURPLE passed with 52 'For' votes and 49 'Against' votes. It was the most voted upon – and most contentious – proposal Purple has seen thus far. This proposal directs 5 ETH to esports DAO BLVKHVND to partially fund a HVNDCAST mobile app which aggregates streams and clips from Twitch, Kick, and Hypeshot, and enables Warpcast functionality such as commenting on content and sharing links. As part of the proposal, BLVKHVND will also feature Purple on the jerseys for its Apex Legends team as they compete in the ALGS Global Playoffs this July. BLVKHVND is also expected to make its own proposal to further support development of this campaign. 'Against' voters brought up concerns about high cost & unclear return, a lack of clear plan and objectives, no payout conditions or ragequit option, and general concern about risk/unrealistic expectations. 'For' voters described it as an ambitious, high-risk/high-reward bet placed on a known and active entity. The results of the vote led two Purple members to divest or burn their tokens, including Purple cofounder @osama (who also appears to have signaled an exit from Farcaster entirely). As mentioned above, this proposal also led to @borodutch's exiting the DAO and creating Purpler. @sirsu will be posting proposal updates on behalf of BLVKHVND in this thread.
Proposal passed PRPL 29 Reducing Proposal Threshold to 25 bps passed unanimously with 48 'For' votes. This proposal adjusts the proposal threshold from 0.5% of total tokens to 0.25% of total tokens. This will allow Purple proposals to be submitted by holders of a single NFT. According to @billzh, with this adjustment, Purple shouldn't require a second token for proposals until token #401, which should be minted towards the end of the year.
Proposal passed PRPL 30 Return Bot Developer Funding to Treasury passed with 25 'For' votes, 1 'Against' vote, and 12 'Abstain' votes. This proposal signals that Purple's Small Grants multisig should return 5 ETH allocated to it for a bot developer Prop House round through PRPL 26. The round did not reach submission quorum and only received three proposals. "The voting is intended to be an implicit filter mechanism, and it assumes there are more applicants than winners," explained @phil in the proposal. "Rather than award ETH to all of the developers who applied, I think we should take this as a sign of a lack of traction for the idea and return the $ to the treasury." In voting 'Against', @sean said: "I don't remember the 'submission quorum' requirement, and so I'm not sure the devs realized that either. My preference would be to send 1 ETH to the devs that applied and qualify."
In the wake of PRPL 28, the DAO is now going through a period of reflection and intention setting to reassess its priorities and consider what a "Season 2" for the DAO might entail. DAO members have brought up several structural improvements that could be made to Purple, including setting up a regular synchronous DAO touchpoint, improving communications, and exploring alternative governance/funding mechanisms such as a Prop House round that's open to all Farcaster users.
"It's great to see all the activity around Purple this week," said Purple instigator @ccarella, a.k.a. Chris Carella. "Most DAOs are boring & members are not engaged."
@cameron created a Prop House round to gather ideas on what Purple should spend its time and ETH doing. The Prop House round – which is open to anyone and was funded only with POAP tokens for the five highest-voted proposals – gathered about a dozen submissions, which DAO members will now vote on. Read the proposals here.
Get to Know Purple
This week, meet Purple DAO member @chriscocreated.
TWIF: Why did you want to join Purple?
I joined because I want to make art with and for the Farcaster community, and the more I can be a part and contribute the more I feel a part, and the more I am a part the more benefit I can facilitate.
TWIF: What excites you most about Farcaster?
Being with a group of people building the future, who are also interested in how we live well together, and are attending to both public and human goods.
TWiF: Can you give us a few recommended follows on Farcaster?
@les and everything he's doing with the world builder. @cccarella for how he's pulling the dao forward, and his support with wecast. Everyone I've met to talk to... don't make me choose anymore!
Upcoming Dates of Note
FarCon
June 10-11 - Boston, MA
Have an event we should add to a future edition? Send us a reply to this email!
Job Listings
Have a job listing we should add to a future edition? Send us a reply to this email!
This newsletter is published with Paragraph.xyz. The format of this newsletter was inspired by Week in Ethereum News. With questions, comments, or other feedback, please send a reply to this email, or access the "farcaster-weekly" channel in Purple's Discord.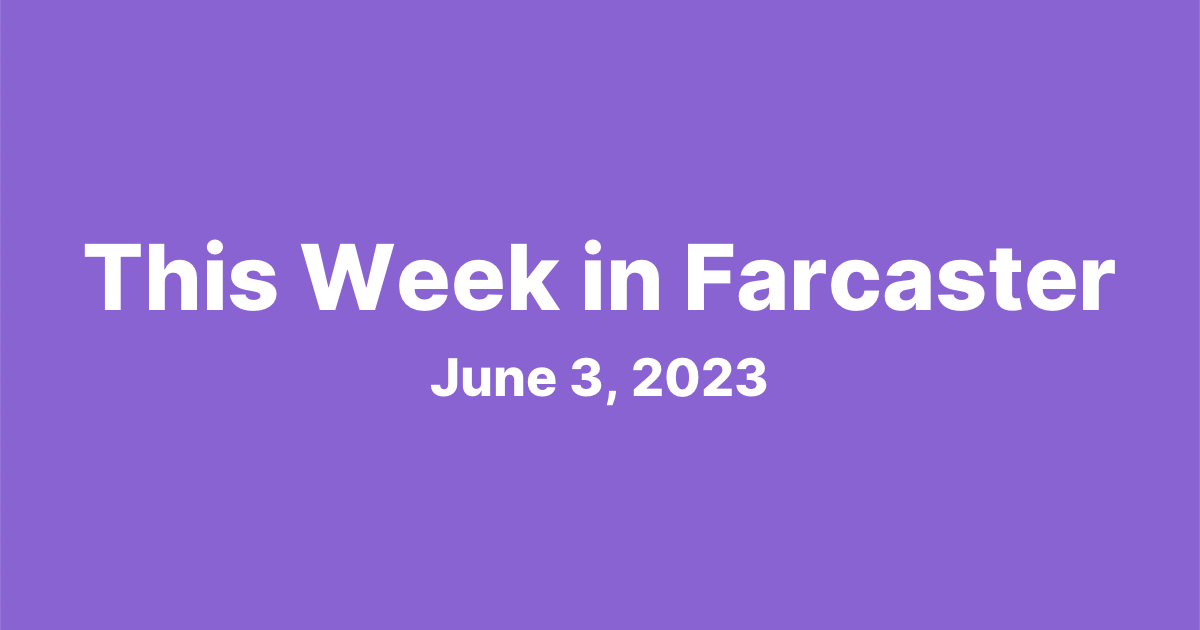 Collect this post to permanently own it.
Subscribe to This Week in Farcaster and never miss a post.