This edition is sponsored by Purple, a DAO whose goal is to proliferate and expand the Farcaster protocol and ecosystem. Interested in sponsoring a future edition? Send us a reply to this email!
Farcaster News and Links
App updates
FIP-2 has been finalized and is now available on the protocol! The proposal by @pfh, a.k.a. protocol developer Paul Fletcher-Hill, was first mentioned by TWIF in the April 8 edition. The goal was to extend the Farcaster protocol to support new types of embeds, parents, and reaction targets. The protocol capability was released on 4/19, with the usual grace period allotted for Farcaster Hubs to update to the latest version of the protocol libraries. And now, it's here! "FIP-2 now enables 'side channels' or entire feeds built around web pages or smart contracts," explained @v, a.k.a. Farcaster cofounder Varun Srinivasan, linking to an example of the Basilisk NFT by @shl0ms, who noted: "WHOA IVE NEVER REPLIED TO MY OWN NFT BEFORE." (No Lamborghinis were harmed in the development of this feature.) @dwr, a.k.a. Farcaster cofounder Dan Romero, explained FIP-2 this way: "Under-the-hood protocol improvement for Warpcast: we now fully support FIP-2, which means you can reply to a URL, NFT collection or NFT without a parent." Romero gave some ideas for the feature, such as:
An NFT app that pulls in comments about an NFT or collection

A Farcaster-enabled podcast app that uses the protocol for episode-specific comments

A Chrome extension to annotate the web with Farcaster comments and likes (do what RapGenius wanted to, but permissionlessly!)
Romero noted that the feature could be used to advance some of the ideas shared by @df, a.k.a. Discove founder David Furlong, regarding subcommunities (first mentioned in the May 6 edition of TWIF).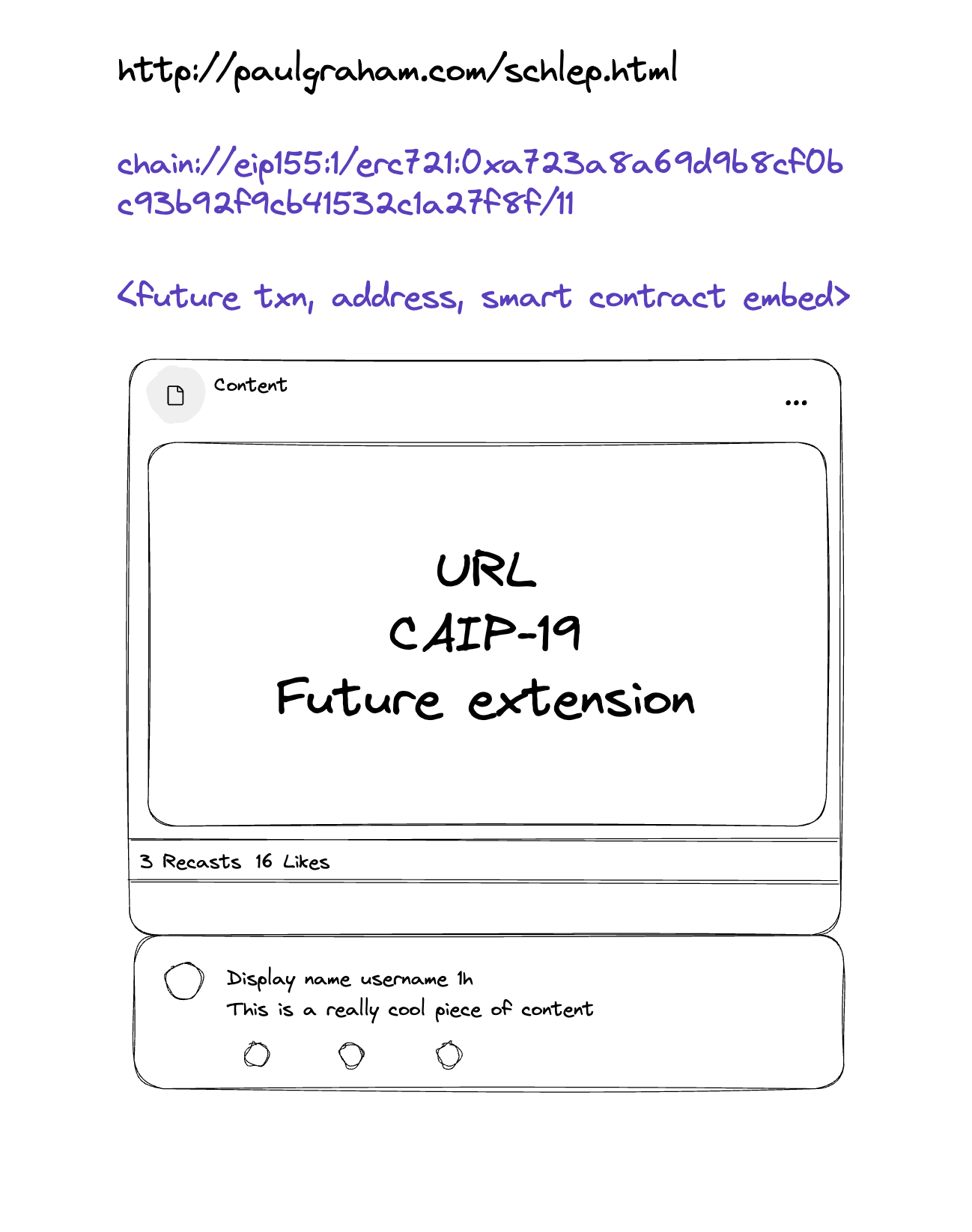 ---
Meet Jam 2.0. The significant update to the Farcaster client formerly known as the Purple app was announced this week by @betashop, a.k.a. Jam founder Jason Goldberg, who described the various features in a series of longcasts. The focus of the update was on identity and curation. Jam 2.0 features a "reimagined" take on web3 profiles, with identity verification by ENS, and new feed experiences, such as a "For You" feed, feed controls (add, remove, mute, and more), and easy flows to add all holders of a collection to a feed. "In web3, you are what you collect," said Goldberg about the feature to curate the collectibles highlighted on your profile. Goldberg said that Jam is now setup to handle users at scale. "I think we could handle 100k users rn — even spammers and bots — we'd handle it just fine," said Goldberg. The app represents a different approach to feed curation than the standard follows model. Goldberg said that the "tap to remove" feature enables users to build feeds top-down by looking at the Live Feed and filtering out stuff you don't like. You could also use the For You feed to opt in to content as it strikes your fancy. "So you can now build a bottoms up feed (For You) and a tops down (Live Feed) and try it both ways and decide what you like best!," said Goldberg.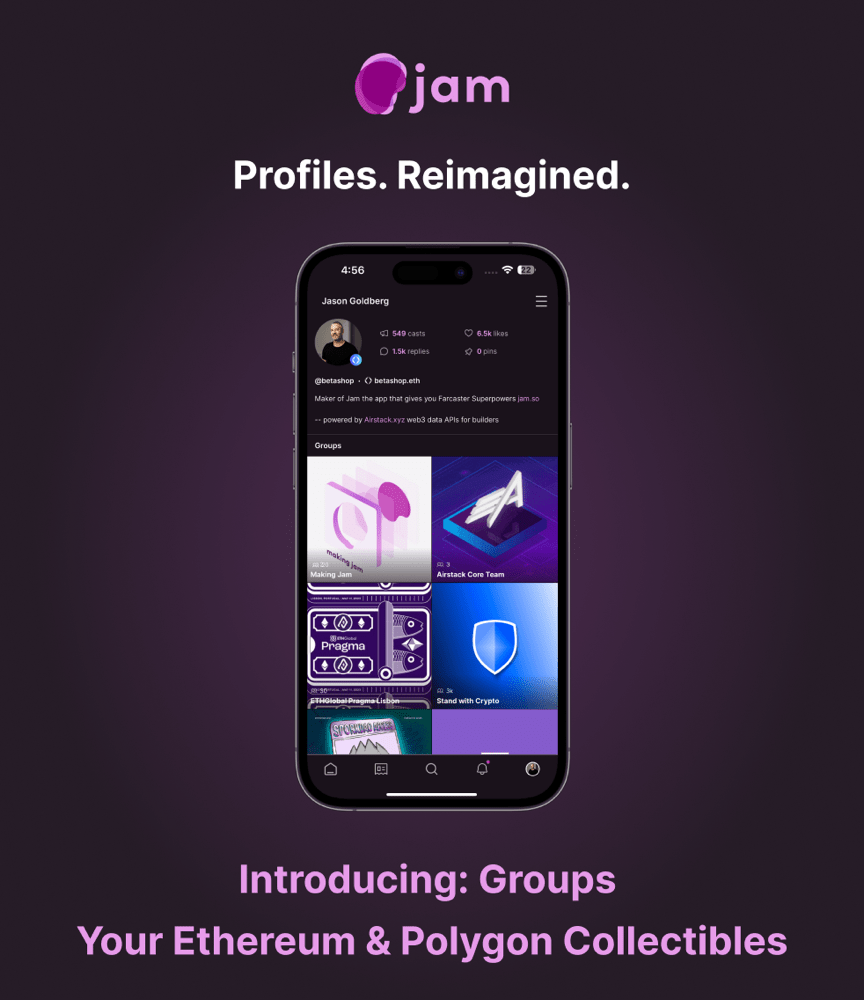 ---
Last week, @dylsteck, a.k.a. Dylan Steck, and @luciano, a.k.a. Luciano DeAngelo, launched Group Purple, an app that lets you bid on a @purple auction as a group. This week, the team kicked off the first-ever Group Purple bid. Steck put together a Loom video showing in detail how the service works. The builders have plans to integrate more of the steps into the Group Purple service/dapp itself, and hope to open the platform up to other DAOs built on BuilderDAO's infrastructure for Nounish DAOs in the future. The initial group bidding on a token together is: @alexpaden, @lo, @ted, @kmacbeth, @ccarella, and @luciano.
---
The latest @unlonely mobile build will deliver good vibes at lower bandwidth. @pugson sent a launchcast for the new version this week and explained that the latest build "lets you save bandwidth by tuning in into the stream with only audio + chat." Unlonely is available via pre-release links for iOS TestFlight and Expo (for Android). @pugson noted that this feature was very much user-driven: "made specifically for @ted because she keeps joining streams on crappy plane wifi while in the air."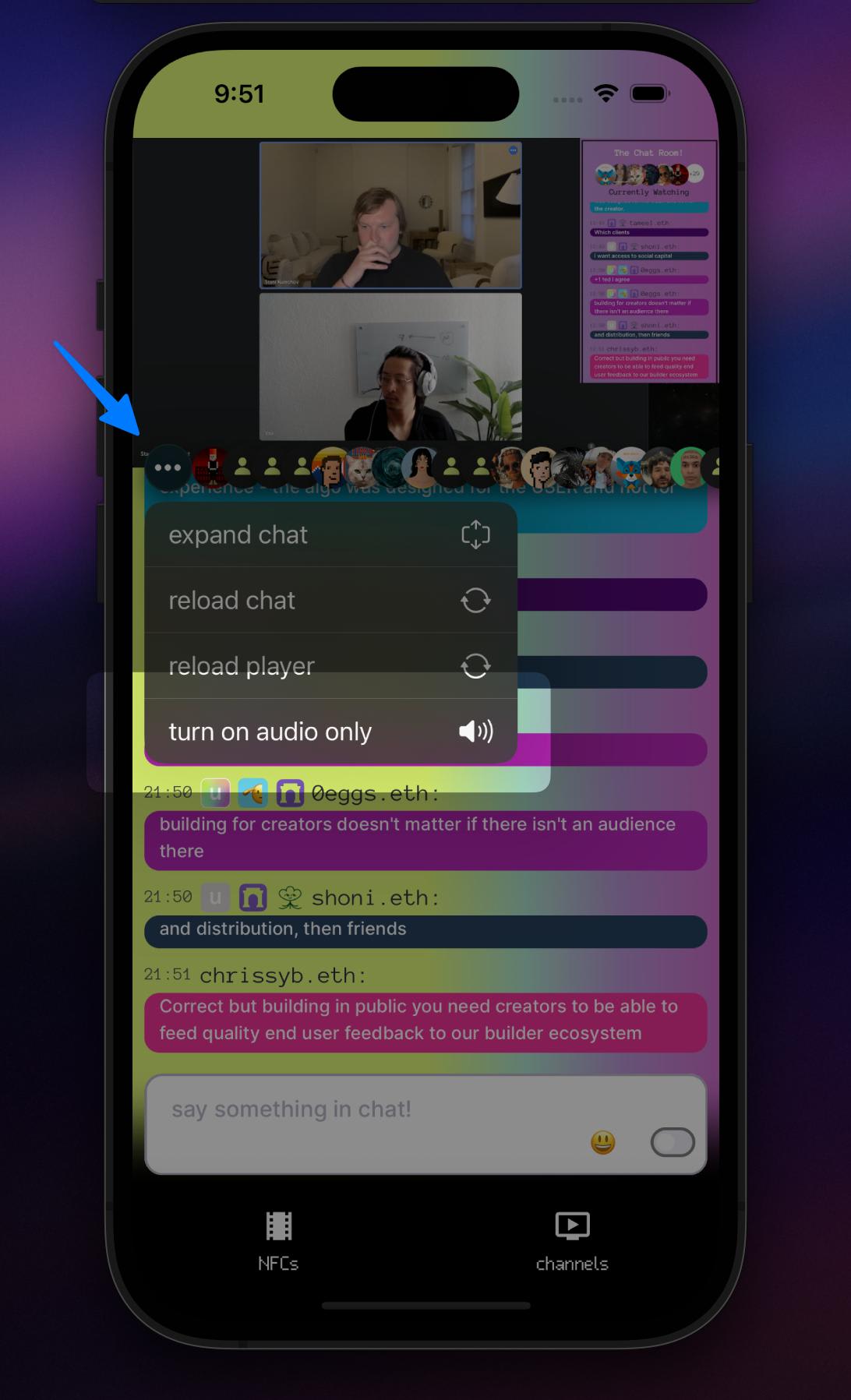 ---
Alphacaster had a small update this week on its own platform, and a major new integration with the Warpcast client. The DAO-aware Farcaster client now shows DAO votes as casts in the governance feed. Users can like or comment on any vote. The feature was announced by builder @billzh, a.k.a. Bill Zheng, this week.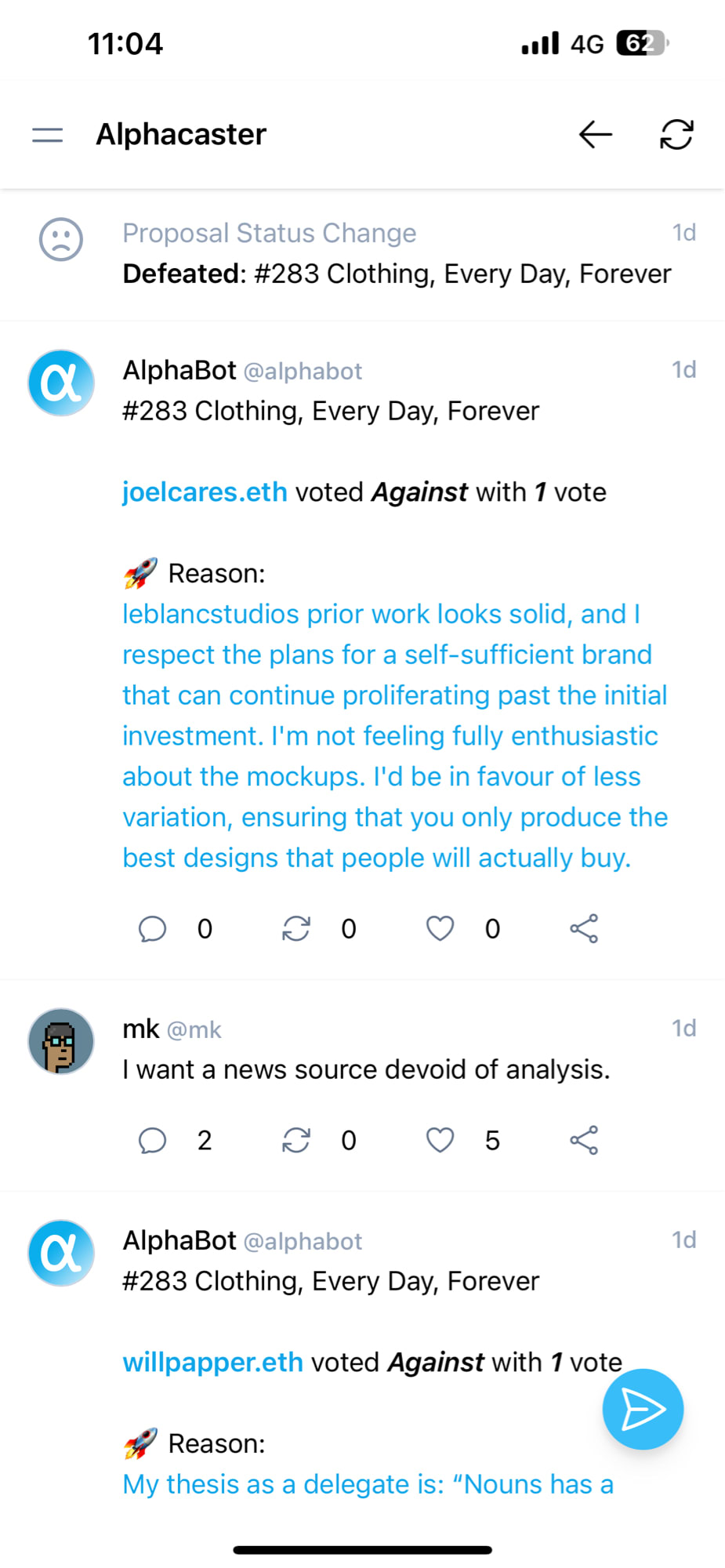 Also this week, Romero announced two new Warpcast features for Purple members that integrate with Alphacaster. The first is new proposal notifications - tapping the notification opens the proposal in Alphacaster. The second is new vote notifications, which also open in Alphacaster. Both features are just for Purple – for now, at least. @ccarella, a.k.a. Purple instigator Chris Carella, noted that the notifications have already made an impact for the Farcaster public goods DAO. "We hit threshold for the latest Purple Prop in the first hour thanks to this new feature for purple members," said Carella. "This is remarkable for us."


---
Warpcast added trending mint notifications this week. "If a mintable NFT has >50 people on Farcaster mint it, you'll get a notification," said Romero, adding that the notifications can be disabled via the recently-added notification settings in the Warpcast mobile clients. The feature was tweaked later in the week to address user feedback around limiting how many times a trending notification can appear and no longer pushing trending NFT notifications to the top of the notifications feed when there are new mints.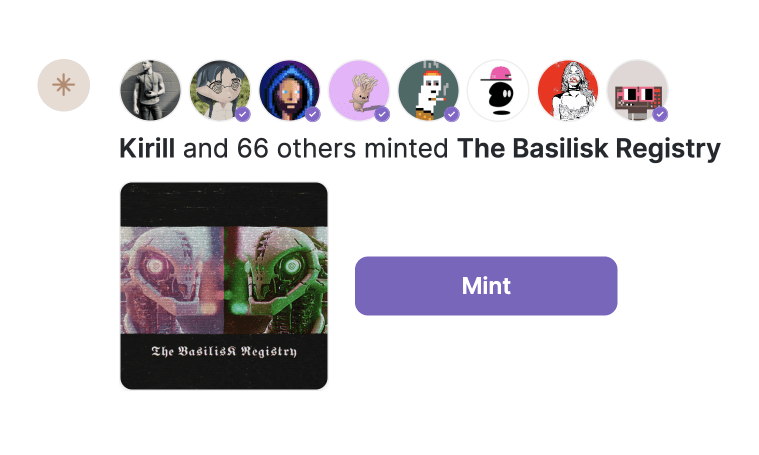 ---
The Highlights feed in Warpcast has been adjusted to give a boost to new users this week. The number of casts in the feed at any given time has also been increased. "My request for you: check it more frequently, engage with new faces, and vocally complain to me if it's bad," said Romero when announcing the changes.ß
Dev notes
@jessepollak, a.k.a. Jesse Pollak, the founding contributor of Base, did his best Oprah impression this week as he doled out Base testnet ETH to literally every active Farcaster user. Pollak sent 0.25 Base goerli ETH to every user with a cast in the past 30 days. He gave some suggestions on how to use it, too, including signing @iammatthias' guestbook and playing fantasy sports with @hurls.
Ideas worth sharing
FarCon is coming up quickly! Three weeks from today, the first-ever Farcaster conference will be underway in Boston. BuilderDAO unanimously approved a proposal this week to sponsor FarCon with 4 ETH for branded merch and travel expenses for the speakers on the BuilderDAO panel (check out a pic of the swag below). Conference organizers have kept the website, FarCon.xyz, updated with details. Romero himself will even be making an appearance on Saturday morning, in addition to dozens of other builders and community members. There are still tickets available! Want to attend? Mint your pass now.
---
IRL FTW – The @blobs & @event walkathon in San Francisco was deemed a success, according to Furlong, who shared a pic of the crew coming together for a bite after they got their steps in and warded off the 💩 for another day.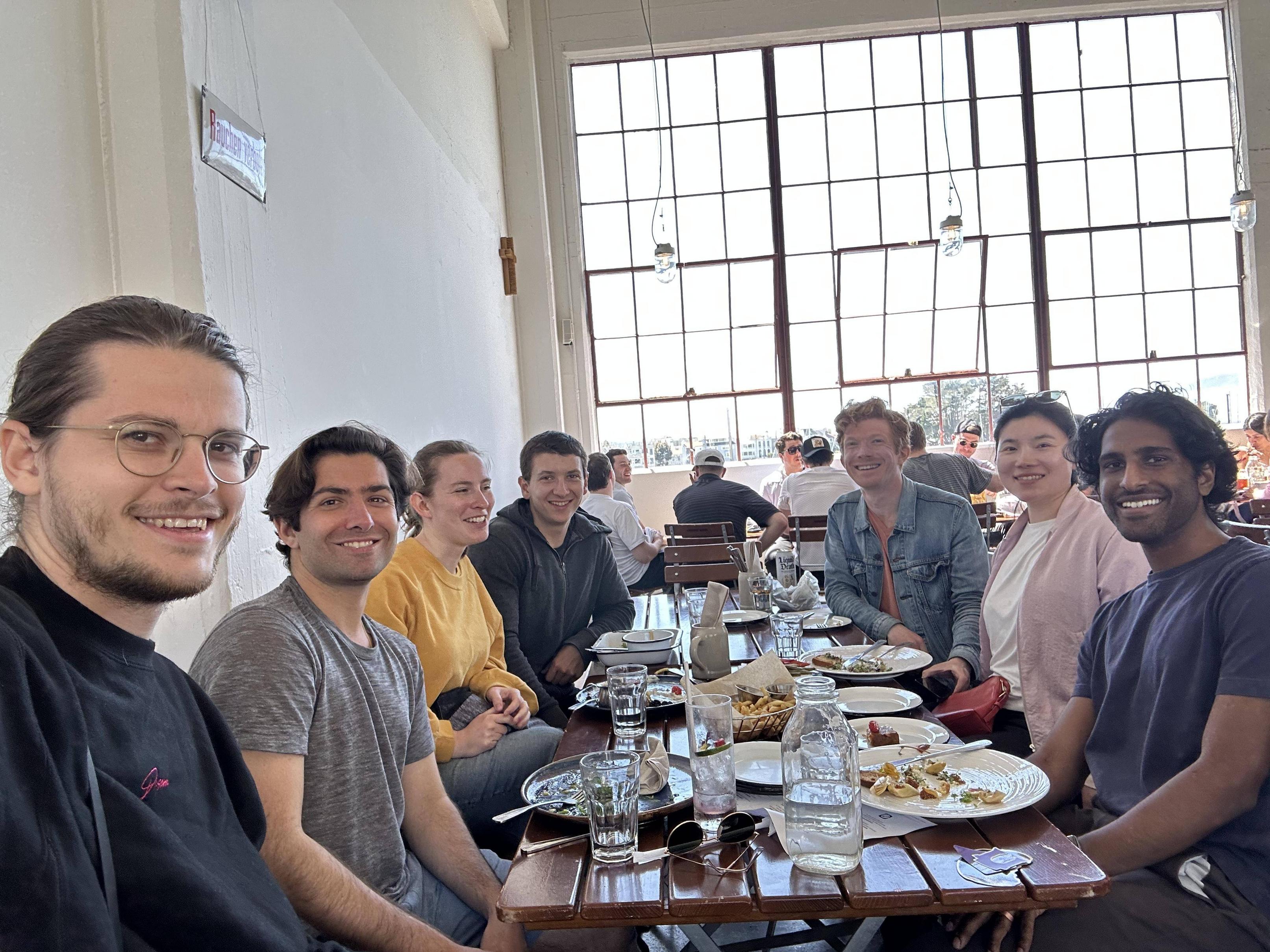 Farcaster By the Numbers
Powered by Farcaster.network. Change calculations based on last week. Note that total casts and total users are both rounded to the nearest 1,000.
Weekly Active Casters: 1,500 (-25 compared to 4-wk avg.)

Monthly Active Casters: 3,100 (-100 compared to 4-wk avg.)

Total Casts: 679,000 (+14,000 week over week)

Total Users: 13,000 (no change week over week)

Average Casts per Day: 2,455 (-82 compared to 4-wk avg.)

New Users per Week: 157 (-26 compared to 4-wk avg.)
Sponsored by Purple

Purple is a DAO whose goal is to proliferate and expand the Farcaster protocol and ecosystem. The DAO operates on Nouns.Build, Discord, and Charmverse.
This Week in Purple
Voting open PRPL 27 FarCon Crowdfund Contribution of 1 ETH from Purple would see Purple contribute 1 ETH towards the FarCon crowdfunding campaign that's currently ongoing via Fabric. Romero announced that Warpcast will match the contribution 1:1 if it passes. Voting on the prop closes Monday. It currently has 43 'For' votes and 1 'Against' vote. Noted @borodutch in casting his lone dissenting vote: "FOR THE CHAOS"
Get to Know Purple
This week, meet Purple DAO member @seanhart.
TWIF: Why did you want to join Purple?
I joined Purple because I am really excited about Farcaster's potential. Purple is an amazing group of builders who share that FC vision, and it is a great opportunity to help influence funding that will accelerate development of the FC ecosystem.
TWIF: What excites you most about Farcaster?
Of all the decentralized social graphs, Farcaster has the best foundation to become a base layer for this next phase of the internet. At this stage, it is more flexible, independent, and the FC culture is the best. I will always bet on the builder culture.
TWiF: Can you give us a few recommended follows on Farcaster?
My favorite casters recently have been:
All of them are builders, creators, and/or have great insight into the FC and crypto communities.
Upcoming Dates of Note
SF Farcaster Meetup
May 21, 5 p.m. to 8 p.m. PST - Zeitgeist, 199 Valencia Street, San Francisco
FarCon
June 10-11 - Boston, MA
Have an event we should add to a future edition? Send us a reply to this email!
Job Listings
Staff+ Distributed Systems Engineer (Merkle Manufactory)
Merkle Manufactory cofounder Dan Romero said that he's looking for a staff+ distributed systems engineer to work on Farcaster Hubs. Send Romero a direct message or direct cast with your GitHub or LinkedIn if interested.
Senior Engineers (Discove)
According to founder David Furlong, the ideal hire "already uses Farcaster, believes in it & wants to see it succeed 💜." The stack includes React Native, Next.js, and TypeScript. For more information, DM Furlong at davidfurlong.telegram for more info.
Have a job listing we should add to a future edition? Send us a reply to this email!
This newsletter is published with Paragraph.xyz. The format of this newsletter was inspired by Week in Ethereum News. With questions, comments, or other feedback, please send a reply to this email, or access the "farcaster-weekly" channel in Purple's Discord.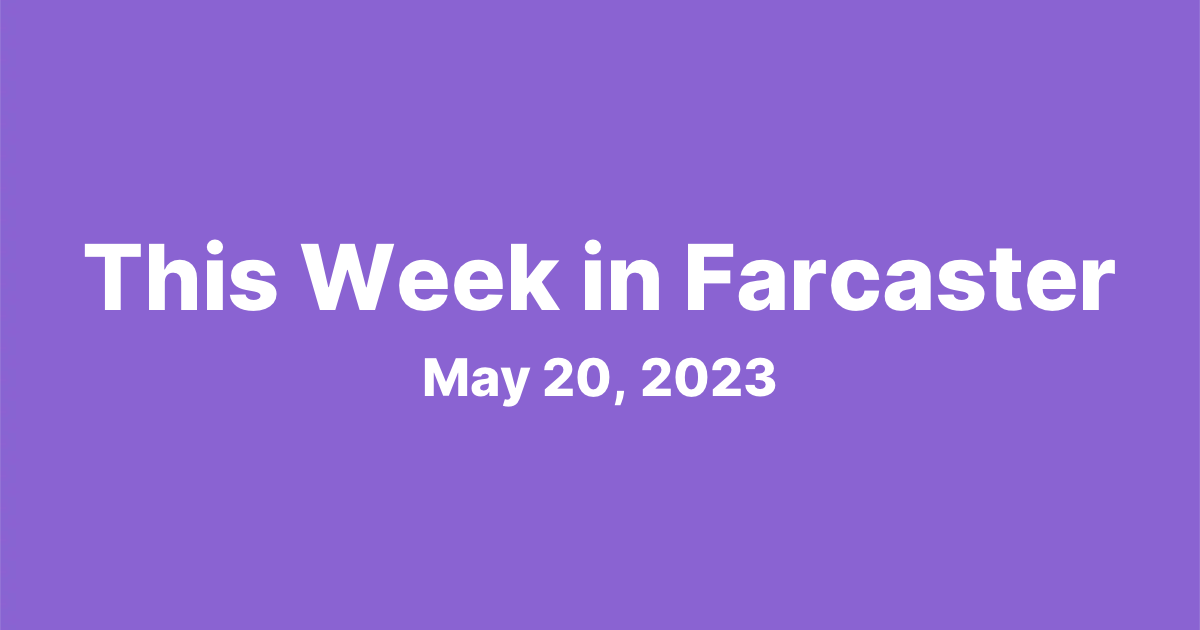 Collect this post to permanently own it.
Subscribe to This Week in Farcaster and never miss a post.